It was the spring of 2011, and Jay Feaster had a big problem.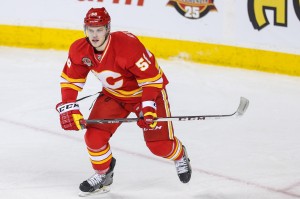 Still warming into his new role as Calgary Flames general manager, he discovered he'd inherited a problem from his predecessor – 2009 first round pick Tim Erixon wasn't going to sign with the team. Erixon's father had played with the New York Rangers, and now the Flames were poised to have their star Swedish prospect go back into the draft and receive just a second round selection in 2011 for him.
Instead, a deal was worked out with the aforementioned Rangers; instead of losing Erixon for a second rounder, the Flames received Czech prospect Roman Horak and a pair of second round selections in the 2011 Draft (used to select Tyler Wotherspoon and Markus Granlund). A few years later, with Roman Horak flipped to Edmonton in a package for Ladislav Smid, the deal stands as perhaps Feaster's shrewdest move.
And 21-year-old Tyler Wotherspoon may turn out to be the steal of that trade.
A native of Surrey, BC – just outside Vancouver – Wotherspoon made the steep transition from the Western Hockey League to the professional ranks this season, one of three first-year pro blueliners in the organization. Unlike the other two, Wotherspoon was fortunate enough not to have injuries (Patrick Sieloff) or inconsistency (John Ramage) derail his progress. Now, with Dennis Wideman likely out for the rest of the season, Wotherspoon's gotten the opportunity to play regular minutes in Calgary's third defensive pairing.
For a young player angling for a full-time job in Calgary, the chance to play regularly in the NHL with a veteran defensive partner like Ladislav Smid, is a tremendous learning opportunity.
"It's huge," admitted Wotherspoon. "Any experience you can get at a young age is always helpful. Just giving the coaches confidence in me, giving me this ice time is probably huge for my own confidence. It's helped me along, I feel like I'm getting better every game, I'm learning a lot. Turning into next year, I think it's going to be a big building block for me and really give me even more confidence heading into next year."
While the blueline in both Calgary and Abbotsford has resembled the cast of a horror movie – players constantly disappearing to the injured list – Wotherspoon has both successfully transitioned from the Portland Winterhawks to the AHL and largely avoided the injury bug. He also credits Abbotsford teammate Shane O'Brien for helping him progress and get ready for his late-season stint in the NHL. Wotherspoon notes he's focusing on short-term goals to get the most out of his first experience.
"This year, it's been a whirlwind," he said. "A lot of learning curves for me, making that jump to pro, but I've had a lot of support along the ways. But sure, I've always set goals for myself. I don't like to set long-term goals, I like to set short-term goals that lead into the long-term success. That's what I've done so far and just taken every day as a learning experience and this is just another challenge for me that I'm learning a lot from."
Flames head coach Bob Hartley isn't unfamiliar with Wotherspoon. Outside of brief glimpses at camps, Hartley had the chance to watch him closely at each of the past two Memorial Cup tournaments.
"I was always saying to myself, 'we have an NHL defenseman there,' the question is how long is it gonna take?" recalled Hartley. "I see him and game after game, practice after practice, he's getting more alert, assertive out there. He looks like an NHL defenseman. He still has some work to do on a few parts of his game, but that's normal. He's a kid, but what he brings, he's very poised for a young player, and I think that's a big, big part of being successful as a defenseman."
Calgary's head coach isn't alone in being impressed with Wotherspoon's game so early in his career. The team's captain, Mark Giordano, is also a fan.
"Well, he's getting more confident, playing more games," said Giordano after Calgary's 2-1 shootout win over San Jose. "Tonight was his best game. Patient with the puck and making plays, and it's nice to see. Our goal was a great set-up, great patience again. But defensively, it's been a treat to watch. He doesn't panic at all, makes great plays. We've been rolling pretty much three lines of D lately and he's been doing a good job."
Was the Flames captain as impressive as Wotherspoon this early into his NHL tenure?
"No, definitely not," chuckled Giordano.