This past weekend, the University of North Dakota split the two-game conference series with Colorado College (5-2 win, 0-3 loss). With the split, UND is now (14-10-3 and 7-8-1 NCHC). That's good for fourth place in the conference standings. While the Fighting Hawks dominated both games and spent the majority of the time in the Tigers' defensive zone, they only led for roughly four minutes all weekend long. The rest of the time, they were chasing the Tigers on the scoreboard.
Cue Hot Goalie
During the series against the Tigers, the Hawks put an incredible amount of rubber on net, outshooting the Tigers 89-43. While fans don't want to hear about a hot goalie, Tigers' freshman goaltender Alex Leclerc was nothing short of amazing stopping 83-of-87 shots. For the weekend, Leclerc put up some fantastic numbers (1-1, 2.02 goals-against average, .954 save percentage). There's not much you can do about a hot goalie. Sometimes, you just have to tip your hat and give credit where credit is due. Leclerc was a brick wall, all weekend long.
On the other end of the ice, UND senior backup goalie Matt Hrynkiw played five-of-six periods stopping 32-33 shots. None of this seems to matter. After Saturday's 3-0 loss to the last-place Tigers, UND fans were frustrated. They want wins, not statistics.
The team shooting at the net on the right is trailing right now. pic.twitter.com/fdToTkClVW

— Brad Elliott Schlossman (@SchlossmanGF) January 29, 2017
Let's Not Panic
My advice to UND fans is that it's not the time to panic. Should you be concerned about the current standing of the team? Yes, by all means, but I think we can step away from the ledge for a moment. It's not as bad as it looks. At the present time, UND is sitting in fourth in the NCHC standings. They're also sitting ninth in the Pairwise Rankings. All you need to do is get into the tourney. Does anyone think that a number one seed is going to want to travel to Fargo, ND to play UND in a hostile environment? I don't think so.
First things first, UND still needs to qualify for the NCAA tourney, but once they're in, anything can happen. Their non-conference schedule is helping them out so far. The Hawks need to start racking up wins if they want to continue their 14-year streak of qualifying for the NCAA tourney.
Injuries Galore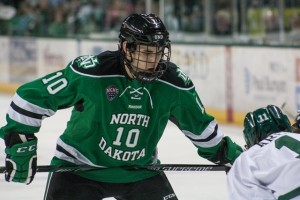 This season, the Injury Ninjas has had a field day in the Hawks dressing room. There has been a recurring theme when one player comes back from injury, another player goes down to an injury. Both of UND's top players have missed significant time due to injury. Freshman phenom forward Tyson Jost has missed the last three games with a lower-body injury. All-American forward Brock Boeser has had a nagging wrist injury for most of the season and missed six games.
It doesn't end there, the captain, senior defenseman Gage Ausmus didn't travel with the team to Colorado Springs, CO, he's listed as day-to-day. Just when it couldn't get any worse, the injuries continue to mount. This past weekend, Cam Johnson (lower-body, day-to-day) missed both games.
On Saturday, sophomore forward Joel Janatuinen, (lower-body, day-to-day) sat out the second game of the series due to an upper-body injury. He has missed two of the last three games with an upper-body injury.
Inconsistent Young Team
Whether we want to acknowledge it or not, there's no substitute for experience. On this season's roster, there are eight freshmen and 11 sophomores. At times, UND's age has shown and they've been very inconsistent. College hockey is dominated by upperclassmen.
In case we have short memories, during the offseason, UND lost nine players from the 2016 championship team (Drake Caggiula, Bryn Chyzyk, Colten St. Clair, Coltyn Sanderson, Nick Schmaltz, Troy Stecher, Paul LaDue, Luke Johnson, and Keaton Thompson). Three of these players are playing in the NHL (Caggiula with Edmonton, Schmaltz with Chicago, and Stecher with Vancouver). Two of those players could still be playing college hockey.
Finally, while the time is running out, there's still a chance to make a move in the standings. There are eight regular season games remaining and UND has a 6-2-0 record against these teams. So, I don't think it's time to panic. Not yet.
Eric is a 1996, 1999 graduate of the University of North Dakota. Eric covers the University of North Dakota Hockey and Division I college hockey. Eric is the Contributing Editor for Inside Hockey.