The University of North Dakota of begins the 2015-16 season with a lot of excitement surrounding their freshman class. After losing 10 players due to graduation and early departures, UND brings in 11 freshmen, many of them are highly sought, high-end talent. A few of these freshmen are expected to contribute right away.
The most heralded of the group are forwards Brock Boeser, Chris Wilkie, Shane Gersich and goalie Matej Tomek. In their first exhibition game against the Manitoba Bisons, Boeser and Gersich both scored goals leading UND to an 8-3 win.
Caggiula impressed with Freshman Class
Senior forward Drake Caggiula is one of UND's veterans players and he's known for telling it like it is. The straight-talking Caggiula is impressed with UND's freshman class.
"A lot of talent, that's for sure," Caggiula said. "There are 11 freshmen, that's a huge class, but each one brings their own style to the team. We have some skilled guys coming in – a couple of goalies – we have some defensemen that are the stay at home. Some (defensemen) are more offensive. We've got it all.
"Throughout the preseason so far, they've shown a lot. They all bring something unique to the table and they're all very good at what they do."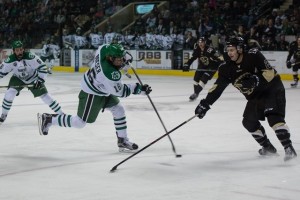 Caggiula has some simple advice for his new teammates. Don't dwell on mistakes.
"It's early in the season, so obviously mistakes are going to happen," Caggiula said. "Being the young guy, you're going to make mistakes. Being able to bounce back from that. Don't dwell on it. I kind of went through that my freshman year. I would make a mistake and I would dwell on it. That would lead to me making more mistakes.
"The one thing I want to pass down on them is, once my you make a mistake just live with it and move on. There's always another shift or another game after that to kind of makeup for it. Don't get down on yourself and stay positive."
Head coach Brad Berry is also impressed with his new players.
"It's a special group, coach Berry said. "Each one brings something different to the table as far as the attributes of their game. I thought they competed extremely hard. I thought as far as system wise, they were very good. Obviously, we have to get better as a team in few different areas. But for the first game, I thought they were good."