The old gang in Vancouver aren't the cast of the NHL's best team anymore, but they keep finding ways to win in recent years, and 2014-15 was no exception. But as the team transitions younger, how much longer can their veteran group keep producing and keep the Canucks competitive?
Vancouver turned a lot of heads last season with their 101 point finish. While the Canucks depth was largely in question, a number of players had career-years last season. As a result, the Canucks exceeded everyone's expectations – this with a rookie head coach in Willie Desjardins and rookie GM in Jim Benning.
But with most teams in the Pacific Division making notable acquisitions and improvements this summer, Vancouver may have to hope for the same output from the supporting cast just to be competitive.
The Canuck made a handful of moves this offseason, but haven't made any dramatic roster shakeups. Their biggest move was acquiring checking-forward Brandon Sutter in a trade with Pittsburgh. On the forwards end, much of their aging core still remains intact, starting with Henrik and Daniel Sedin and includes Radim Vrbata and longtime Canucks Alex Burrows, Chris Higgins and Jannik Hansen. Apart from Hansen who is 29 years old, all of these core players are 32 or older.
Their entire blue line is 27 years old or younger, apart from longtime fixtures Alex Edler (29) and Dan Hamhuis (32). But the depth of the Canucks defense after Edler, Hamhuis and Chris Tanev isn't exactly well-rounded. There won't be any controversy of who the starter is in the Canucks crease heading into the season, following fan favorite Eddie Lack being traded away to Carolina. But there's questions on whether either of Ryan Miller or Jacob Markstrom can hold up in their respective starting and backup roles.
It won't be a disastrous season in Vancouver, but it may finally be a falling-from-grace for a Canucks team that has made the playoffs in six of the past seven seasons.
2014-2015 Record (Finish)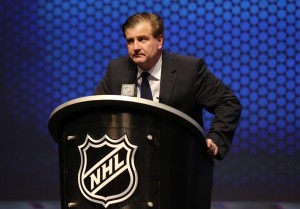 Record: 48-29-5 (101 points)
NHL: 8th
Conference: 4th
Division: 2nd
GF: 8th
GA: 18th
PP: 9th
PK: 2nd
---
Key Additions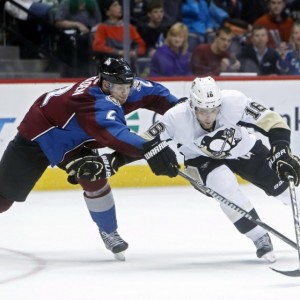 F Brandon Sutter
F Brandon Prust
D Matt Bartkowski
---
Key Losses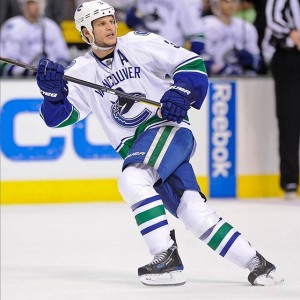 F Nick Bonino
F Brad Richardson
F Shawn Matthias
F Zach Kassian
D Kevin Bieksa
D Ryan Stanton
D Adam Clendening
G Eddie Lack
---
Forwards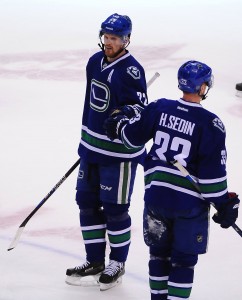 Daniel Sedin/ Henrik Sedin – It would be a tumultuous mistake to preview the Sedin twins not as a package. The 35 year-old ageless wonders will continue to be the face of the Canucks franchise in 2015-16. After a disaster of a season in 2013-14, Daniel and Henrik rebounded in a big way last season under Desjardins, finishing with 76 and 73 points, respectively, to put them both in the top 10 in league scoring. It'll be interesting to see if the former Art Ross Trophy winners can continue to produce at a near point per game rate this year. Daniel had more assists (56) than Henrik (55) for the first time in 11 seasons, as Daniel has molded his game from a goal-scorer to a playmaker like his brother – as if they didn't have enough similarities.
Radim Vrbata – What wasn't to love about Vrbata's game last season? The Czech sniper played most of the year on the team's top line and was the Canucks dark horse offensively, and likely the best offseason free agent signing when Benning picked him up on July 3rd, 2014. Vrbata had a team-high 31 goals, 12 powerplay goals, 7 game-winners and 267 shots, and a career-best 32 assists and 63 points. No Canuck player had  more than 20 goals last year apart from Vrbata, who constantly dazzled and electrified Canucks fans with highlight-reel goals.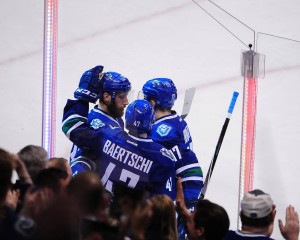 Sven Baertschi – Baertschi will be gifted with a top-six forward role in Vancouver, at least to start the season. It'll be in his hands to prove his worth in this role. The 22 year-old is a former 13th overall pick of the Calgary Flames in 2011, and despite his great skillset he didn't fit into Calgary's plans. Benning has stated how highly he thinks of Baertschi, dating back to when he was a scout and Baertschi was playing in the WHL. The Swiss forward has 10 goals in 67 NHL games, but a fresh start with the Canucks may prove to be just what Baertschi needs.
Brandon Sutter – Acquired from the Pittsburgh Penguins in a major deal this summer and quickly signed to a comfortable contract extension, Sutter will be under the most the scrutiny of all Canucks players to succeed this season. The 26 year-old matched a career-best total of 21 goals last season, tallying 33 points in 80 games. Sutter has never had more than 40 points in a season or played more than a checking line role. He'll be asked to be the team's second line center this season – mind you, Sutter has played behind Sidney Crosby and Evgeni Malkin on the Penguins depth chart for the past three seasons.
| | | |
| --- | --- | --- |
| #22 Daniel Sedin | #33 Henrik Sedin | #17 Radim Vrbata |
| #47 Sven Baertschi | #21 Brandon Sutter | #14 Alex Burrows |
| #20 Chris Higgins | #53 Bo Horvat | #36 Jannik Hansen |
| #9 Brandon Prust/ #41 Ronalds Kenins | #7 Linden Vey | #51 Derek Dorsett/ #77 Jake Virtanen |
*New additions bolded
---
Defense
Alex Edler – Nobody saw eye-to-eye less with former Canucks coach John Tortorella than Edler did, who had a league-worst minus-39 rating in 63 games under Torts in 2013-14. The 29-year Swede returned to form last season, posting 8 goals and 31 assists in 74 games. Edler's improved defensive game was a notion of his plus-13 rating, good for 52 points better than the year prior.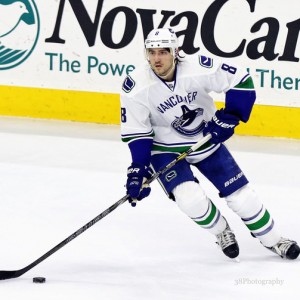 Chris Tanev – Tanev's new five-year, $22.5 million dollar contract will begin this season, which may be a steal for the 25 year-old who has become one of the league's top shutdown defenseman. In his career, Tanev has a plus-34 rating and has only taken 17 minor penalties in 242 career NHL games (regular season and playoffs). He blocked 170 shots last season, or 14.5% of total shot attempts when he was on the ice – a higher percentage than any NHL blueliner. The intangibles go on, but it's clear Tanev is a defensive gem in the Canucks lineup, who will be expected to play a ton of valuable minutes this season.
Yannick Weber – Weber led all Canucks defensemen with 11 goals last season, which was a career high for the Swiss blueliner, as was his 21 points. Weber's best asset is his rocket launcher of a shot from the blue line; he scored five powerplay goals last season and will undoubtedly see a lot of time on the man-advantage this year.
| | |
| --- | --- |
| #23 Alex Edler | #8 Chris Tanev |
| #2 Dan Hamhuis | #6 Yannik Weber |
| #5 Luca Sbisa | #44 Matt Bartkowski/ #26 Frank Corrado |
*New additions bolded
---
Goaltending
Ryan Miller – Will the 35 year-old Miller hold up to play at least 60-65 games this season? It's one of the biggest questions of the Canucks roster, and Miller's $6 million dollar cap hit this season assumes he will. He had 29 wins and six shutouts in 45 games with Vancouver last season which he will need to build on. Miller's .911 SV% and 2.53 GAA were significant not of his number of impressive games, but of games where he would allow goals in bunches. It's also in question whether or not Miller will be 100% following a knee injury last season.
Jacob Markstrom – The Canucks will need the unproven Markstrom to start around 20 games this season behind Miller, at least. His career high in games played is 23 with the Panthers in 2012-13, but Markstrom has only played in seven games as a Canuck in parts of two seasons. While his career NHL stats are a red flag, Markstrom's exceptional campaign in the AHL last season is promising that he's ready for his new NHL job. He helped lead the Utica Comets to the Calder Cup Finals and had a .934 SV%, 1.88 GAA and 22 wins in 32 games.
---
Breakout Player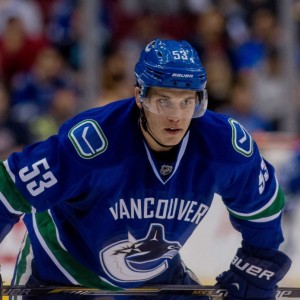 Bo Horvat – At the start of last season, not even Desjardins expected to have the 19 year-old Horvat crack the Canucks roster. However, Horvat quickly showed maturity beyond his years and the strength, willingness and ability to compete against men at the NHL level. The Canucks had no choice but to keep their budding rookie in the NHL, and Horvat only got better as the year progressed.
At 20 years old, Horvat isn't quite ready to take on a top-six role, as some have speculated, but in the third-line center spot this year, expect Horvat to build on the 13 goals and 25 points he tallied on the fourth line in limited minutes last season.
---
Player with Most to Prove
Brandon Sutter – Acquiring Sutter wasn't cheap for the Canucks, who sent forward Nick Bonino, promising defenseman Adam Clendening and a 2016 second round pick to the Penguins in return. The five-year, $21.875 million deal he signed with the team days later also makes Sutter the highest-paid NHL forward to never score more than 40 points.
The defensively-minded Sutter should be a huge contributor to the team's penalty kill but may be burdened by his offensive expectations as the second line center. He tied a career high with 21 goals in a checking line role next season, and he'll be in a position this year with Vancouver to build on this. Reasonable totals to hope for from Sutter this year would be around 25 goals and over 50 points.
---
Season Outlook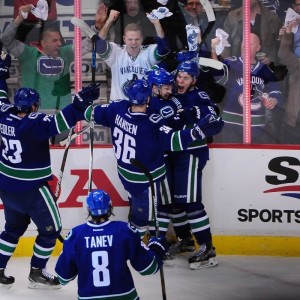 The Canucks shipped out a handful of aging players, and the next waves of youngsters is almost ready to take the next step.
Even with the recent injury to Chris Higgins in training camp, there's simply not enough room for all of Jake Virtanen, Jared McCann, Cole Cassels, Brendan Gaunce and Hunter Shinkaruk on the opening night roster – even if they were all NHL ready. But these players all will have their time in the near future, and all of these high end draft picks reflect a trend of good drafting in the organization, which can only benefit the organization in the coming years.
But for the big club in 2015-16, it looks a little murky. With a mostly veteran team that exceeded last season but remains almost completely intact, and in a much improved Pacific Division nonetheless, the Canucks may have a hard time matching their success from last season.
In terms of making the playoffs, the Canucks look to be a team on the bubble. Will they drop off dramatically from their 101 points last season? Probably not, and there's no way last seasons bottom-dwellers of the Pacific, the Arizona Coyotes (56 points) and the Edmonton Oilers (62 points) have improved drastically enough to bump past the Canucks in their division.
It may be a year of patience for Canucks fans, which over the course of the team's history is nothing new. But even if that requires taking a step back in the NHL standings for at least this season, the fanbase will need to swallow their pride, for now.