Multiple players on the Vancouver Canucks have had a tough time finding their game to start the 2020-21 season. Brock Boeser is not one of those players. Instead, the forward has taken a step forward in his career. Although Elias Pettersson, J.T. Miller and Quinn Hughes have slowly gained confidence in their play, Boeser started the season off hot. 
After an impressive start to his NHL career, Boeser saw a drop in his goal total last season, but the forward seems to have regained his elite scoring ability. Boeser has six goals this season through 10 games. 
Hot Start to Career
The Canucks drafted Boeser with the 23rd overall pick in the 2015 NHL draft, but he didn't join the team until the 2016-17 season. Boeser played in the last nine games of the season, showing off his goal-scoring ability immediately. He scored his first career goal in his NHL debut against his hometown team, the Minnesota Wild. The first-round pick scored four goals through those initial nine games.
In his first full season, Boeser picked up where he left off in the previous season. In his rookie season, he posted a career-high 29 goals in 62 games, which put him on pace for 38 goals. Boeser took part in the NHL All-Star weekend, where he won the accuracy shooting competition and was named MVP of the 2018 NHL All-Star Game. He was in contention for the Calder Trophy but finished second in voting behind Mathew Barzal. The American winger's rookie season was cut short due to a serious back injury he suffered against the New York Islanders, which we will come back to later. 
Boeser's scoring dropped the following season, although it was not by much. He scored 26 goals but in 69 games, seven games more than the previous season. Boeser was still on pace to score 30+ goals. Most of the hype around the forward had quieted down due to the arrival of his linemate, Pettersson.
Boeser's Goal Production Drops
The 2019-20 season was Boeser's third season, where he noticeably struggled to score. The forward scored a career-low 16 goals in 57 games and had a career-low 9.5 shooting percentage (S%).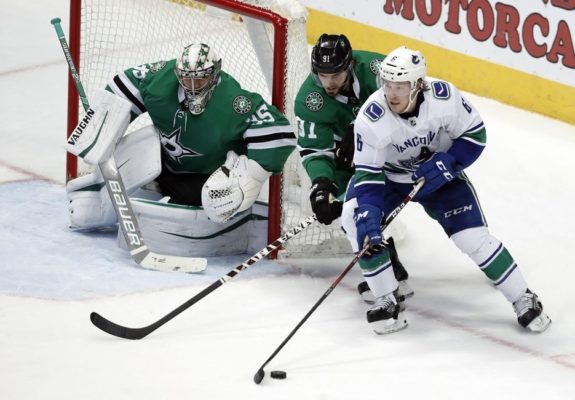 The Canucks added Miller, who became a lock on Elias Pettersson's line last season. The addition of Miller, and later Tyler Toffoli, played a factor in Boeser's season as head coach Travis Green moved him throughout the lineup in the 2019-20 season. Also, Boeser faced a tough stretch of games before he missed 12 games with fractured rib cartilage. He scored two goals against the Buffalo Sabres on Jan.11th and did not score until Aug. 4th in a playoff game. 
He struggled to score at times, which led to his confidence dropping throughout the season. Since he had a tough time scoring goals, which boosts Boeser's confidence as a pure goal, he attempted to make a few changes before the 2020 NHL playoffs (from 'Ben Kuzma: Canucks' Boeser hopes to stick it to Wild with new curve, confidence,' The Province,' 07/22/2020).
"I never like to change my stuff — especially if I've had success — but I tried a new curve today and we'll see how it goes. I've only toyed with my (stick) flex once and never my curve. I've had the same curve since peewee.

Boeser said before the start of the playoffs.
The change to his curve did not change much as Boeser failed to meet expectations as a goal scorer. He only scored four goals in 17 playoff games, tied for fourth-most with Tyler Motte and Tanner Pearson.
Boeser's Scoring Touch Returns
Boeser has started the 2020-21 season looking like his rookie season self. Boeser's six goals have him tied for the most in the NHL. Although the forward tying for the league lead in goals through 10 games is impressive, what is interesting is his shot and shot-creating ability look very similar to his first season in the NHL. 
For example, Boeser's opening goal against the Ottawa Senators on Jan. 28 is reminiscent of a goal he scored in his rookie season against the New York Rangers. With less than 50 seconds left in the game, Boeser scored the game-tying goal on Henrik Lundqvist to send the game to overtime. He transfers the puck from his backhand to his forehand in a matter of seconds and proceeds to beat the Swedish goaltender.
The goal against the Senators, he stickhandles the puck to the front of the next, giving himself a clean shot on Matt Murray. Although the goals aren't the exact same, it is evident the 2015 first-round pick has regained his scoring touch and quickness.
Boeser's return to form can be credited to his full recovery from the back injury he suffered in his rookie season. Boeser's back injury came at the hands of an innocent collision with Cal Clutterbuck, which resulted in the forward being unable to walk for a few days after. He added he hit his head as well, which resulted in him seeing stars.
It has taken Boeser some time to feel fully comfortable after the season-ending back injury from the 2017-18 season. After his two-goal performance in the season opener against the Edmonton Oilers, he said he hasn't felt as good in some time. 
"It's not necessarily been there, especially after my back injury. That gave me a lot of problems after, that was a pretty bad injury. Just kind of knowing my body now, knowing what I need to feel good, I'm feeling confident and I feel like my shot is back where it was in my first year. When I shoot, it fuels my game and gives me confidence."

Boeser said about his shot after he scored two goals in the season opener.
Boeser Has Become a Complete Player
Boeser scoring is great for his confidence because, as a goal scorer, he builds off of it. So far, Boeser has nine points in 10 games, while he has three multi-goal games. His hot start could potentially lead to him hitting the 20+ goal mark for the third time in his career.
Although Boeser struggled to score last season, he did develop his playmaking ability and two-way game. Boeser finished the 2019-20 season with 29 assists in 57 games and seven assists in 17 playoff games. With his confidence in his scoring ability and his all-around improvement over the last few seasons, the 2020-21 season could be the forward's best to date.  
---
---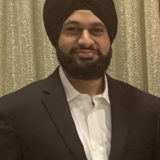 Sartaaj has been watching hockey for over 15 years and covers the Vancouver Canucks for The Hockey Writers.