In this edition of Vancouver Canucks News & Rumors, I'll take a look at the amazing three-game playoffs young goalie Thatcher Demko had against the Vegas Golden Knights and what that might mean in this upcoming season.
Related: Is Demko Here to Stay With the Canucks?
Second, I'll look at some of the attention young Russian prospect Vasili Podkolzin is getting from press in Russia. Finally, I'll take a quick look at prospect Nils Hoglander's play in the Swedish Hockey League.
Item One: Thatcher Demko Surprises Even His Biggest Fan, Jim Benning
During the 2019-20 regular season, the Vancouver Canucks surprised most hockey pundits by playing well enough to make the playoffs. A large part of that success could be attributed to simply great goalie play, led by Jacob Markstrom. His play was stellar all season.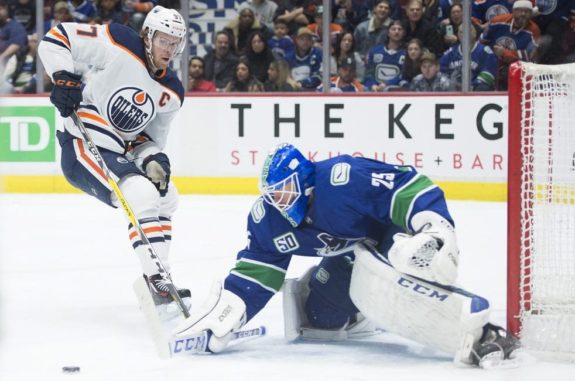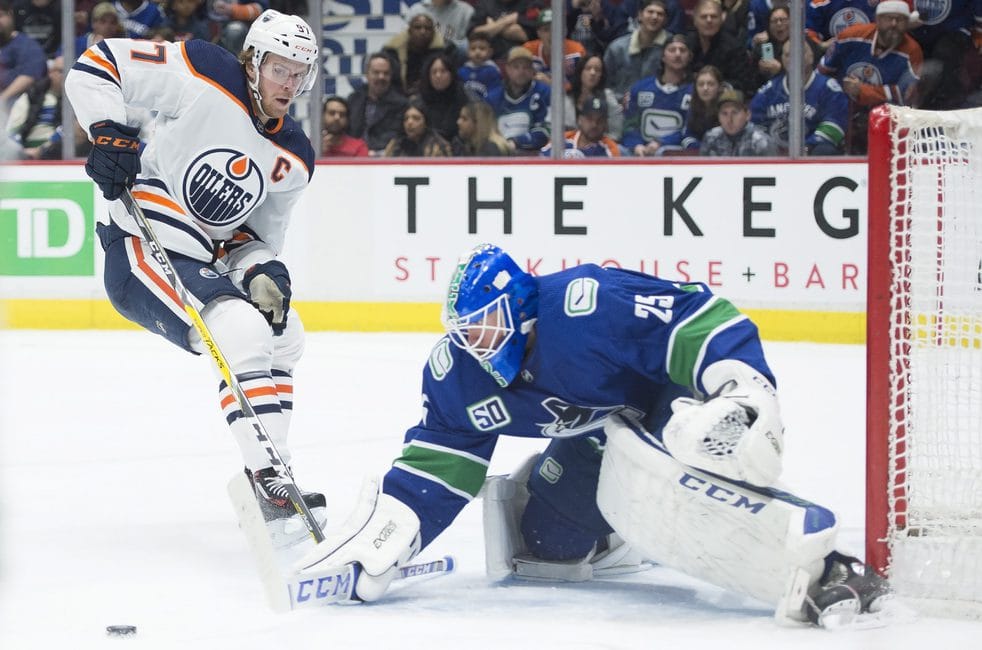 So, when Markstrom went down to injury after the Canucks went down three games to one in the second round of the Stanley Cup playoffs, most hockey thinkers had the team pegged for a quick exit into the offseason. Certainly, their backs were against the wall facing a physical Vegas Golden Knight's team. The team's only hope was to throw young Thatcher Demko into the crease and hope for a miracle.
Demko almost made it happen. He played amazingly well during his playoff games against the Golden Knights. In total, Demko surrendered only two goals on 125 shots during those three games. He won the first two but in Game 7 he was finally beaten. Even during Game 7, Demko was almost impossible to beat. He stopped 33 of 34 shots in a 3-0 loss to the Golden Knights. The last two Golden Knights scores were empty-net goals.
Related: Adam Graves: Rangers Legend
By the time he reached Game 7, Demko's shutout streak had reached 138 minutes and 40 seconds, and stretched back all the way back into Game 5. Finally, Shea Theodore beat Demko five seconds into a Golden Knights power play in the third period of Game 7. The rest is history.
Canucks' general manager Jim Benning was obviously pleased with how well Demko played during the playoffs; and, given that Markstrom signed a long-term deal with the Calgary Flames, is hoping Demko has more of that kind of play ready for the 2020-21 season.
Benning, although he's one of Demko's biggest fans, was still surprised. Benning admitted that Demko "showed not only me, but it showed his teammates and coaches, our fans and the media, that he is the guy we thought he could turn out to be. We believed that's what he was capable of, but to actually see it for three games and for everybody else to see it, I think it was fantastic."
Finally, Benning added that Demko is "a hard-working kid that wants to be really good. With goalies, we understand it takes longer to develop. From a development standpoint, we've tried to do everything the right way with him. And we feel he's now knocking on the door to be a No. 1 goalie in the league."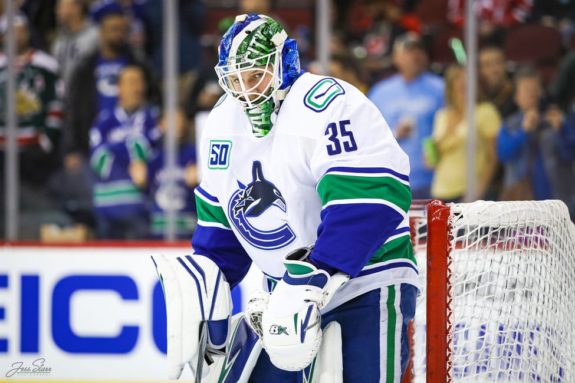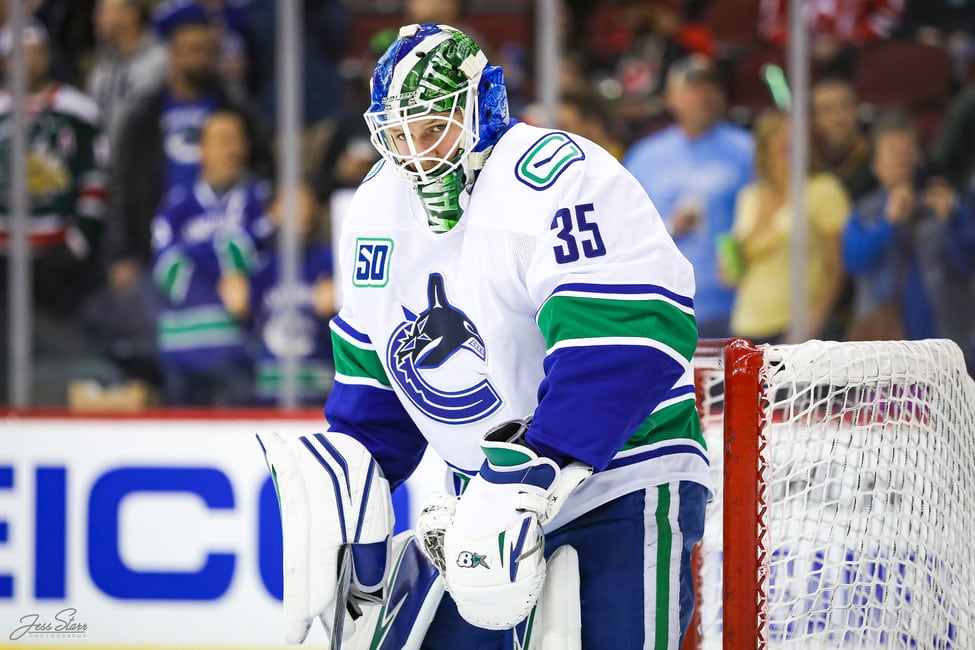 Benning added ex-Washington Capitals' Stanley Cup-winning goalie Braden Holtby to the team, but you have to know he's hoping Demko can carry the Canucks forward.
Item Two: News from Russia: Is Vasili Podkolzin Overrated?
First, I have to admit that I do not read or speak Russian. However, in this part of today's post, I'm using an article written in Russian by Mikhail Zislis and translated using a computer program. It's an opinion piece written for Sport-Express.ru about Canucks' prospect Vasili Podkolzin.
As an aside, in the close to 75 years I've been alive, things have changed so much. When I was researching and reading about Podkolzin, I was able to pull up an article from the Internet written in Russian. I then hit a button, and the article was quickly translated into English.
How amazing is that? It gave me a chance to read not only the article in English but also get a better sense of the nuance of the language as writen by a writer who's a native Russian. It was an interesting read on both counts.
Related: Around the NWHL: Buie Heads Home, Whale Get New GM & More
Here's the news: Podkolzin had a strong performance at the Karjala Cup, but he's been roundly criticized by both fans and hockey writers inside Russia. Specifically, his play hasn't been seen as up-to-par.
Zislis' article suggests that, a couple of seasons ago, Podkolzin had become known as the "Russian Connor McDavid." It isn't that the two were similar style players, but that Podkolzin was seen to have a similar talent level. However, Zislis notes that the young Russian hasn't lived up to that billing.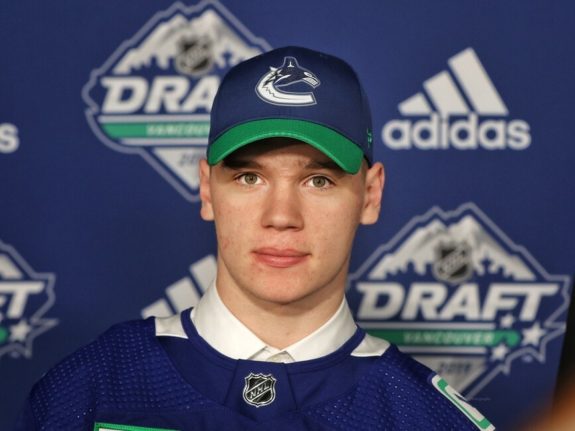 Because he wasn't able to score in the KHL, Podkolzin was demoted from the main SKA squad to the VHL (similar to the AHL). That move caused a lot of controversy.
In fact, Zislis wrote, "This season, when the striker (which I believe is a term adopted from soccer to mean the main goal-scorer) sometimes dropped out of the main SKA squad and did not score points, not only ordinary fans, but also journalists who called to 'save Podkolzin' were in a dizzying mood."
In other words, the demotion put everyone into a spin. Zislis even noted, "Vancouver TSN journalist Rick Dhaliwal even contacted Rotenberg to find out why the striker was released for a while in the VHL. The whole thing was almost hysterical. Like, SKA deliberately strangles a player who does not want to stay in Russia."
In other words, to those outside Russia Podkolzin's demotion must have seemed like a conspiracy to punish him because he didn't want to stay in Russia but wanted to move to the NHL. However, Zislis pointed out that the demotion came simply because the Canucks' prospect wasn't playing well and was a natural outcome of poor play.
Podkolzin's poor play has been happening for two seasons. During the 2019-20 season, he averaged only 8:49 of ice time. During last season's playoffs, he did score a goal and three points during four playoff games when his playing time was increased to 14:25 of ice time per game.
This season Podkolzin was demoted to the VHL from the KHL. He had played just over 12:07 minutes of ice time with SKA St. Petersburg and had been skating up and down the line-up. The response to his lack of on-ice success has caused him to be called "overrated" by some Russians. 
Certainly it'll be interesting to see how he plays during the upcoming World Junior Championship in Edmonton. As Canucks' fans know, Podkolzin will be able to sign with Vancouver after his 2020-21 season in Russia is completed. 
Item Three: Canucks' Prospect Nils Hoglander Is Playing Well in the SHL
The Canucks 19-year-old Nils Hoglander has scored nine points in 14 games with Rogle BK of the Swedish Hockey League. However, it might be some time before he adds to that total. His team hasn't played in over two weeks due to a COVID-19 outbreak so the young prospect hasn't had a chance to improve his stats.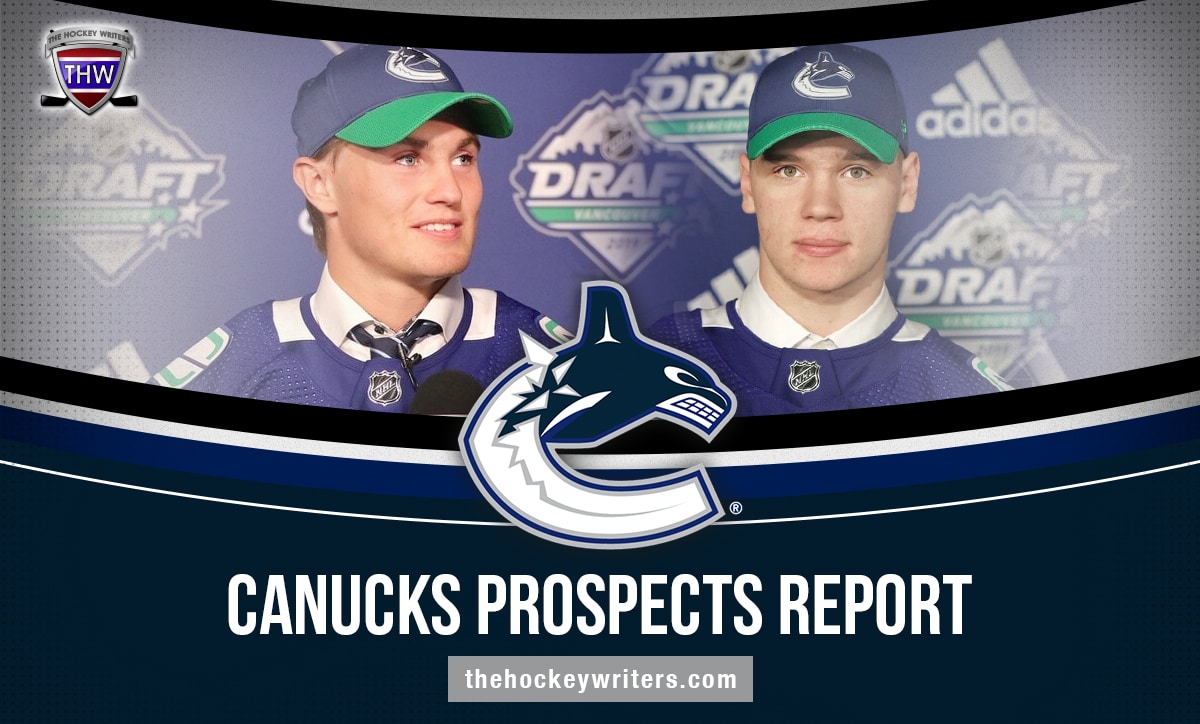 The Canucks choose Hoglander during the second round (40th overall) of the 2019 NHL Entry Draft. His play and his scoring have certainly improved this season. Playing with the same Rogle BK team, last season Hoglander scored nine goals and 16 points in 41 games (.39 points-per-game average). This season his average points-per-game has improved (.64 points-per-game average).
Hoglander will travel to North America when training camps open. He'll likely play with the Canucks' AHL affiliate Utica Comets (if they're playing); or, he could be returned to his home in Sweden to finish his season there.
What's Next for the Canucks?
As the general manager of the Canucks, Benning has done well to build a young core of players. Goalie Demko is 24 years old; star defenseman Quinn Hughes is 21; and, Elias Pettersson is 22, Brock Boeser is 23, Jake Virtanen, Adam Gaudette, and Zack MacEwen are all 24, Bo Horvat and Tyler Motte are 25, and even J.T. Miller is only 27. 
Related: 3 Greatest Canucks' Forwards of All Time

Of that group, seven were Canucks' draft choices. Motte and Miller came by trade, and MacEwen was signed out of junior hockey as a free agent. Benning has drafted wisely.
Canucks' fans have to hope that Podkolzin's troubles in Russia aren't a hint that Benning erred with his first choice from the 2019 NHL Entry Draft? Time will tell.
---
---