It wasn't long ago that the Vancouver Canucks organization was being ridiculed for their lack of depth, especially on the defensive end of things. Subsequently when the team parted ways with long time defenseman and leader Kevin Bieksa, it probably seemed like the defensive depth of the team got even more frail. The reality is that although it might take some deeper investigating and heavier statistical analysis, the team's defensive options are looking quite solid at this point in the off-season. If one believes in value and budget rather than the glamorous draw of a well-known name plate, the Canucks have made some key signings this off-season that should give them a respectably competitive defensive lineup come October.
As it looks now and barring any pairing changes, here is how the top ten defenseman in the organization would stack up for opening night
Hamhuis Weber ( a pairing that seemed to work well towards the end of the season )
Edler – Tanev
Sbisa – Bartkowski
Corrado – Clendening
Subban – Liberati (Subban is close to being NHL ready and Liberati had an impressive fourth season in the Ontario League).
The top six aren't going to break any records, nor will they crack the all-star squad (most likely), but it's as well-rounded as it gets. With Weber and Edler you have true offensive defenders with a knack for producing points from the blue line, something that is vital to a teams long-term success and powerplay efficiency. In Hamhuis and Tanev you have premier shutdown defenders with keen positioning and strong puck possession skills. Sbisa and Bartkowski are both somewhat dark horses as neither has solidified their NHL styles. They will have to define what their individual roles are for the Canucks, but they have both proven that they can perform at the NHL level and with Sbisa's new three-year $10.8 million contract, the Switzerland native has some significant expectations to meet.
While maintaining an NHL ready top six, General Manager Jim Benning made huge strides in sealing up the Canucks future on the blue line as well by keeping Corrado, Clendending, Subban and Weber in the organization, something that the previous Mike Gillis regime failed to do.
The Unsuspecting Contributions of Yannick Weber
At many stages of the 2014-15 season Yannick Weber was the brunt of many criticisms and the star of many compliments. His relationship with the organization was and has been complicated. By the end of the Canucks' surprising regular season, Weber had defined himself as a top-notch offensive option on the blue line. Weber was tied for eighth in the league last year for goals by a defender and that feat was accomplished in just 65 regular season games. His 21 points trailed only Dan Hamhuis and Alex Edler who notched 23 and 31 respectively, for points by a defenseman. Weber also finished a plus – 4, had five powerplay goals and was shooting at 9.4%.
Excited to spend another year with the @VanCanucks! Thank you to the fans and organization for the support ? pic.twitter.com/X2jUv2gof6

— Yannick Weber (@yanweber68) July 1, 2015

His production earned him almost a double in salary (he will be paid $1.5 million this upcoming season on a one year deal that helped the Canucks avoid arbitration with him).
At age 27 this coming season, Yannick Weber is right in the middle stages of his career. A strong season could see him earn himself five or six more years in the league but a lackluster campaign will more than likely force Weber to continue his career overseas. Common sense would imply, and possibly dictate, that Weber will see what he is capable of after the 2014-15 season and play a huge role in revitalizing Vancouver's powerplay in 2015-16 (which might be the team's only saving grace towards earning a playoff spot).
Sunglasses Needed: Vancouver's Defensive Future is Bright
Dan Hamhuis won't be able to quarterback the defensive core in Vancouver forever. He's turning 33 at the midway point of the 2015-16 season. A player of his quality has a good three seasons of top quality hockey left in him so long as he can stay healthy. Other than Hamhuis, the ages of the Canucks top six are all under 30:
Alex Edler: 29 years old
Chris Tanev: 25 years old
Yannick Weber: 27 years old
Luca Sbisa: 25 years old
Matt Bartkowski: 27 years old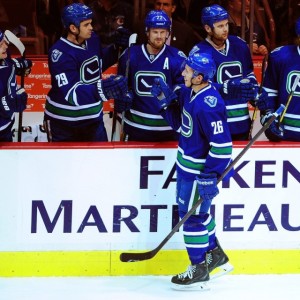 In the pipelines there are four names that stick out as being NHL ready in the near future: Adam Clendening (22), Frank Corrado (22), Jordan Subban (20) and arguably Miles Liberati (20) after his breakout year in the Ontario League. Not to mention the 2015 third round selection Guillame Brisebois who has been lauded by the Canucks staff as having  NHL top-four defenseman potential. If their gauge on his abilities is accurate, the Canucks have five defenseman in the system who have promising NHL caliber talent.
It is almost a sure bet that not all five of those prospects will end up making a huge impact in Vancouver (or the NHL for that matter) and if a guess was made it would probably question both Clendening and Liberati's NHL ability. If Stan Smyl can keep these youngsters on the right path, Vancouver might find itself sitting on one of deepest collection of defensive prospects in the league.