LAS VEGAS — Alex Tuch got his 10th goal of the season and the Golden Knights won their fifth straight at home, beating the Dallas Stars 4-2 Sunday night.
Tuch became the fifth Golden Knights player to reach double figures in goals just before the end of the second period, when he chopped a loose puck just past defenceman Miro Heiskanen's skate and through goaltender Ben Bishop's five-hole to give the Golden Knights a 3-1 lead.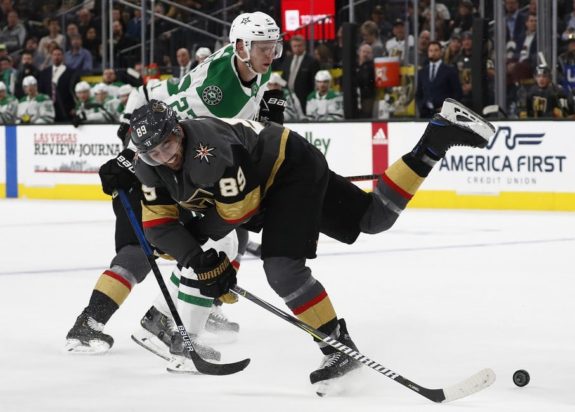 Ryan Carpenter, William Karlsson and Reilly Smith also scored to help Vegas improve to 10-3-1 at T-Mobile Arena. Marc-Andre Fleury stopped 22 shots.
Martin Hanzal and Esa Lindell scored for Dallas, and Bishop made 24 saves. The Stars snapped a four-game winning streak.
Hanzal, who had spinal fusion surgery in March and made his season debut on Friday, shielded Fleury perfectly and was in the right spot to deflect Heiskanen's shot into the net to give Dallas the early 1-0 lead.
Vegas tied it when Carpenter gathered the loose puck from a rebound and stroked it into the open net near the end of the first.
The Golden Knights highlighted the scoreboard in the second period with a pair of even-strength goals immediately following power-play opportunities, including Tuch's game-winner.
Karlsson collected a cross-ice pass from Nate Schmidt, skated inside the circle and lasered the puck through Bishop's pads 3 seconds after the Stars killed off an interference penalty on Hanzal.
The Golden Knights and Dallas have two of the best penalty kills in the NHL, both coming into the game ranked in the top five.
Vegas, which was 1 for 5 with a man advantage, has scored a power-play goal in 12 of its last 17 games. The Stars, who came into the game ranked 21st on the power play, were 2 for 4 with an extra man.
Smith's empty-net goal with 28 seconds left provided the final margin.
NOTES: Karlsson has scored a goal in five of his last eight games. … Vegas leads the NHL with 887 hits, but were outhit by the Stars, 31-23. … In his first two games back on the ice, Hanzal is 13 for 21 (61.9 per cent) from the faceoff circle in 26:06 of ice time.
UP NEXT
Dallas: Continues its four-game trip at Anaheim on Wednesday night.
Vegas: Opens a four-game trip at the New York Islanders on Wednesday night.
___
More AP NHL: https://apnews.com/NHL and https://twitter.com/AP_Sports
W.G. Ramirez, The Associated Press