It's no secret that the Chicago Blackhawks have struggled this season, but since being recalled from the minors in December, Vinnie Hinostroza has become one of their rising stars. Putting aside whether or not he has what it takes to make it in the NHL, there is no question that he has grown as a player since his rookie season.
Here are five quick facts about Vinnie Hinostroza.
1. Chicago Native
Like his teammate Ryan Hartman, Hinostroza was born and raised in the Chicago suburbs, where every kid dreams of playing for a Chicago sports team and they are among the few whose dream has actually come true. Hinostroza says,"Since I was four years old, I not only wanted to be a part of an NHL organization, but the Blackhawks growing up in Chicago, it's a dream come true. It just puts so much more honor in it because I grew up watching the Blackhawks level and dreaming of playing in it."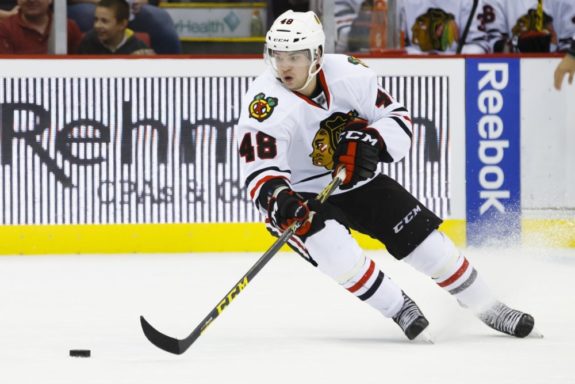 When a fan at the 2017 Blackhawks Convention asked what it was like to play for his hometown team, Hinostroza said, "It's definitely a special feeling. You grow up going to games and you dream of being out there for the National Anthem. I think that's the biggest thing I remember from my first game; you're standing on the bench and you have chills and you almost feel like you're going to pass out, it's really emotional. It's something I'll never get used to being from Chicago."
2. Junior Years
Hinostroza played for the Waterloo Black Hawks with the United States Hockey League (USHL) for three seasons from 2010 to 2013 where he tallied a total of 53 goals and 73 assists in 151 games. At the 2017 Blackhawks Convention, he spoke of the experience:
"It's a great league, you see pretty much every guy on every team going to college. It's a great feeder program, and it's really pro-like, and you really learn how to be a pro and get ready to go to college. It couldn't have been a better learning experience for me."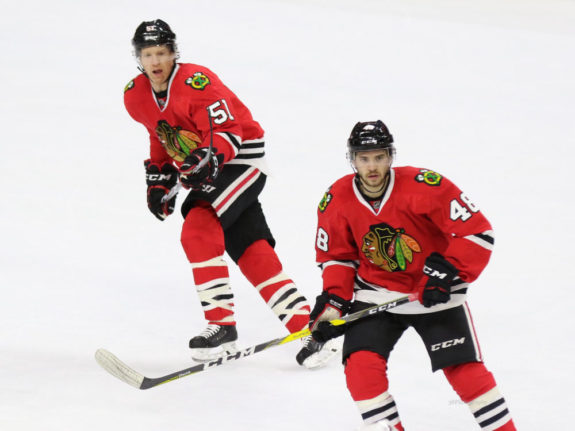 3. College Years
Hinostroza played college hockey at the University of Notre Dame for two seasons where he tallied a total of 19 goals and 57 assists in 76 games. He spoke of his experience playing for the Fighting Irish and the history and tradition behind the team and school at the 2017 Blackhawks Convention:
"It's really cool going out there and seeing all of the students wearing the same shirts and same jerseys. If you've ever been to Notre Dame, and you walk around that campus, it's just breathtaking how beautiful it is. There's so much history, so much tradition, and I think one of the coolest things, before the season starts, is being able to go to the football games and really bonding with the students. It's really a family culture, and everybody comes together for every sporting event, every activity, no matter what you're doing at that school, we're all a part of the same family. It's a really cool experience."
4. He's Got Speed
What makes Hinostroza unique is his speed. With players like Connor McDavid dominating the league, speed is a skill that doesn't go unnoticed. He had extra training in the summer prior to the 2017-18 season to help perfect his skills as he told Mark Lazerus of the Chicago Sun-Times:
"This summer, I did a lot of mental focus — read some books and stuff," Hinostroza said. "Over half the game is mental. If you have that intact, now you're just going to be able to go out there and play. I think last year, mentally, I was all over the place as a younger player. I just want to stay in a good place now and let my skill and speed take over."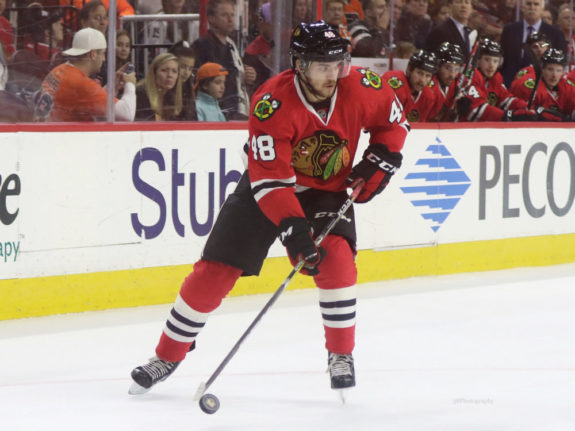 Coach Joel Quenneville also told Lazerus: ''He's taking advantage of working hard and adding an element to our team, which is energy, speed, and quickness. Getting on that top line, I commend him on how well he's done.'' Hinostroza's skills have been valuable, as he tallied six goals and nine assists since returning to the Hawks in December.
5. Hinostroza's Contract
Hinostroza's entry-level contract is up at the end of this season. His future with the Hawks depends on cap space and his performance through the rest of the season. If he keeps scoring, he will earn a spot on the roster next year. He is a valuable member of the team and can help them win another Stanley Cup in the near future.
Illinois State University graduate and lifelong Chicago Blackhawks fan. I also write for The Odyssey at Illinois State and Fans Talk Sports. Other than hockey, I love to write historical fiction and nonfiction.