Even with leading scorer and Captain Alexander Ovechkin off the ice, the Washington Capitals put forth presumably their best effort of the 2013-14 season Friday night with a 7-0 win in Philadelphia. Forward Joel Ward netted a hat trick and goaltender Braden Holtby (5-5) recorded 30 saves, including ten on the power play, in his first shutout of the season. He now has ten career shutouts as this his second season as Washington's starting net minder.
Play-making center Nicklas Backstrom added two goals and forwards wingers Jason Chimera and Troy Brouwer also scored. Washington outshot the Flyers by a 32-30 margin, including a dominating 15-9 second period where the Capitals registered five of their seven goals. Tonight was the Capitals' largest margin of victory against Philadelphia since entering the NHL in 1974 and matched the Flyers' largest shutout loss since 1994.
"I thought we were outstanding today," the cool and calm Holtby said after the lopsided victory. "Obviously, some goals went in, but I thought our whole game was great. I thought the Flyers played a better game than a 7-0 game, and this shows how well we played. I thought this was our best effort of the year."
Washington went 2-7 on their lethal power play, even without their top goal scorer in Ovechkin. The Capitals killed off the Flyers' five power plays, in a penalty filled affair where Philadelphia recorded 99 penalty minutes.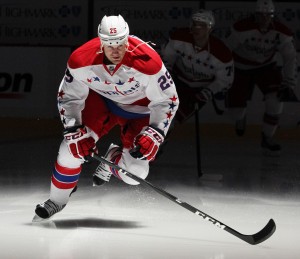 "We're just playing pretty simple hockey," said Capitals forward Jason Chimera after the game. "Grabo made a good play on my goal and both of those other goals. It's kind of nice to play with the same guys all the time cause you know where Ward is. He's a good guy and it's nice to see him get a hat trick."
"We need to get right back on the horse. It's one of those things where you have a good win here and you play well, but you got to get right back at it tomorrow. Enjoy tonight and let it go tomorrow."
Chimera finished the night with a goal and three assists in 17:00 of ice time, including 2:37 on the power play, a reward from Washington Capitals second year head coach Adam Oates. He broke out playing on the third line with Mikhail Grabovski at center and Ward on the wing.
The former Toronto Maple Leaf recorded three assists and forwards Martin Erat and Eric Fehr also added two assists apiece. Dmitry Orlov, Jay Beagle and Alex Ovechkin (injury) were the scratches for the Capitals.
"We created turnovers and had a lot of good speed, we cycled well, all the things we talk about on a night-to-night basis," Oates stated. "The power play got a couple. The penalty kill was good. [We did] a lot of good things."
Washington returns home Saturday night, squaring off against the Florida Panthers, a former divisional opponent prior to realignment. The Capitals currently sit third in the Metropolitan division with 12 points in 13 games, one point behind the New York Islanders.
Related Game Stories: Japers' Rink and CSN Washington 
You can follow Matthew on twitter @m_speck and email him at mspeck21@yahoo.com with any questions or comments.
Matthew Speck covers the Washington Capitals organization for The Hockey Writers. He provides coverage of both Washington at the NHL level and prospect related content. Matthew also covers local sports for the Lebanon Daily News in Central Pennsylvania. You can email him at mspeck21@yahoo.com with any questions or comments.