After a 4-2 win over Norfolk last Sunday night, the Hershey Bears (2-3-2-0) played like they did in a majority of their other games, getting out-shot once again, in their 3-2 loss to the Wilkes-Barre/Scranton Penguins (7-1-0-1) in overtime. The Chocolate and White have a 1-0 record when out-shooting the opposition and a 1-3-2 record when they don't. Hershey fell to 1-3 on the road this season with their second loss at Mohegan Sun Arena in two games this year.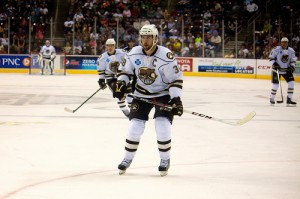 Defenseman and alternate Captain Brendan Mikkelson netted the winning goal for the Pittsburgh's AHL affiliate His game winner came with just 25 seconds left in OT, on the power play, setup by center Nick Drazenovic who assisted on every Penguins' goal and forward Tom Kostopoulous who finished with two assists.
Wilkes-Barre/Scranton went 2-7 on the power play, with forward Dominik Uher also scoring his third goal of the season on the power play. The Bears went 1-5 on the power play, as speedy first year Bear Derek Whitmore capitalized on the man advantage with his third marker of the season. Dane Byers also scored for Hershey, giving them a 2-1 lead 11:41 into the second stanza.
Philipp Grubauer (1-3, 2.68 GAA, .904 SV %) made the start in goal for the Bears, recording 24 saves on 27 shots as Hershey was outshot 27-24. Jeff Deslauriers (6-0-1, 2.38 GAA, .903 SV %) earned the win between the pipes for Wilkes-Barre/Scranton, collecting 22 saves on 24 shots.
Hershey returns home Saturday for a rematch against Wilkes-Barre/Scranton, followed by a Sunday even affair against the Norfolk Admirals.
Expected #HBH Fs: Byers-Taffe-Walker, Deschamps-Watkins-Mitchell, Whitmore-Johnson-Wellman, Ruegsegger-LeBlanc-Rechlicz.

— Scott Stuccio (@ScottStuccio) November 1, 2013
Expected #HBH D: Brouillette-Carrick, Schilling-Strachan, Genoway-Kundratek. Grubauer in net.

— Scott Stuccio (@ScottStuccio) November 1, 2013
Game Notes
Attendance: 5,019
Bears Injuries: Josh Brittain (skated in non-contact jersey earlier this week)
Hershey Healthy Scratches: John Mitchell, Brandon Segal (veteran scratch), Ryan Stoa, Patrick Wellar and David Kolomotis
Three Stars
Brendan Mikkelson (game winning goal, three shots on goal)
Tom Kostopoulous (goal, two assists, three shots on goal)
Nick Drazenovic (three assists, two shots on goal, plus one)
You can follow Matthew on twitter @m_speck and email him at mspeck21@yahoo.com with any questions or comments.