COLUMBUS, Ohio — Alex Ovechkin scored his NHL-leading 22nd goal and Braden Holtby got his 34th career shutout as the Washington Capitals beat the Columbus Blue Jackets 4-0 on Saturday night.
Travis Boyd had a goal and an assist, and Brett Connolly and Dmitrij Jaskin also scored for the defending Stanley Cup champions, who stayed atop the Metropolitan Division, moving three points ahead of Columbus.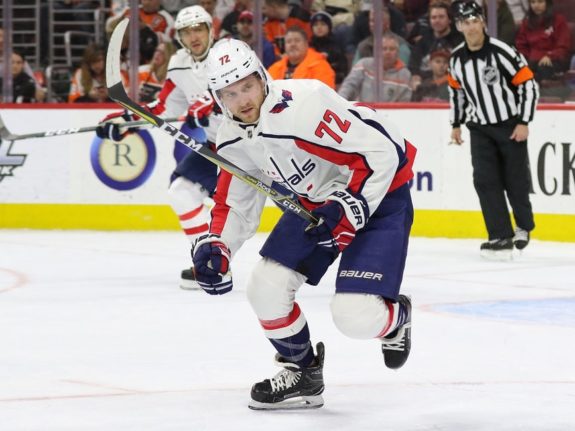 Holtby finished with 28 saves.
Ovechkin extended his points streak to 11 straight games, with 10 goals and six assists during the stretch. He also picked up an assist on Boyd's third-period goal.
The Capitals, whose three-goal first period overpowered the Blue Jackets, have won two in a row and eight of their last 11.
Connolly started it 1:42 into the game when he skated in on a rush and poked the puck around the back of lunging goalie Sergei Bobrovsky.
Jaskin got credit for a lucky tally halfway through the period when a shot from Travis Boyd hit Jaskin's left skate and popped over Bobrovsky's shoulder. It was the first goal of the year for the Washington fourth-liner.
Ovechkin's goal in the closing seconds of the first period was anything but lucky. He was left wide open in front of the net to tap in a pass from Michal Kempny.
After that, Columbus coach John Tortorella had seen enough and replaced Bobrovsky with Joonas Korpisalo to start the second period, which seemed to help.
After a scoreless second period, Boyd got his first goal of the season late in the third to cap the scoring.
Bobrovsky had 10 saves in the first period for Columbus, and Korpisalo recorded 14 the rest of the way.
NOTES: Columbus F Cam Atkinson had his points streak stopped at 12 games. … Tortorella split up his first defensive pair, Seth Jones and Zach Werenski, who hasn't made the coach happy lately with his play. Werenski skated in the third pair with Scott Harrington. … Columbus F Anthony Duclair was back in the lineup after being a healthy scratch the past four games. He replaced Lukas Sedlak. … Washington F Tom Wilson missed a second straight game due to an upper-body injury from a crushing hit by Vegas' Ryan Reaves on Tuesday. … The Capitals called up Riley Barber from the AHL Hershey Bears on Friday to replace T.J. Oshie, who was put on injured reserve with a concussion. … Connolly has five points in the last four games. … Capitals F Evgeny Kuznetsov has six points in his last five games.
UP NEXT:
Capitals: Host Detroit on Tuesday night.
Blue Jackets: Host Vancouver on Tuesday night.
___
More AP NHL: https://apnews.com/NHL and https://twitter.com/AP_Sports
___
Follow Mitch Stacy on Twitter at https://twitter.com/mitchstacy
Mitch Stacy, The Associated Press