He got the opportunity to step in and play on the same team as Washington Capitals Captain Alex Ovechkin in his first NHL game, but playing with top players for his in his first year with a new team is nothing new for forward Michael Latta.  Drafted in the third round of the 2009 NHL entry draft, the 22 year old gritty center has etched a key role on the 2013-14 Hershey Bears team.
He played with current San Jose Sharks forward Logan Couture in his first season in Junior Hockey with the Ottawa 67's, along with Jamie McGinn, the brother of Adirondack Phantoms forward Tye McGinn. His offensive production increased each year during Junior Hockey, with point totals of 28, 57, 73 and 89 over a four year span for Ottawa and the Guelph Storm.
Michael Latta Stats
"It was pretty cool, I stepped in as a 16 year old player with Logan Couture and Jamie McGinn, who was my line mate," explained the Capitals forward prospect. "He's a good friend of mine. It's always neat to play with those guys."
He's in his second year with Washington's AHL affiliate and has appreciated the difference between playing in Milwaukee for the Admirals and a smaller town in Hershey.
"It's a nice change coming from Milwaukee, kind of a big city to here," said Latta. "Playing for lots of fans every night which is nice, yeah, I like it, a good group of guys."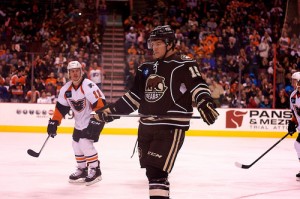 The St. Clements, Ontario native was traded along with Filip Forsberg for current Capitals forward Martin Erat, who has been extremely underwhelming in the nation's capital. He was also traded earlier in his young hockey career during Junior Hockey, traded from the Ottawa 67's to the Guelph Storm of the Ontario Hockey League (OHL).
"It's always tough to get traded, no matter what," Latta said. "It's part of the business, I guess. It was definitely nice to have a feel for it."
Over the last two seasons, Latta has played for four different coaches, two in the AHL and two in the NHL. His three most recent coaches are Mark French, former coach of the Hershey Bears, Adam Oates, head coach of the Capitals and Mike Haviland, current head coach of the 2013-14 Hershey Bears.
"I've played with four since my pro career and three in my last year in Junior," the Hershey Bears forward said. "You pick stuff up from every coach so it's good for your learning curve."
He was drafted by the Nashville Predators in the third round of the 2009 NHL entry draft and has already played in 17 NHL games, all for Washington. He scored a clutch, game knotting goal for the Capitals on the road against the Detroit Red Wings earlier this season, quickly putting his name in the mind of Caps' fans for the years to come as a hard working bottom six forward.
"That was pretty exciting, getting your first goal," he said. "Every time you score, especially the first one you get, AHL, OHL, NHL, it's pretty special. It was cool to get one, tell my grandkids about it."
Currently in Hershey during the Olympic break, Latta's primary goal remains to rejoin the Capitals at the NHL level. He's enjoyed his recent success Hershey, with arguably his best month coming this January, where he totaled 11 points in nine games. He's close to a point per game average in the AHL this season, contributing 24 points in 29 games, along with a plus 13 which leads all Bears' forwards.
Latta plays a physical game and is improving his offensive game around the net. He'll compete for a job with the Capitals out of training camp if he can't get back to the NHL level this season. The question of what is best for his development is the reason he's in Hershey.
"Hopefully by the end of the year I can get back up there (in Washington)," Latta said about returning to the NHL after a stint with the Capitals earlier this season after his first ever promotion to the toughest league in hockey. "Just get to keep working on everything, skating, keep my feet moving."
You can follow Matthew on twitter @m_speck and email him at mspeck21@yahoo.com with any questions or comments.
Check out our partners at TiqIQ for the best deals on Washington Capitals tickets for all 2013-14 games.
Matthew Speck covers the Washington Capitals organization for The Hockey Writers. He provides coverage of both Washington at the NHL level and prospect related content. Matthew also covers local sports for the Lebanon Daily News in Central Pennsylvania. You can email him at mspeck21@yahoo.com with any questions or comments.