The Washington Capitals proved they are a powerful team during the first week of January. Their torrid pace of wins moved them into the first wild card spot, which is two points behind the idol New York Rangers in the Metropolitan Division. During that span, the Capitals won five in a row for the third time this season. Washington received contributions across the lineup, but Justin Williams, Evgeny Kuznetsov and Braden Holtby really stepped up their game.
Justin Williams
Williams is playing lights out hockey. No question. The 35-year-old forward has 15 points in the last 15 games. Williams collected two goals and two assists through 23 games until posting two goals on Dec. 7. Since then, nine of his 15 points have been goals. He tallied six points over four games in the first week of January.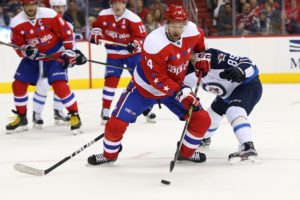 Williams is a triple-threat forward. He has scoring hands, plays with great hockey sense, and is unafraid of being physical and brash. Coming out of the penalty box for the 14th time this season, the winger skated on a partial breakaway before turning and feeding TJ Oshie with a nifty pass that led to a goal. Williams has dropped mitts six times in the National Hockey League and four times during his juniors career, according to hockeyfights.com.
Williams is underrated because his scoring touch cloaks his physical style and hockey intelligence on the ice.
Evgeny Kuznetsov
The NHL reviewed a penalty Kuznetsov drew against New Jersey's Yohann Auvitu. The league announced on Thursday afternoon that Kuznetsov was fined $2,000 by the NHL as supplementary discipline for diving/embellishment. While many people might be displeased with him for diving, Kuznetsov is generating the offense after a long season of sloppy play.
— Danny (@recordsANDradio) December 30, 2016
This young man took a lot of heat from the press (myself included), but it seems the 24-year old hailing from Chelyabinsk, Russia, found his niche. It lies in centering a line with journeyman Williams and left-wing Marcus Johansson. Kuznetsov contributed two assists in the 5-0 rout against the Columbus Blue Jackets on Jan. 5 and generated a four-point night against the Toronto Maple Leafs on Jan. 3. The second line of Marcus Johansson, Kuznetsov and Williams powered Washington's nail-biting victory against Toronto. They were on the ice for three goals, two of which the line scored.
Kuznetsov had a helper in overtime, too. He dished the puck to John Carlson to assist on Alex Ovechkin's overtime winner. In total, Kuznetsov and his linemates collected nine points that night.
Assists seem to be his game, but head coach Barry Trotz wants to see Kuznetsov shoot more. More goals (and assists) from Kuznetsov are likely to come because he is too good a player to not take advantage of scoring opportunities … as long as the pass isn't the better option.
Braden Holtby
Holtby's new year's resolution must have been to play better. Despite being yanked in the teeter-totter hockey game on Jan. 3, Holty has turned his new year into a great year. The goalie posted a .956 save percentage from Jan. 1 – Jan. 7, which included a pair of back-to-back shutouts. Holtby turned aside 87 of 91 shots faced against the Ottawa Senators, Maple Leafs and Blue Jackets.
Check out this quick-reaction save by No. 70 on Saturday.
Holtby is a big goalie who uses his size and speed well. Goaltender coach Mitch Korn encourages the franchise netminder to play around the crease. You won't see Holtby come far out to challenge a shot on most occasions. As Ottawa was pressing late in the third period on Saturday, Holtby played square to the puck despite the Senators' attempts to block his view.
https://twitter.com/CapsGoalies/status/817774988421984260?ref_src=twsrc%5Etfw
"You just shrug your shoulders, and you just expect him to do it every game," veteran right-winger Williams said of Holtby. "He does, and that's why he's our rock back there. You never, ever, ever have to worry about him. That's a good thing in this league."
Upcoming Week
The Capitals square off against the Montreal Canadiens, Pittsburgh Penguins and Chicago Blackhawks this week. Montreal and Chicago are first place in Atlantic and Central Division standings, respectively. The rival Penguins sit second in the Metropolitan Division, three points behind the Blue Jackets. Here are my predictions for the three Capitals of the Week.
Nicklas Backstrom. The Swedish center picked up his 500th assist on Saturday night. Backstrom's achievement was recognized across the Twitterverse by the organization, teammates, and the NHL.
HOW YOU LIKE THEM 🍎!? #Backy500 pic.twitter.com/BbGw1bSbmM

— Washington Capitals (@Capitals) January 8, 2017
It's history @backstrom19! Been a treat to watch you play and do your thing over the years #congrats #500apples

— Tom Wilson (@tom_wilso) January 8, 2017
He wins faceoffs, skates fast, and generates a 52.2 corsi-for percentage, despite facing other teams' top lines. More points are on the horizon as linemate Alex Ovechkin is chasing the 1,000-point career milestone.
Alex Ovechkin. Washington's prodigal son has 996 points (543 goals, 453 assists) in 878 games. Ovechkin tallied two points (1 goal, 1 assist) last week. We all know that he will take the wins, but the "Great 8" would love to contribute more offense, especially with a benchmark in range.
Justin Williams. The 35-year old winger will not slow down. Williams is known for playing great in big games. He has been lifting the Caps on the scoresheet and is key to the formation of  the second line. Look out for the Johansson-Kuznetsov-Williams line this week.