The Washington Capitals and General Manager George McPhee got their offseason started on Tuesday, making two key decisions for the future on the Capitals' blue line. They re-signed the 23 year old offensively skilled defensive prospect Tomas Kundratek for two seasons, worth a cap hit of $550,000 per year. The deal is a one way contract in the 2013-2014 season, but switches to a two way contract in year two of the deal.
McPhee also bought out defenseman Jeff Schultz, who had already requested a trade, proving there weren't many teams interested in the former Capitals 2004 first round draft selection. Since the Capitals decided to exercise the compliance buyout with Schultz, his 2.75 million dollar cap hit comes off the books for next season.
It's nice to have it happen now and I can look to the future," Schultz told the Washington Post Tuesday afternoon. "I'm excited. I'm excited to move on and restart the game of hockey for me. The last month and a half of the year was tough just practicing all the time not knowing. I'm looking forward to starting over again. I want to get back out there and play."
With this buyout and the Kundratek signing, Washington has about nine million dollars in salary cap space available heading into the 2013-2014 summer. Centers Mike Ribeiro and Matt Hendricks will test the free agent market and are unlikely to return to D.C. Restricted free agents Karl Alzner and Marcus Johansson shouldn't have too much trouble re-upping with the Capitals as free agency officially begins July 5th. Teams can start talking to free agents on July 3rd.
Kundratek brings youth to the Washington defense, which has prospects waiting in the wings. Russian defensive prospect Dmitry Orlov could join Kundratek, Alzner, John Carlson, Mike Green, Steve Oleksy and Jack Hillen on the blue line next season.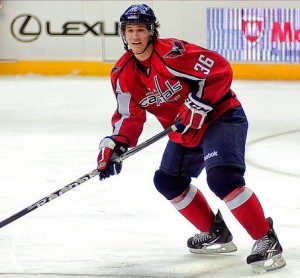 Kundratek played in 25 games for Washington last season, totaling seven points in 16:08 minutes of ice time per game. He played about 20 shifts a game, close to a minute of power play time per contest and earned 1:23 of shorthanded ice time per game.
Qualifying Offers
Along with re-signing Kundratek, the Capitals issued qualifying offers to defenseman Karl Alzner and forwards Marcus Johansson, Peter LeBlanc and Nicolas Deschamps. They did not give qualifying offers to restricted free agents Danick Paquette, Dustin Stevenson and Mattias Sjogren. The Swedish born Sjogren had signed to play overseas last month.
Players have until July 20th to accept their qualifying offers and Washington's three prospects that didn't receive a qualifying offer now become unrestricted free agents beginning July 3rd and can officially sign on July 5th. Alzner and LeBlanc are both eligible for salary arbitration.
You can follow Matthew on twitter @m_speck and email him at mspeck21@yahoo.com with any questions or comments.
Matthew Speck covers the Washington Capitals organization for The Hockey Writers. He provides coverage of both Washington at the NHL level and prospect related content. Matthew also covers local sports for the Lebanon Daily News in Central Pennsylvania. You can email him at mspeck21@yahoo.com with any questions or comments.