The stats tell you all you need to know about Tyler Bozak. 26 years old, 238 career NHL games, 53 goals, 81 assists for 134 points, a career -42 with 21 power play goals. Those are pretty good numbers for a 2009 free agent singing from The Denver Pioneers of the NCAA. Consider the fact that he is the Toronto Maple Leafs number one centre. Consider the fact that he doesn't elevate Phil Kessel's play, but Kessel enhances Bozak's. For a moment, think about the other number one centres around the league that amount close to Bozak's career numbers in a single breakout season. Maybe he's not fit to be a number one centre.
Don't try and tell that to a casual Leaf fan, Brian Burke, or Dave Nonis as he has said Bozak is a player who needs a deal. Yes, for the sake of his career, he needs a deal seeing as he is set to become a UFA on Friday. He's going to want to continue a career in the NHL, he's going to want to create as much security for himself as possible asking for a fair term and a fair chunk of change.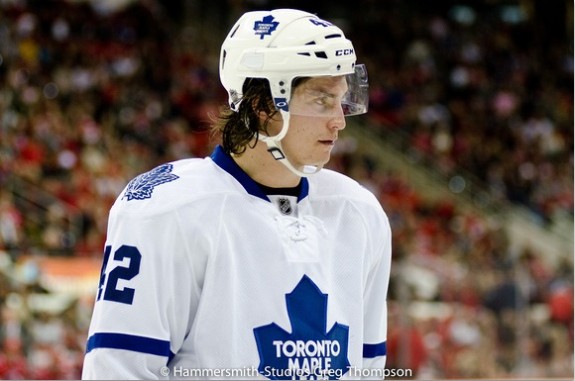 The Cap
When the cap was introduced into the NHL after the 2004 lockout, transactions between and within teams would change. The cap was supposed to create parity, it was supposed to ensure the teams who make a lot of money cannot buy all the talented players away from the teams without an ability to match an offer. I get that. The floor is an issue for this system. Meeting the floor means you have an allotted sum of money you need to spend in order to stay within the regulations of the CBA.
The Florida Panthers were the first team to struggle with meeting the floor when they signed Brian Campbell taking on his 8 year, $57 million contract. Tomas Fleischmann signed a 4 year, $18 million contract, and Kris Versteeg signed a 4 year, $17.6 million contract. The value in dollars these players mean to their teams is greatly exaggerated by means of their salary because their team needed to overpay them to hit the cap floor.
The Comparables
Now that teams are overpaying to make sure they hit the cap floor, the market value for players of much higher skill and talent are then raised to reflect their new value. Thus begins the game that is comparables and how much a player is worth up against the money he makes beside the money his competition makes.
Number one centres are often the centrepiece of an NHL team. Sidney Crosby, Steven Stamkos, Jonathan Toews, Joe Thornton, and so on. These guys make top dollar, not because they were given the role of first line centre, but because they earned it and have proven they can not only produce but make those around them produce. Tyler Bozak is not a first line caliber centre, he is not a second line caliber centre. Tyler Bozak is a third line, win-you-a-face-off-when-you-need-it type of player. He doesn't elevate Phil Kessel's play, while Kessel has elevated Bozak's. While paired together for the last two seasons, they are a combined -21.
When Patrick Kane and Jonathan Toews play together considering the last two NHL seasons, they are a +63. When Pascal Dupuis and Sidney Crosby play together, they are +90 for the past two seasons. Steven Stamkos and Martin St. Louis have been a combined +/- 0 for the last two seasons. It's a lot better than -21, and they are on a team that barely finishes at .500 lately. A top line that cannot finish a season with at least a +/- of 0 is not working efficiently.
The Offer
The offer Bozak presented to Dave Nonis earlier today was laughable. He came in with an 8 year, $40 million contract proposal. For a first line centre who is not producing like one, or elevating the play of his wingers, this kind of contract is absolutely undeserved. Sure, he elevated his play in the playoffs, scored some goals, and might have some more room to grow and develop. At 26 years of age, I believe he has reached his peak as a professional hockey player. He has been given the number one role for three seasons now and has shown no improvement or ability to be able to sustain that role going forward.
https://twitter.com/chrisjlund/status/352124480618897408
Like if six of the years were for after the sun explodes to keep the cap hit low, that would be fine.

— Down Goes Brown (@DownGoesBrown) July 2, 2013
https://twitter.com/DaveLozo/status/352128006837370880
$5 million is not the issue, compared to others around the league, that is a fair price for Bozak to ask. The issue is the term – 8 years is a long time for a guy that can centre a third line. And the Leafs just got themselves a bonifide, proven, third line centre in Dave Bolland who they project can move up and plug their second line centre hole. All I see when I hear that are shades of Kris Versteeg. You can't trade for a defenseman and throw him on the second line to be a centre, you could but you wouldn't. Bolland has been a career third line centre, and that is where he has succeeded. Moving him up would be setting him up for failure which is exactly what they did with Kris Versteeg.
The Reality
The best option for the Leafs would be to offer him a 2 year, $7 million contract to continue to prove himself. That's obviously not what Bozak is looking for in terms of long term security. I understand why he wants security, but spending that much money and giving that much term to a player who has never shown he can be the number one centre is too much to risk.
If the Leafs are only signing Bozak because he can play with Kessel, they need to think about a long term deal that keeps Kessel in the city before they do the same with Bozak. Signing Bozak to a two year deal gives you some leeway when negotiating with Kessel, solidifying the fact that if a deal doesn't get done, you're not tied to Bozak for 7 more years.
The way negotiations have gone between Nonis and Bozak they have been, what I assume, a game of cat and mouse. Bozak came in with his ideal situation, to which Nonis will counter and they will chip away at a deal which will probably be half the term at around $5 million per season. Bozak deserves some money for his contributions to the Leafs, but what he has in mind is not at all what he deserves.
Katie Flynn is a News Editor at theScore and theScore App as well as an NHL Analyst for H4TV Sports News.