A 4-1 loss to the Carolina Hurricanes was not the result that the Washington Capitals wanted to see Saturday, but they got a standout performance from a number of players.
The Washington lineup Saturday featured a number of prospects, including Jonas Siegenthaler and Jakub Vrana, but the two players who stood out the most were two of their top contenders to crack the opening night roster: Alex Chiasson and Nathan Walker.
Chiasson Shines
Playing on the first line with Alex Ovechkin and Evgeny Kuznetsov, Chiasson, who signed a professional tryout with the Capitals prior to the start of training camp, tried to make himself a presence in front of the net. He also said that while he did "try to enjoy" playing on the top line, he was sure to "focus on my play and my opportunities to make something happen" at the same time.
"Obviously I thought [Saturday] was a great opportunity to play with guys that have much skill, and I just went out, played my game and like I said, I can only control what I can control and the way I play."
He also saw time on the first power-play unit, where he scored Washington's lone goal of the night on a textbook tic-tac-toe play featuring Kuznetsov and Jakub Vrana.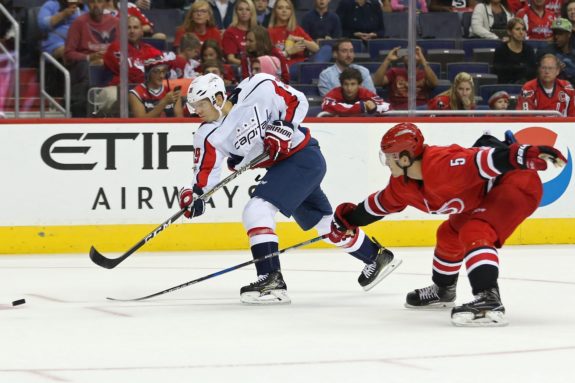 "It's always nice to get one or two, in my case I'm obviously battling for a spot on the team, so I'm trying to build my game here every day," Chiasson said. "For me, every day, I got to prove that I belong and I got to earn a spot on the team, so I try more to focus on my plan than on the results, but it was definitely nice to get one here on the power play."
Through 81 games last season, the 6-foot-4, 208-pound winger registered 12 goals and 24 points, as well as 74 hits and 32 takeaways for just 22 giveaways. He has shown his ability to play a solid two-way game, all while adding offense and physicality to the lineup.
As he tries to win a contract out of his tryout with Washington, Chiasson said that his primary goal is to focus on his individual game.
"I think for me, I was not trying to prove that I try to be someone else," Chiasson said of his performance. "I just try to play my game and make the little plays and there's good opportunity for me. All I can do is control my game and the way I prepare, but I can just focus on my game."
Walker Impresses Again
After scoring in his preseason debut, Capitals prospect Nathan Walker was also outstanding in the Capitals loss to the Hurricanes. In about 14 minutes of ice time, he had a takeaway and three shots and was one of the hardest working forwards on the ice.
Though he started on the fourth line with John Albert and Riley Barber, he earned a promotion to the second line toward the end of the game, getting time with Jay Beagle and Devante Smith-Pelly, which could very well be Washington's fourth line to start the year. After the game, Beagle had nothing but good things to say about the Australian winger.
"He's been unreal ever since he came in," Beagle said. "He's got tons of speed and it's becoming a young fast league, so if you have speed, I mean, that's huge, and he obviously has that. He's great with the puck. I played with him and he's a great player and I played with him a little in the second and then in the third there. I think he's a great player, he's fun to play with, he's got a lot of energy, a lot of grit and he's a good guy. It's fun to play with a guy like that."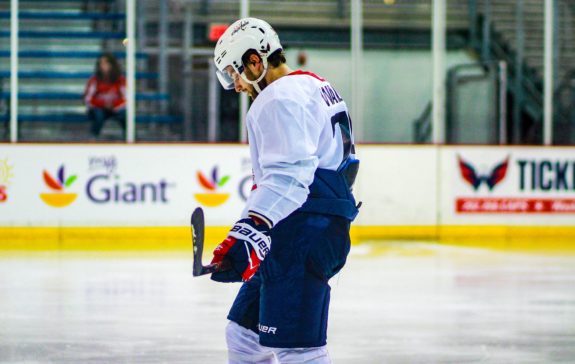 Competing with the likes of Vrana, Riley Barber and Liam O'Brien, Walker has perhaps stood out the most. After four seasons of development with the AHL's Hershey Bears, he appears ready to enter the NHL ranks and join the team this season and is showing day after day that he can bring a lot to the table. And according to Beagle, it has shown.
"When he first came in, his puck-handling ability and the way he sees the ice has grown and gotten really really good," Beagle said. "It's fun to play with a guy who brings that much energy, he's always had that energy and he's always, y'know, been a little guy who grinds it out and isn't afraid to get in there, get in the corners and win a lot of battles. He's great to play with. He's a lot of fun."
Capitals Announce More Cuts
In other news, the Capitals announced more cuts Sunday, trimming their roster down to 36 players. They sent down forwards John Albert, Mathias Bau, Chris Bourque, Dustin Gazley, Hampus Gustafsson, Tim McGauley, Garrett Mitchell, Mason Mitchell and Wayne Simpson, defensemen Kristofers Bindulus, Connor Hobbs, Tommy Hughes, Lucas Johansen and Hubert Labrie and goaltenders Adam Carlson and Vitek Vanecek to Hershey for the first day of training camp.
Twenty forwards, 12 defensemen and four goaltenders remain on the roster moving forward. Along with Walker, important forwards still fighting for a spot include Barber, Vrana and Tyler Graovac. Out of the defensemen left competing for a spot on the blue line, Siegenthaler, Christian Djoos, Aaron Ness, Tyler Lewington and Jyrki Jokipakka remain with the team headed into the latter half of camp.
Sammi Silber covers the Capitals beat for The Hockey Writers and is an NHL contributor with Sporting News. She has also contributed to USA TODAY College, Huffington Post, FanSided and the Nation Network. Silber has written four books and recently worked on graphics for the film, The California Golden Seals Movie.