Week three of fantasy hockey was highlighted by some odd games and yet again, strong goaltending. In a week which saw Columbus score ten goals on Montreal and a 35-year-old stay-at-home defenseman almost lead all blueliners in points, the unexpected was absolutely the theme for week three of fantasy hockey. With that being said, if any of the players listed below were occupying your fantasy roster, you more than likely had both a successful and dominant fantasy week.
Fantasy Hart Trophy – Nikita Kucherov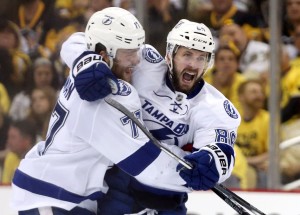 GP:3 G:3 A:4 Pts:7 +/-:+3 PPP:4 GWG: 1
The Fantasy Hart Trophy is awarded to the week's most valuable player. There were three players who managed to score seven points across week three of fantasy hockey, but none stood out more than the Tampa Bay Lightning's Nikita Kucherov.
Across three games Kucherov had an extremely strong showing, scoring three goals and four assists on his way to earning this honour. His week was highlighted by a four-point dominant outing against the New York Islanders which saw him also contribute the game-winning goal.
Kucherov's four power-play points were good for second among all players and, mixed with his overall output across all fantasy categories, put him a leg above Patrick Kane and Corey Perry.
After a slow start to the season in week one, Kucherov has proven the early rust is very much a thing of the past, as his 15 total points have him currently ranked third in league-wide scoring.
Prior to this fantasy week, owners were left wondering if Kucherov would start to contribute to the goal category as he had only amassed one goal through his first eight regular season games. That worry is now a thing of the past as owners are seeing what made Kucherov a 29-goal-scorer in each of the past two seasons and the 15th best league-wide scorer throughout the past three seasons.
Now paired alongside Steven Stamkos on the Lightning's top line, Kucherov seems to be in perfect position to surpass his career high of 66 points from a year ago, making fantasy owners excited at the idea of their top forward week in and week out.
Expect Kucherov to be in contention for the Fantasy Hart Trophy nearly every week as he has proven to be a reliable fantasy source every time he touches the ice on what looks like a very lethal Lightning offense.
Honourable Mention: Patrick Kane, Kevin Hayes, Corey Perry
Fantasy James Norris Trophy – Dennis Seidenberg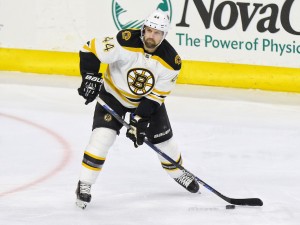 GP:3 G:2 A:2 Pts:4 +/-:+2 PIM:6 
The Fantasy James Norris Trophy is awarded to the week's most valuable fantasy defenseman. Yes, you read the recipient right. Dennis Seidenberg of the New York Islanders was, in fact, the most valuable fantasy defenseman for the entire third week of fantasy hockey.
The seldom-owned veteran defenseman joined the week owned by less than 1% of Yahoo users, but after a strong showing through three games, he proved he should be a name warranted of an addition for teams looking for some fantasy-related defensive help. Seidenberg's two goals and two assists supplied fantasy owners with stats across more than one major category in a week where many teams did not receive a lot of defensive stat help.
Seidenberg's two goals and two assists supplied fantasy owners with stats across more than one major category in a week where many teams did not receive a lot of defensive stat help.
Seidenberg's two goals and two assists supplied fantasy owners with stats across more than one major category in a week where many teams did not receive a lot of defensive stat help.
His six penalty minutes added an added bonus for owners whose league uses the PIM category. Unfortunately, the 14-year vet did not supply owners with any help in power-play point and goal totals, but that might as well be his only knock as he managed 1.33 points per game on the week.
Seidenberg has 7 points in 11+ games. He had 40 points for the Mannheim Jr Eagles in German league in 1999-2000. Should have that by Xmas.

— Arthur Staple (@StapeAthletic) November 5, 2016
Seidenberg is currently on pace to score 55 points by season's end. That would be 23 points above his career-high of 32 points from the 2010-11 season in Boston. While it would be a great story for Seidenberg to have such a successful year, it is sadly not very realistic to assume he will continue this high output for the rest of the season. For owners who managed to grab the veteran early in the week, the rewards have paid off, but as we advance into upcoming weeks, keep an eye on his usage on what seems to be a weak Islanders squad.
Do not expect Seidenberg to be mentioned in talks about the Fantasy James Norris again this year, but for week three of this season, we can all say Seidenberg did more than enough for his owners as he looks to bounce back after having four straight seasons of fewer than 20 points.
Honourable Mention: Victor Hedman, Brady Skjei
Fantasy Vezina Trophy – Corey Crawford
GS: 3 W:3 L:0  GAA:1.00 SV%: 0.971 SO: 1
The Fantasy Vezina Trophy is awarded to the week's top goaltender. Last week the goaltenders dominated fantasy hockey as they clearly were the strongest of the three major positions. This week was much the same as eight goalies with two starts or more went undefeated.
As well, 10 goalies with more than one start achieved a .940 save percentage or better. With so much goaltending success it was hard to choose a clear Fantasy Vezina Winner, but Corey Crawford of the Chicago Blackhawks seems more than deserving of the award for week three.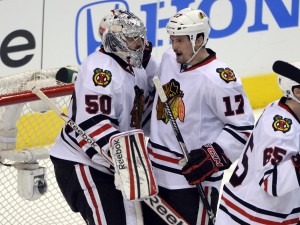 With starts in Calgary, Colorado, and Dallas, Crawford managed to single-handedly carry the Blackhawks into the win column across all three victories. Crawford's .971 save percentage ranked him second only to Pittsburgh's Matt Murray's .985 save percentage amongst goalies with two starts or more. Meanwhile, his 1.00 goals-against average tied him for tops among all eligible goaltenders.
Crawford decided to reward his fantasy owners with the extremely valuable shutout when he blanked the Avalanche in a 38-save masterpiece in his second start of the week.
The Blackhawks goaltender was one of the most dependable fantasy starters a year ago, and he looks poised to offer the same consistency across all major categories as he did last year by leading all goaltenders with seven shutouts. Crawford's 35 wins a season ago tied him for fourth in the league while his .924 save percentage ranked him fourth amongst goaltenders with 40+ games played.
Expect Crawford to be in contention for this fantasy award nearly every week as Chicago continues to be a model of success in the NHL, led by their ever-so consistent goaltender.
Honourable Mention: Frederik Andersen, Henrik Lundqvist