After three games, I wrote about the Leafs being undefeated. Was I getting a bit ahead of myself? Yes, of course I was. But now 12 games in, they are sitting 2nd in the Eastern Conference. Wait, hold it, I'm still getting a little ahead of myself, seeing as they've played more games than the three teams immediately trailing them (Boston, Tampa and Pittsburgh). Oh and it's still early on in the season.
But the games so far aren't meaningless. The Hockey News had a blog post in early October from editor-in-chief Jason Kay and copy editor Ronnie Shuker illustrating how crucial a fast start is in the NHL and the results were telling. Since 1993-94, the team sitting in 2nd place in the Eastern Conference at the end of October qualified for the playoffs 82.4% of the time (take note that now is almost the end of October and Toronto is in 2nd place).
Moving forward, the Leafs are headed off to Western Canada for a three game road trip against the Oilers, Flames, and Canucks. Let's see what's in store for the blue and white this week.
Tuesday October 29th vs Edmonton
Oilers record: 3-8-2 (15th in West)
Most Leaf fans will look back to the first meeting of the season between these two teams and recall the excitement of the back and forth goal fest. Just 57 total shots on goal between the two teams yet 11 goals were scored on Bernier and Dubnyk. Dave Bolland ended it in overtime after a 3-on-1 rush with Raymond and Franson: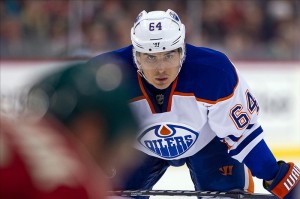 You can bet both coaches will want to steer clear of the high octane offense that was displayed at the Air Canada Centre on October 12th. Both teams display lots of fire power up front but are looking to improve their defensive games. Edmonton is last in the NHL in goals-against per game at 4.0 and although Toronto is 7th in goals against (2.5), they are 27th in shots-against per game at 34.9.
The logical choice in goal for Toronto is James Reimer, not only because he is coming off an unbelievable performance against Pittsburgh (37 saves on 38 shots) but also because Bernier let in five goals in the first meeting. Reimer is also 2-0-0 lifetime against Edmonton (2.97 G.A.A and .903 SV%).
The Oilers have gotten nothing from Devan Dubnyk this year who just happens to be hurt with an ankle injury. Last night Richard Bachman made his season debut and stopped a whopping 47 shots in a 2-1 shootout loss, so he'll almost certainly get the nod. Bachman is 26 years old but has just 33 career games under his belt. He signed this offseason with the Oilers after backing up Kari Lehtnonen last year in Dallas.
Up front Taylor Hall had two assists in the first meeting between these two but is out for a few weeks with a knee injury. Eberle and Nugent-Hopkins are scoring at a solid pace and surprise rookie Mark Arcobello has 10 assists in 13 games. Meanwhile Nail Yakupov continues to struggle as he has three points in seven games since returning from being a healthy scratch for two games (though he did finally score a goal yesterday against the Kings). One of the games he was in the press box for was the game against Toronto.
Wednesday October 30th vs Calgary
Flames record: 5-4-2 (11th in West)
It's been a while since these two teams met, as the last meeting was back in February 2012 when Calgary won 5-1. Four of the five goal scorers from that game are no longer on the Flames. Iginla is now in Boston, Olli Jokinen in Winnipeg, Tanguay in Colorado and Blake Comeau in Columbus. Paul Byron, who scored this goal against Toronto on a penalty shot, is still with Calgary but has yet to play this season:
These are two very different teams from a year and a half ago. No Schenn, no Grabovski, no Komisarek, no Liles, no MarArthur, no Iggy, no Jokinen, no Tanguay, no Bouwmeester, and no Kiprusoff. Instead, the Flames have a sensational rookie in Sean Monahan, a surprisingly productive winger in Jiri Hudler, as well as two sturdy and reliable d-men in Mark Giordano and Dennis Wideman.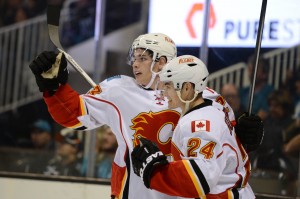 Calgary has shown this season they can score goals (over three per game) but like Edmonton they have trouble keeping them out of their own goal. They are currently 28th in the league in goals-against per game at 3.46, which isn't all that surprising given the unproven tandem of Kari Ramo and Joey MacDonald. Ramo played in net last for the Flames and picked up a 5-2 win against the Capitals so expect him to start as the Flames are off all the way from this past Saturday until Wednesday night.
Reimer has one career start against Calgary and Bernier has two. The game will be a back-to-back on the road so expect whoever starts against Edmonton to get a rest against Calgary.
Saturday November 2nd vs Vancouver
Canucks record: 8-4-1 (4th in West)
Over the past five seasons, the Leafs have struggled against Vancouver to the tune of zero wins: 0-7-1. Once again February 2012 is the last time these two met. That game was also in Vancouver and saw Reimer get pulled after allowing four goals on 18 shots. The Canucks won the game 6-2. The Sedin's each had four points and once again they will no doubt be players to key in on.
In fact, Henrik Sedin is on fire to start the year and sits third in league scoring with 16 points. Daniel Sedin has 12 points. Defenseman Jason Garrison has also quietly been a revelation for Vancouver with nine points in thirteen games, including three shorthanded points.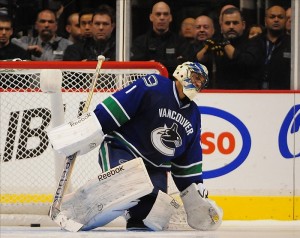 One struggling aspect of the Canucks game is their powerplay, currently 25th in the NHL at 11.8%. The past five games however it is 2-for-11 so lately it's been more a lack of creating powerplay opportunities than a poor percentage. Last season under a different coach it struggled as well at just 15.8%.
Also somewhat struggling is goaltender Roberto Luongo, who has resumed starting duties for good after the Schneider/Luongo soap opera. He has a solid record this year of 6-3-1 in 10 starts but carries just a .908 SV%. Last season was the only time as a Canuck he finished with a SV% below .913%.
The Canucks come into this week off three straight road wins and host Washington and Detroit before taking on Toronto. They are only 2-2-0 at home so far this year but are traditionally very good at Rogers Arena so look for them to start the week off strong before hosting the Leafs. Vancouver also has played a league-high six overtime games, going 4-0 in O.T. and 1-1 in the shootout.
The key for Toronto on this road trip is to try to grab four of six points. Their track record against Vancouver makes it tough and so does a back-to-back with travel involved. But I think they can beat both Alberta teams. No Hall for Edmonton and Reimer playing well makes me like the odds on Tuesday. Calgary will be tougher but with Kessel, JVR and even Kadri now looking good up front, it will likely be a tough night for Ramo.
The NHL regular season schedule was released on Friday. Check out our partners at TiqIQ for the best deals on Toronto Maple Leafs tickets for all 2013-14 games.
Nathan Kanter covers the Vancouver Canucks and Toronto Maple Leafs for The Hockey Writers. He received his master's in journalism from Western University in May of 2015 before serving as the first ever Digital Managing Editor at Western's university newspaper, The Western Gazette, in 2015-16. From 2016-18, he served as the radio play-by-play voice of the Battlefords North Stars in the SJHL. His work has been published in The Hockey News, at Sportsnet.ca and at Dobber Prospects.