This is the thirteenth edition of weekly roundup. In this article we take a look at the last seven days of hockey in the NHL.
The article will focus on players who have been putting up solid numbers and are likely still available in fantasy pools. We also look at the stars of the game who aren't getting on the score sheet for their team.
Putting up Points
Patrick Eaves – Owned in 17% of Yahoo leagues
Another angle of the Patrick Eaves goal. pic.twitter.com/t8dsRDrLoE

— Dylan Nadwodny (@dnadders) February 10, 2016
Eaves has only 12 points in 36 games this year, however, eight of those points have come in his last six games. Eaves has been spending time on the Stars top line alongside Jamie Benn and Tyler Seguin and is excelling with the superstars. He scored three goals in the first period of Thursday's 4-2 win over Chicago. Eaves may not be someone you keep on your team for the long haul, however he is worth a pickup right now as he is expected to continue playing on the top line for the time being, and anyway playing with Benn and Seguin is worth a look.
Derek Stepan – Owned in 42% of Yahoo leagues
https://twitter.com/Hayes_Hair13/status/699063875237445632
Stepan is certainly a capable player, having managed at least 50 points over his last four NHL seasons. Stepan's production hasn't been as good this season, as he has 27 points in 46 games, on pace for 40 points if he stays healthy for the rest of the season. Stepan is on a bit of a hot streak as of late, scoring five points in his last three games. He is spending time playing on the top line with Mats Zucarello, who is having a great season with 43 points in 56 games, and Chris Kreider, who is having a relatively slow season but is capable of putting up good numbers. Keep an eye on Stepan as he looks to be stepping up his offensive production in the absence of superstar Rick Nash who is out with an injury.
Benoit Pouliot – Owned in 22% of Yahoo leagues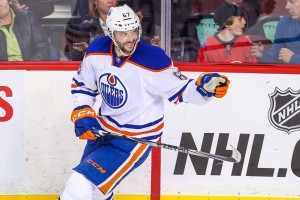 With Connor McDavid's return, all eyes have been on the young superstar pairing of McDavid and Eberle who have been extremely productive, tallying 12 points between them over their last 5 games. However fantasy owners have not yet picked up on the third member of this line, Benoit Pouliot. He has also been benefitted from McDavid's return, scoring six points over his last five games. As long as McDavid is in the lineup, Eberle and Pouliot's numbers will continue to surge. The three have fantastic chemistry and if Eberle is taken in your league, Pouliot is a more than capable substitute.
Not Producing
Taylor Hall
Hall is no longer playing with Leon Draisaitl. Edmonton coach Todd McLellan has decided to split up the pairing as their production has cooled off lately. Neither Hall nor Draisaitl have any points over their last five games and are a combined minus 10 over that span. Hall is still having a great season, with 50 points in 56 games for the Oilers, but is not producing at all right now.
Daniel Sedin
Sedin is still one of the elite forwards in the league, but his production has slowed over the last few weeks. In his last eight games Sedin only has three points. This year Sedin has 46 points in 56 games for the Canucks and is on pace for 67 points. This would be a slight decrease from his previous season total of 76 points. Sedin is certainly capable of putting up excellent numbers, but the injury to his brother Henrik for part of the season has caused his numbers to suffer a bit.
Patrick Sharp
Sharp was expected to have a fantastic season after coming to Dallas and playing with Jamie Benn and Tyler Seguin. With 41 points in 56 games, Sharp is on pace for 60 points, strong numbers, but not quite up to par with some of the 70+ point seasons he had on Chicago. Sharp has also not been playing on the top line as of late, with teammate Patrick Eaves taking his spot. He has instead been spending time on the second line with Antoine Roussel and Cody Eakin.
I am a recent Carleton Journalism graduate with experience working as a sports reporter for The Charlatan, Carleton's campus newspaper and as an editor for Journalists for Human Rights.