The Colorado Avalanche signed veteran defenceman Francois Beauchemin within the first 15 minutes of the NHL free agency window on July 1.  The 35-year-old signed a three-year deal worth $13.5 million, and was the second big name acquired by the Avalanche to bolster it defensive core in the last week.
NHL Career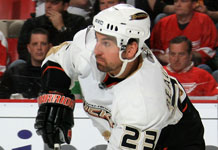 Beauchemin is a veteran guy who first started in the NHL during the 2002-2003 season where he played one game for the Montreal Canadians. Starting in 2005-2006, Beauchemin became a staple in the NHL, playing 11 games for the Columbus Blue Jackets before being traded to the Anaheim Mighty Ducks. Beauchemin then moved on to Toronto where he spent less than two full seasons before he was returned to Anaheim. He was set to retire as a Duck, but now he has signed with the Avalanche.
In this time, Beauchemin has played in 673 regular season games combined with 97 playoff games; a member of the 2007 Ducks team that won the Stanley Cup. The Avalanche have a very young roster with very few players that have deep playoff experience.
Despite his age and the Ducks making it to the Western Conference Finals, Beauchemin led the Ducks in ice time this season. Beauchemin also will be one of very few players on the roster that has won a Stanley Cup in the past and he is sure to help a young team play through a deep playoff run.
Avalanche Had a Plan
The Avalanche wasted no time completing this contract as it was announced in the first 15 minutes after free agency opened. With the time the Avalanche spent talking to free agents leading up to July 1 it is safe to say the Avalanche knew they would not be able to land Andrej Sekera which allowed them to shift their focus. Sekera was at the top of may peoples list as a guy the Avalanche would target, including mine.
In a teleconference on the morning of July 1, Avalanche General Manager Joe Sakic revealed the plan is to have Beauchemin play on the first defensive pair next to Erik Johnson. The veteran stay-at-home defender paired with a guy just hitting the prime of his career could be a deadly combination.

Beauchemin may not have been the number one goal for the Avalanche, but they still landed a heck of a player. While being past his prime Beauchemin will be solid for the next three years if he stays healthy and he will be an excellent veteran addition to a young roster.