Just because  a team makes it all the way to the final four doesn't mean there isn't room for improvement. The Boston Bruins, Tampa Bay Lightning, San Jose Sharks and Vancouver Canucks have all proven to be the top teams in the league, but they will have to improve their game even more in order to get the privilege of playing for the Stanley Cup. Here is what each team needs to work on.
Boston Bruins
The Big Bad Bruins' power play during the playoffs has been less been less mama bear with a hunter in between her and her cub and more Yogi during a picnic. They have scored just two goals on 41 opportunities for a 4.9% success rate. Only Pittsburgh (one for 35, 2.9%) has been worse on the power play. They do have the best 5-on-5 goals for/against ratio in the playoffs, but Tampa has been the best defensive team so that number is bound to go down. Coach Guy Boucher's 1-3-1 system has stymied the Canadiens and Capitals once the Lightning get a lead in any game meaning Boston will need to take advantage on the power play that will get plenty of opportunities as Tampa has been shorthanded more than any team in the playoffs. Fortunately for Boston, their power play started clicking at the end of their series against the Flyers. They had a power play goal in each of the last two games during the sweep, but they will have to do it against a team whose goaltending isn't nearly as inept and they are currently without Patrice Bergeron, their best playmaker, due to a concussion. They need to get guys to the front of the net and fight for rebounds. The Bruins are one of the most physical teams in the league, they should have no trouble outworking Tampa, especially when outnumbering them.
Tampa Bay Lightning
After Game 1 of the conference final, the Lightning have now won eight games in a row, so finding something they need to improve on isn't easy. They are the highest scoring team in the playoffs and the best defensive team. Their power play is the best of any remaining team and they are getting contributions from across the lineup. However, they need to improve their shot ratio. They have only outshot their opponent once in these playoffs and they are getting outshot each game by an average of 35.2-27.3. They have taken the second fewest shots and allowed the third most per game. Dwayne Roloson has been phenomenal so far with a .941 save percentage and 2.01 goals-against average, but at 41 it wouldn't be a good idea to keep letting him get tested as often. They are also going up against Tim Thomas in the Bruins' net who has a .932 save percentage of his own and that is after a poor showing in Game 1 of the conference final. He is surely going to be a lot better and under 30 shots per game isn't going to be enough to do a lot of damage against Thomas on most nights. They got some lucky bounces and Thomas let up some uncharacteristically bad goals in Game 1. They simply cannot expect that to happen again.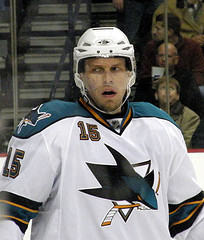 San Jose Sharks
The Sharks are spending a combined $14.4 million on Dany Heatley and Patrick Marleau, but they are not getting the production you would expect from players of that caliber. Patrick Marleau has been heating up lately though. He scored the series-winning goal in Round 2 and got a goal in Game 1 of the conference final and that production will need continue. Before that he was pointless in six games with a minus-1 rating, with 16 shots and nine hits. Dany Heatley on the other hand is trending down. He had four points against Detroit, but only one goal and was a minus-1. He wasn't noticeable in Game 1 except for when he was in the penalty box for Henrik Sedin's game-winning goal. Too often he loses battles for the puck in the offensive zone leading to easy turnovers. I don't know if either of them have necessarily been gutless, but neither has showed the heart, will and determination it takes to win the Stanley Cup. Fortunately for the Sharks, their depth has been a huge factor as Joe Pavelski, Ryane Clowe and Logan Couture have come up big in the playoffs, but more production out of their stars is needed.
Vancouver Canucks
Just like the Sharks, Vancouver needs the best play from its best players and the Sedins are going to have to play better than they have been. Way better. The Canucks have leaned heavily on Ryan Kesler to get through the first two rounds, especially in the second round against Nashville when he had a hand in 11 of 14 Vancouver goals. Meanwhile Henrik had one goal since March 27, an empty-net goal in Game 4 against Nashville, before scoring the winner in Game 1. That's seven weeks between putting the puck past a goalie. He was a minus-4 against Nashville and is a minus-8 so far in the playoffs. Daniel wasn't any better in the last round either. He got off to a hot start with five goals in the first six games against Chicago, but has gone cold since. Although he had the series-winning goal in the Nashville series, he was an atrocious minus-4 in a 4-3 loss in Game 5 and is also a minus-8 in the playoffs. They are the two worst players on Vancouver in that aspect, not what you want when spending a combined $12.2 million a year on those two. Just like Alex Ovechkin, they need to stop making pretty plays and trying to snipe shots every shift and start playing gritty.