Give Jim Rutherford credit.
A few weeks ago the Pens' new GM made a public statement that as long as he was around the Penguins, Marc-André Fleury would be also.
Mission accomplished.
Last Wednesday, the "Flower" signed a new four-year deal with a total payout of $23 million, for an average annual value of $5.75 million (also the hit against the cap).
A Fanbase Divided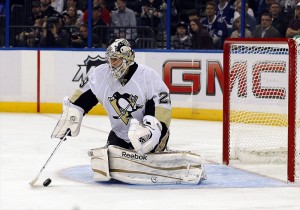 Its no secret that Fleury has his detractors. Especially after the playoff meltdowns of 2012 and 2013, respectively.
Then last season, in Game Four against the Columbus Blue Jackets in their opening-round series of the Eastern Conference Playoffs, Fleury badly mishandled a puck behind his own net, allowing Brandon Dubinsky to score with 22 seconds left in the contest to the tie the game. Columbus would then win just minutes into overtime, knotting the best-of-seven series at two games apiece.
Any goodwill that Fleury had earned prior to those disastrous seven seconds evaporated with a lapse in judgement combined with poor execution.
Add to that a blown three-games-to-one lead against the New York Rangers in the conference semifinals and his critics were louder than ever before.
But I dare say that Marc-André was one of – if not the best – Penguins' player on the ice for the whole of their playoff run.
The Supporters
He also has his fans, of which I am one.
Not only because Fleury won the Cup with the Penguins in 2009; perhaps making the most memorable save in team history to do so, but also because I like the way he plays the game.
I was a goalie in my younger days, playing for the Hershey Junior Bears. So I understand the position, and what goes into not only playing it from a physical standpoint, but a mental one as well.
A goalie is to a hockey team what a quarterback is to a football franchise. In times of feast, the goalies and QBs are often the ones who have the most praise heaped upon them. But in times of famine, you needn't look any further than to those same two positions to find the majority of criticism.
It takes a mentally tough individual to play the position; and I for one think that Fleury has the mental makeup to rediscover – and improve upon – the form of his early career.
I don't dispute Fleury's mental meltdown in 2012 against the Flyers, but he was certainly not the only one guilty.
Fleury has suffered massively over the past half-decade from a lack of physical defensemen in front of him. Its the one thing that I've said for years this team needs to get back over the hump. That, coupled with a complicated exit-system strategy employed by the former coaching regime went a long way in adding fuel to Fleury's critics' fire.
Marc-André is a ridiculously gifted goaltender from a purely physical aspect. I am a fan of his, if for no other reason than I know what he is capable of.
---
So the obvious question that needed asking prior to Marc-André Fleury signing his contract extension last week was:
Who do the Penguins get to replace him if he walks?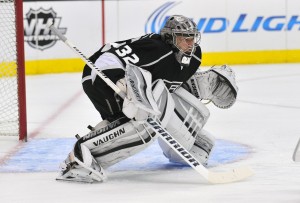 If you'd like to try and answer this question, then feel free to check out Capgeek.com's list of potential UFA goaltenders for next summer.
The bottom line, the Penguins got one of the league's best netminders for about the league average in terms of price.
Jonathan Quick and Henrik Lundqvist are making $5.8 million and $8.5 million a season (cap hit) respectively. Add to those numbers Tukka Rask in Boston, and Pekka Rinne in Nashville each raking in a cool $7 million a year. Lofty numbers for a group of guys who boast one legit Cup winner in Quick (Rask won with Boston in 2011, but Tim Thomas was the starter).
Looking at the potential free-agent goalies next summer, Antti Niemi and Viktor Fasth are the top two UFAs-to-be in an otherwise lackluster class. Would you feel confident in either of those two minding the Penguins' net, especially at a cost of at least $4 million for Fasth and possibly as much as $6.5 for Niemi?
Neither would I.
Fleury holds the franchise records for most wins (currently sitting at 297 after this past weekend's victories) and shutouts (31). He posted back-to-back shutouts of the New York Rangers in last year's postseason and a total of 145:30 of continuous playoff shutout time. Fleury has won at least 35 games in six seasons, and oh yeah… That Stanley Cup thing.
In the Room; Off the Ice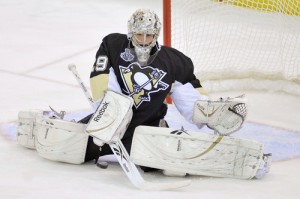 Fleury is beloved by his teammates and coaches alike.
Despite his mental hangups in 2012 and 2013, I dare say that this team trusts him in the net unequivocally.
To a man, most players have all expressed, in one form or another, their trust and devotion to Fleury.
Off the ice, he always has a smile on his face, trying to keep things light and upbeat. The value of that attitude can't be measured at the beginning of November. Check back on that one at the end of February when the dog days of a six-month journey known as the NHL regular season are upon us.
Common thinking among NHL and hockey pundits alike say that a goalie reaches his true prime in his late 20's to early 30's. Fleury will turn 30 on November 28th, and I'd say, based on his season stats so far, that sentiment rings true.
His numbers so far this campaign: 9-2-0 with a 1.89 goals-against average and a .931 save percentage. Just in case you wanted some factual proof.
This is a solid deal for both Fleury and for the Penguins.
While an argument can certainly be made that goaltender is not the most important position or player on a team, having a really one good helps.
Marc-André Fleury is a really good one, and he's here for at least another four years.
That's a really good thing.