Well that came out of nowhere. After weeks of hearing names like Sean Burke, Mike Futa and many others, it is Lou Lamoriello that is the new General Manager of the Toronto Maple Leafs.
So what does this do for the Leafs?
Lamoriello instantly brings more experience to the Maple Leafs front office. How much experience you ask? Well, he was named president of the New Jersey Devils in April of 1987. Who was the Devils first pick in that year's Draft? Brendan Shanahan. So the guy that Lamoriello once drafted is now the guy that has hired as general manager for only his second team in the NHL.
How can the Leafs use that experience? After all, they are rebuilding. Any talk of other general managers trying to take advantage of assistant GM Kyle Dubas in trade talks will pretty much stop now. Lamoriello knows the game better than most in the hockey world and will hopefully use that to get the Leafs successful sooner. The Leafs can say that the rebuild will take as long as it it takes, but you know if they can be in contention sooner rather than later, they would definitely accept that.
A Mentor For Dubas
However, that's not the most important thing he can bring to the Leafs. The hope is that Lamoriello can mentor Dubas and, to a lesser extent, Mark Hunter and by the time Lamoriello leaves the Leafs, one of the two will be ready to take the reins as GM. If either one of them can soak up enough knowledge, the legacy of what Lamoriello does in Toronto will be extended.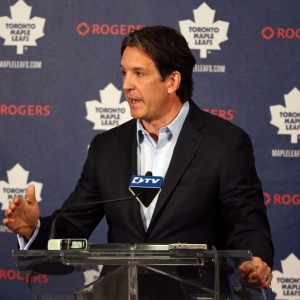 With Shanahan as team president, the Leafs have assembled a pretty good group of hockey minds. Shanahan seems to know what he's doing after one season of work. Lamoriello brings his experience and three Stanley Cups, along with recent Cup Final appearance, on his resume. Hunter is one of the best at finding good young talent. Dubas brings youth to the group and has a handle on how analytics can be used to help the Leafs succeed. This is all without mentioning head coach Mike Babcock, who will also be involved in these conversations for sure.
Hopefully this group can lead the Leafs back to to prevalence in the NHL in the next few seasons.
The worst thing about this news? Lamoriello is one of the best in the game at keeping what he does a secret, as is Shanahan. It's going to be hard to get any rumors or speculation out of the Leafs. Looks like the media is going to have to work a little bit harder.