Hockey is the ultimate team sport. It takes the right balance of players, the presence of leadership, and each guy pulling his weight to achieve success. Getting the perfect mix, and filing crucial positions can take years of shrewd decision making. But it can also come through luck, because as much as management likes to take credit, hidden gems can often fall into your lap. Rebuilds can be slow and painful, but they can happen quicker if you're able to secure the key players, like a top-flight defencemen. They can be hard to find, and are invaluable to your team. You aren't going to see many of them move in trades because once you have one, you don't let him go.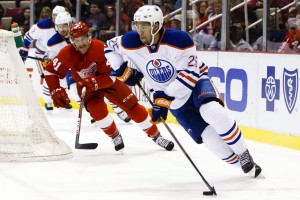 The Edmonton Oilers have some important players on their roster, like Connor McDavid and Taylor Hall, a first line centerman and top-line winger. But their glaring weakness has long been on defence. I like Darnell Nurse, but can he be "the guy" in Edmonton? He might be a really good number two. Where does Oscar Klefbom fit? Securing that top-pairing guy is of crucial importance. Every team in the league wants that type of player on their team. Some already have one (or even two), and some are still looking (or hoping one of their young players develops into it).
That number one blueliner can come through the draft, but they aren't necessarily first round picks. They can also come through lucky trades and brilliant free agent signings. So how did each team get their coveted number one d-man? Let's find out. (Note: There may be a team that doesn't yet know if they have that guy, or they have two and one hasn't come to the forefront, or they have only have a 1b guy. Feel free to offer your own opinions in the comment section below)
Anaheim Ducks
Cam Fowler (Drafted 12th overall in 2010)
Hampus Lindholm (Drafted 6th overall in 2012)
Arizona Coyotes
Oliver Ekman-Larsson (Drafted 6th overall in 2009)
Boston Bruins
Zdeno Chara (Free agent signing in 2006)
Buffalo Sabres
[Possibly] Zach Bogosian (Traded in 2015)
[Maybe] Rasmus Ristolainen (Drafted 8th overall in 2103)
Calgary Flames
Mark Giordano (Undrafted, first signed in 2004. Back as a free agent in 2008)
T.J Brodie (Drafted 114th overall in 2008)
Carolina Hurricanes
Justin Faulk (Drafted 37th overall in 2010)
Noah Hanifin (Drafted 5th overall in 2015)
Chicago Blackhawks
Duncan Keith (Drafted 54th overall in 2002)
Colorado Avalanche
Tyson Barrie (Drafted 64th overall in 2009)
Columbus Blue Jackets
[Likely] Seth Jones (Traded in 2016)
Dallas Stars
John Klingberg (Drafted 131st overall in 2010)
Detroit Red Wings
[Maybe] Jonathan Ericsson (Drafted 291st overall in 2002)
[Possibly] Danny Dekeyser (Undrafted free agent signing in 2013)
Edmonton Oilers
[Maybe] Darnell Nurse (Drafted 7th overall in 2013)
[Maybe] Oscar Klefbom (Drafted 19th overall in 2011)
Florida Panthers
Aaron Ekblad (Drafted 1st overall in 2014)
Los Angeles Kings
Drew Doughty (Drafted 2nd overall in 2008)
Minnesota Wild
Ryan Suter (Free agent signing in 2012)
Jonas Brodin (Drafted 10th overall in 2011)
Montreal Canadiens
P.K Subban (Drafted 43rd overall in 2007)
Nashville Predators
Shea Weber (Drafted 49th overall in 2003)
Roman Josi (Drafted 38th overall in 2008)
New Jersey Devils
[Possibly] Adam Larsson (Drafted 4th overall in 2011)
New York Islanders
[Might be] Johnny Boychuk (Traded in 2014)
New York Rangers
Ryan McDonagh (Rights traded in 2009)
Ottawa Senators
Erik Karlsson (Drafted 15th overall in 2008)
Philadelphia Flyers
[Likely] Shayne Gostisbehere (Drafted 78th overall in 2012)
Pittsburgh Penguins
Kris Letang (Drafted 62nd overall in 2005)
San Jose Sharks
Brent Burns (Traded in 2011)
Marc-Edouard Vlasic (Drafted 35th overall in 2005)
St. Louis Blues
Alex Pietrangelo (Drafted 4th overall in 2008)
Kevin Shattenkirk (Traded in 2011)
Tampa Bay Lightning
Victor Hedman (Drafted 2nd overall in 2009)
Toronto Maple Leafs
[Maybe] Morgan Rielly (Drafted 5th overall in 2012)
Vancouver Canucks
[Might be] Alexander Edler (Drafted 91st overall in 2004)
Washington Capitals
John Carlson (Drafted 27th overall in 2008)
Winnipeg Jets
Dustin Byfuglien (Traded in 2010)
So what have we learned? Not every team in the NHL has a top-10 defenceman on their roster. Some may have more than one. Some aren't even close. Some have success despite not having that "elite" blueliner. Maybe a top-5 goalie negates the need for a true top-5 defenceman. Or maybe the overall depth of the team and/or depth of the defence corp can compensate.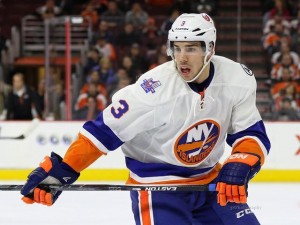 In the case of the Oilers, do they have that guy on their roster now? We can't answer that just yet. Will they be forced to make some kind of trade to upgrade the blueline? They might. Or maybe an emphasis on scouting defencemen may be in order, because some of the best in the league aren't first round picks. And some were stolen away from the team that drafted him, who clearly didn't know what they had. Do the Oilers have one of those larceny-type trades in their future? Does some team have an embarrassment of riches and is looking to unload someone? The free agent market is thin, because the top guys are all locked up. Yes, this will be a project for Edmonton. Let's hope they're able to pass with flying colors.
Marcy, a former hockey player, is a hockey correspondent on CTV News and TSN radio. She began her career as a Sports Journalist in 2009 and has been part of The Hockey Writers since 2010, where she is currently a senior writer and editor.