Valeri Nichushkin, the Dallas Stars' first-round pick in the 2013 NHL Draft, played in just 8 games with the big club in 2014-15 after suiting up for 79 the season after he was drafted. Nichushkin had been dealing with a hip/groin issue since last year's training camp, and ended up struggling through the first two games of the year before sitting out nine, attempting to skate in two more, and being forced to hang it up for the remainder of the season and undergo hip surgery. He finished with just one point.
The procedure is rumored to be similar to that which teammates Jamie Benn and John Klingberg underwent, and Benn is working toward the end of his own rehab. Klingberg, whose surgery and rehab left him healthy and stronger than ever leading up to the beginning of last season, burst onto the scene in mid-November and never looked back, turning in a season in which he earned a place on the NHL's All-Rookie Team and a handful of Calder Trophy votes.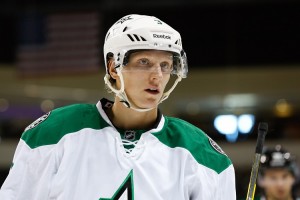 Can Nichushkin, who scored 34 points in 2013-14 and endeared himself to fans with his memorable, broken-English performance in the 2013 Stars holiday video, come back from his injury to enjoy similar breakout success?
Set Up to Succeed
Nichushkin, in addition to having a lethal shot, loves to drive to the net. The 6-foot-4, 210-pound forward needs to use that big frame to further develop the physical aspect of his game in 2014-15, which would allow him to continue to make the kinds of power moves he is so fond of. In this respect, his surgery should only aid him. Instead of being timid or hindered by legs that physically weren't able to give him that extra push he needed to shed defenders and earn open ice in the slot to work from, he should have the ability to find his extra gear without worrying whether or not his body will fail him.
Nichushkin was tormented by his forced absence during a season in which the Stars' offense was the second most lethal in the league behind the Lightning. However, he can take comfort in the fact that the club's attack has gotten even deadlier during his time off. With the addition of Patrick Sharp, the Star's top six is arguably one of the best in the entire league, and Nichushkin has a chance to earn a spot among them. Lindy Ruff has already spitballed about possible lines, and it's a no-brainer that Jamie Benn and Tyler Seguin will find themselves firmly entrenched on the top line, with Jason Spezza and Patrick Sharp probably sliding in as the third and fourth forwards and shuffling between the first and second units. However, the final two members of the top six might largely be determined by training camp performance and early play, with Cody Eakin, Patrick Eaves, Ales Hemsky, and Nichushkin in the running for playing time. Ruff has never been shy about giving Nichushkin reps up top, and if Hemsky doesn't snap out of his funk and Eaves and Eakin are needed down low to give the lineup consistent depth, he could see more time with the big boys than some expect.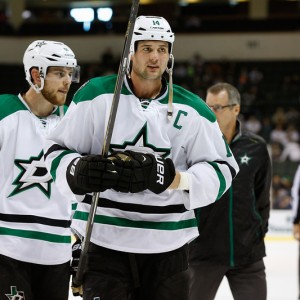 The interesting thing about Nichushkin has always been his flashes of greatness. Despite moments in which his youth showed and the ability to finish his impressive plays eluded him, he shows incredible promise for a kid of just 20. He's rejoining a team in which he'll have the opportunity to score no matter where he's placed in the lineup. He could find himself rising alongside Benn and Seguin as they truly come into the prime of their careers over the next handful of years, or he could fill a depth role and provide scoring while the opposition is busy focusing on what in the world they're going to do about the top two lines. He's both the youngest and the tallest Stars forward on the current roster, and he could have a huge opportunity to blossom into a remarkable duel-threat scorer with either "Bennguin" or Spezza feeding him the puck.
Predicting Nichushkin's 2015-16 Campaign
It's necessary to present any prediction of Nichushkin's performance with a caveat; this is all contingent upon Nichushkin's ability to stay healthy throughout this season. If he does, it's not hard to picture Ruff utilizing him higher in the lineup more often than lower. Both Eaves and Eakin have made an impression on Ruff and the rest of the Stars' brass that could earn them time up top, but they also bring a consistent, solid level of production to the lineup that Nichushkin doesn't at this point in his career. Ruff often went with Nichushkin's raw talent alongside Benn and Seguin over steadier, less jaw-dropping options in 2013-14, and that trend could continue. Workmanlike utility players Eakin and Eaves can bring production to any of the four lines, and they'll likely be called upon to do so when depth scoring is in short supply. Nichushkin will get his chances with the dynamic duo, and the points should follow in abundance for all three. Each of the three has a shot to be reckoned with from anywhere on the ice, and they've already developed a level of chemistry that should only continue to strengthen. Benn should follow up his Art Ross-winning season with another superstar-caliber one, Seguin's numbers should explode to the tune of 40-plus goals if he can avoid long-term injury, and Nichushkin should benefit from riding along with one of the best one-two punches in the league.
The Best-Case Scenario
Nichushkin performs well in training camp, earning a shot to play in the top six out of the gate. He finds a balance of physicality and finesse, utilizing both his bursts of speed and strength and his shot to begin his transformation into a potent, multifaceted offensive weapon ready to be deployed alongside Benn and Seguin for years to come. His linemates continue to put up gaudy numbers and he is the beneficiary, helping lead a Stars offense that should blow the doors off many a goalie in 2015-16.
Final Tally: 20-plus goals, 40-plus assists, and a hefty new deal when his entry-level contract expires next summer.
The Worst-Case (Healthy) Scenario
Nichushkin still hasn't found his finishing touch and has a mediocre camp while adjusting to his return from injury, prompting Ruff to consider either a supercharged top line of Benn-Seguin-Sharp or one of Benn-Seguin-Eakin/Eaves and leaving Nichushkin to bounce up and down the lineup without finding a permanent home. He shows the same flashes of incredible potential and is skilled enough to benefit from one of the best offenses in the league, but still doesn't make major strides toward achieving the potential Jim Nill saw when he took him tenth overall in 2013.
Final Tally: 15 or less goals, 25 or less assists, and lingering questions about his production and health going into his RFA summer.
The Verdict
If Nichushkin's attitude and Nill's belief in him are any indication, this season should lean more toward the best-case scenario. Nill's track record should leave Stars fans with no option but to trust his judgment, and he obviously saw something extraordinary in Nichushkin. Nill isn't afraid of the "Russian factor," also evidenced by his drafting of Denis Gurianov this year, and Nichushkin has rewarded him with hard work and a genuine desire to help Dallas win. He wants to be in the NHL, he wants to contribute, and he gives the impression that he'll do anything to make that happen. In a season in which the Stars seem poised to return to the postseason, Nichushkin should have an important role to play in getting them there.
Raglin contributes to The Hockey Writers' coverage of the Dallas Stars. He's a senior journalism major at Stephen F. Austin State University and currently serves as the sports editor of SFASU's The Pine Log. He has experience covering both news and sports at The Pine Log (http://thepinelog.com) and at Star Local Media (http://starlocalmedia.com).