It has been nine full season since the Edmonton Oilers made the Playoffs. Since then, they've made an astounding eight top-ten picks, a number which includes an almost incomprehensible four first-overall picks (McDavid, Yakupov, Nugent-Hopkins and Hall) in the last six drafts.
To put that in perspective, you have to go back to 1990 to count eight top-ten picks made by the Leafs, who've also only ever selected first-overall once (Wendel Clark, 1985).
The Oilers have been bad for so long that people are actually sick of predicting that they'll finally be good. Notably Sports Illustrated predicted them to be the third best team in the NHL prior to the 2013 lockout shortened season. Since then, they've drafted seventh, third and first overall, so obviously that didn't come to fruition. But that's just a single example: people have been picking this team to breakout for so many years it's become a kind of a joke.
There seems to be a backlash against actually picking the Oilers to improve, so much so that the few times I've mentioned it so far have each been met with an onslaught of comments referring negatively to my cognitive powers. My hypothesis is that since people have been picking them to breakout for so long, and they've disappointed so much, that the team is now infected with a kind of psychic stink that prevents anyone but the most optimistic and soft-hearted among us from seeing how truly great they are about to become.
Because they are going to be great. Multiple Championship Great. All-Time Great.  Where Were You When Great.
In the upcoming season they are going to be the surprise of the NHL, be the most fun team to watch, score the most goals and win the Western Conference.
I really do believe that, and if I wanted to troll anyone, I would have put it in the title.  Here's why they're going to be so good: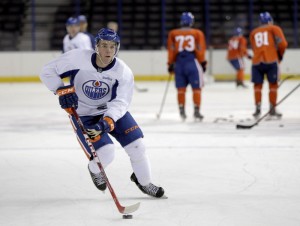 Last Year
The Oilers finished with a record 24-44-14, good for 3rd worst in the NHL and a whopping 38 points and 19 wins from beating the Jets for the last Western Conference Playoff spot.
So, considering that the Oilers would have to win 19 more games just to make the Playoffs, how is it even possible that they'll do that, let alone the roughly 27 extra wins they'll need to win the Conference?
Before even getting into how the Oilers have improved, it's important to note a few things about the team they had last year.
For starters, the Oilers finished last season with a PDO of 97.3, which was good for 3rd lowest in the NHL (they were .2 from being the lowest and 1.8 from being 4th).  PDO is  the sum of a team's 5v5 save percentage and shooting percentage. Over time, (like say a full 82 game season) it is likely that a team's PDO will regress to 100, and so we can look at these numbers and see (roughly) who got lucky (PDO over 100) and who got unlucky (under 100).
While this doesn't mean the Oilers missed the Playoffs last season just because of bad luck, it does mean that they did get relatively unlucky and also that they had bad (but still unlucky) goaltending (the Oilers were 30th and allowed almost a full goal more than the 29th worst team for every 100 shots faced).
Besides bad luck and bad goaltending, the Oilers entered last season without a single top-pairing defenseman or NHL calibre goalie.  They lost their best player – Taylor Hall – for 30 games and dressed (probably) the worst defense in the NHL. They for sure had the worst goalies.
Even with all that, they still should have won more games than they did – especially early when the analytics were very strong and they just couldn't buy a win.  In the end, I'm not making excuses for how the Oilers performed last season, but just pointing out that they should have been slightly better than they were and that the gap between last year and the Playoffs is smaller than it appears.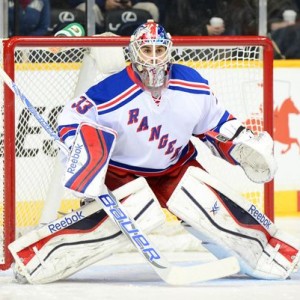 Goalie
The Oilers received the worst goaltending in the NHL last season and it wasn't close.  Both of their main goalies – Scrivens and Fasth – finished with GAAs over 3.00 and save percentages under .900. In total, they dressed five goalies at various times last season and with the additions of Anders Nilsson and Cam Talbot, none of them are likely to play in the NHL this season.
Cam Talbot, who'll be the Oilers starter, finished 12th in the NHL in save percentage last season and 7th in high-danger situation save percentage. He matched Henrik Lundqvist stat-for-stat and earned his chance to be a starter in the NHL. The Rangers were also not an especially good defensive team (19th in the NHL in possession and under 50% CF with the 9th most shots allowed in the league) so there is absolutely no reason to think that Talbot, who's had a lot of success in some rather difficult circumstances, won't be able to handle being a starter.
By bringing a goalie used to facing poor defense and a lot of shots, the Oilers have upgraded massively at what is possibly the most important position on the team. There will be some who will never credit a player until he is successful, proves he can do it again, and then his team has success. Those people won't be satisfied with anything, but for anyone else, Talbot is about as important an acquisition as anyone in the NHL made all summer.
Defense
Last year's Oilers defense was terrible. In order of 5v5 ice-time, from most to least, their defense consisted of: Klefbom, Schultz, Petry, Ference, Marincin, Nikitin, Fayne.
Of the entire roster, the Oilers defense has seen maybe the least improvement because out of those players listed, only Petry and Marincin have moved on from the organization. That being said, of the five left, not all of them will be getting minutes this year.
With the addition of Andrej Sekera, everyone will drop down a notch on the depth chart. Perhaps a bit underrated, even if he isn't a Doughty/Keith level d-man, he's still one of the best of the next tier. Two years ago, he had 44 points. Last year, he had only 19, but 17 of them were at even strength (only two less than OEL, five less than Hedman, Ekblad or Yandle).  Last year he put up an extremely high possession rating on two non-playoff teams (54% CF) and can be considered a consistent positive possession player throughout his career.
It doesn't seem's to me that people are writing him off because he's not one of the ten or so truly elite #1's in the game, but regardless, he's still an excellent pick-up and he'll be part of a very talented core.
The Oilers will also have another year of growth from Oscar Klefbom, who is coming off a rookie year when he lead the team in ice-time at even-strength, put up 16 5v5 points and put up a near-even possession rating on the league's 3rd worst team. Brought along slowly, Klefbom was drafted five years ago and is just about to play his second full (and third overall) NHL season.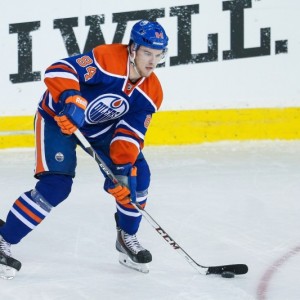 Lost in another year of disappointment, Klefbom basically graduated to being a quality top-pairing NHL defenseman last season and hardly anyone seems to  have noticed. His ascension this season will ensure that the Oilers' defense is a long way from worst in the NHL and greatly improved overall.
Besides Klefbom and Sekera, the Oilers will have another year of maturity from Justin Schultz, who, even though he can be an adventure without the puck at times, still managed to post solid possession numbers and close-to-elite offensive numbers. By moving him down the lineup, while he continues to improve, the team just gets better.
Darnell Nurse will be a rookie this year and he looks to be a steal at 7th overall in 2013. He looked great in two games last season in the NHL (and posted a 56% CF rating, which is elite but obviously it's a small sample size and buoyed by favorable zone starts). He was said to be the best defenseman, if not the best player, at last year's World Juniors, scored a PPG in the OHL and looks ready to be a dominant NHL player.
While he's likely not going to step into the NHL and dominate as a top pairing guy (assuming he makes the team and carries forward his play from last year) it's not outside the realm of possibility that that does happen. In a normal year (i.e no McDavid, Eichel, M. Reinhart etc.) he'd probably be the favorite for the Calder Trophy.  Worst cases scenario: The Oilers have one of the best 3rd pairing defenseman in hockey. The best case is a repeat of Aaron Ekblad's rookie year.
With Sekera, Klefbom, Nurse and Schultz, the Oilers have a high-powered possession savvy D with size, skill, balance and talent.  For the bottom two spots they have a choice between Ference, Fayne, Nikitin, Gryba, Reinhart and adding someone else in via free-agency (Franson?) or trade.
Since the Oilers have no real need for any more prospects in the short term, it makes sense that they could also move  their 2016 first-round pick in exchange for help if defense becomes a problem.
But I don't think it will. I think Klefbom and Nurse will both be considered top-pairing star defenseman by the end of the season.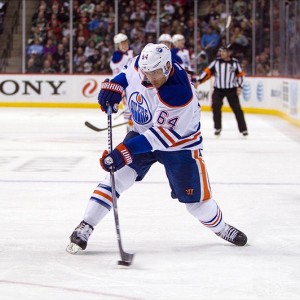 Forward
Is it really even necessary to talk about the Oilers' forwards? Their seventh most talented forward – Benoit Pouliot –  scored 19 goals in 58 games last season. Their second best prospect – Leon Draisaitl – was the Memorial Cup MVP and he dominated the WHL after leaving the Oilers last year, scoring 53 points in 32 games.
Even without a player who's already among the best in the world without ever having even played an NHL game yet, the Oilers have a ton of firepower at forward.
The consensus in the hockey world seems to be that McDavid is better at his age than Crosby was. Crosby scored 100 points on Penguins team with way less talent than these Oilers have when he was a rookie.
I honestly think people are so sick of the Oilers and their "eventual" breakout season that the impact of Connor McDavid is somehow managing to be underrated. This is the possibly the best player to come into the NHL since Mario Lemieux and he's coming onto a team that already has Taylor Hall, Ryan Nugent-Hopkins, Jordan Eberle and Nail Yakupov.
The forwards on this team are so deep that they can ice three lines of two players each with super-star talent (McDavid/Hall, RNH/Eberle, Draisaitl/Yakupov ) or two of the most purely talented scoring lines ever assembled in the salary cap era.  The amount of options are crazy, but two things are assured:  the Oilers are going to be getting a lot of matchups where they are putting players with first-line skills against third-line skills, and  their ability to put Draisaitl as the third-line centre (which they might not, but it is an option) gives them an eventual edge against virtually every other team in the league.
The depth of the Oilers' forwards is likely being underrated. After the big six, the team has Pouliot, Purcell, Hendricks, Letestu, Klinkhammer and Korpikoski – all of whom are likely to provide – at worst – an even matchup with the depth forwards of most other teams.
Then there is Yakupov, who some already seem to think is a bust, but despite a rough couple of years, he did score at a 30 goal pace in his rookie season and he'll be very insulated on a talented team this year. Even though he hasn't had great success yet, he remains one of the most talented players in hockey and has one of the most lethal shots. He's overdue for a huge surge.
The same people also forget how good Taylor Hall is – he's possibly already the best left-winger in hockey not named Ovechkin, and he's only going to get better. RNH? He missed six games and still was the 17th highest scoring centre in hockey at 5v5. He was an even possession player on a terrible possession team and he's just 21 – along with McDavid he makes up the only 1-2 punch in the NHL comparable to Crosby-Malkin.
Bottom line: The Oilers probably have more talent at forward than any team in the cap era ever has.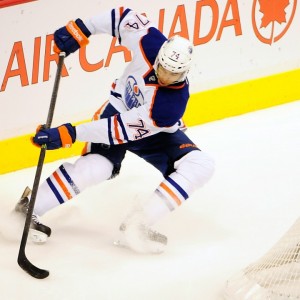 Their Division
The Pacific Division consists of the Ducks, Sharks, Canucks, Oilers, Flames, Coyotes and Kings.
As I predicted last week, the Canucks and Coyotes will both be near the bottom of the NHL standings next year. The Sharks are a team in severe decline and the Flames played way over their head and will regress. None of those four teams will be in the Playoffs next year.
The Kings missed last year, but that was largely because of terrible luck (they led the NHL in  possession and the West in games lost in O.T) they will rebound this year and compete for the Western tile with the Ducks (also still good) and the rising Oilers.
3 on 3 
It's almost as if the NHL timed it's new overtime format to coincide with the rise of the Oilers because it seems designed to help them. Whether it's Sekera, Klefbom or Shultz on the ice with any combination of McDavid, Yakupov, Hall, RNH, Eberle or Draisaitl, the Oilers should be able to skate circles around nearly everyone but the Penguins.
Last season the Oilers lost 14 games in over-time/shootouts.  Even without massively improved defense and goaltending, you have to think that number will be drastically cut down just because of the new format and the Oilers offensive talent.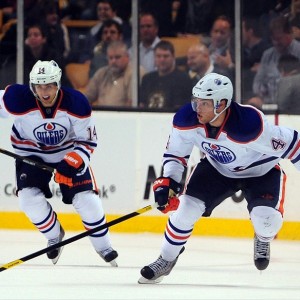 Conclusion
To sum up: the Oilers are playing in a weakening division, have some of the most talented forwards ever assembled on a single team (at least in the cap era), will take advantage of the new over-time rules, have added a potential star goalie and top-line defenseman and have two of the best young defensmen in the NHL.  Also, they added Connor McDavid.
The question shouldn't be "will they make the Playoffs next seasons," because that is a certainty. The question is "how long before they win the Cup?"  I don't think it will be next season, but if the over/under is three seasons from now, I'll take the under.
If not for the fact that the Oilers are facing a league-wide backlash because of all the first-overall picks and a tendency to under-perform vs expectations over the last four or five years, no one in their right mind would look at a team that already had Klefbom, Eberle, Hall, RNH and Yakupov and think that they'd miss the Playoffs after adding Connor McDavid, Draisaitl, Nurse, Sekera and Talbot.
There is just too much talent for this team to fail. They have also done the grunt work of losing and learning how to win. They're a young team, but they're likely old for their age – I think we're in for one of the most memorable seasons in recent memory. The Oilers are going back to the Playoffs.
All stats WaronIce.com 
Thanks for reading.
Covering the Leafs for the Hockey Writers.