Shortly after Derek Roy cleared waivers and was assigned to the Milwaukee Admirals in the AHL, the Nashville Predators traded the 5-9, 184-pound center to the Edmonton Oilers in exchange for Mark Arcobello. According the Predators' press release, Arcobello is expected to meet the team in Nashville prior to playing the St. Louis Blues on Tuesday. Because Nashville only has 22 players on its current roster, an additional roster move will not be necessary with the addition of Arcobello.
Many wonder why the Oilers did not just pick him up off waivers. In order to acquire Roy, Edmonton had to give up a contract. Arcobello just happened to be the player the Predators wanted.
Moving Roy was not a surprise to anyone. The 31-year-old was forced out of the lineup due to the return of center Mike Fisher from injury and a lack of offensive production — 1 goal, 9 assists in 26 games. The last time Roy played was on December 20 in a game where he received just 7:37 of time on ice against Minnesota. He faced a similar situation in St. Louis last season. Playing with Vancouver and Dallas (combined) during the shortened 2012-13 season, Roy averaged 18:36 of time on ice per game. The following season in St. Louis, his average ice time per game dropped to 13:37.
"I was always used to playing 19-20 minutes and then to get down to 10-13, that was tough," Roy said in July. "That's one of things I looked at in the summer, going somewhere where I could play and get back to player that I used to be. Nashville was one of the teams."
That did not end up happening in the Music City, but with Edmonton, his 5th club in 3 seasons, Roy could see the ice time he believes he deserves.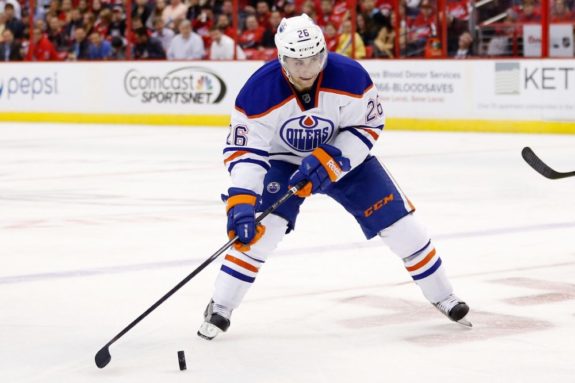 Who Is Mark Arcobello?
The 26-year-old has 12 points (7 goals, 5 assists) and averages 15:23 of time on ice in 36 games for the Oilers this season. The native of Milford, Connecticut is currently on a 3 game point streak. Although undersized at 5-9, 165-pounds, he is known for being a hard-working, play-making forward.
Arcobello was signed by Edmonton as an undrafted free agent after completing four years of college hockey at Yale University. From 2006-10, he totaled 116 points (49 goals, 67 assists) in in 131 games.
The Predators have Arcobello in the midst of a 1-year contract worth $600,000 and will be a restricted free agent at the end of the season. This is not a bad trade to acquire a small contract while also trading away a player who no longer wants to be in Nashville.
Said David Staples of the Edmonton Journal:
Arco is tiny for an NHLer and not a brilliant skater. He's no Joe Sakic. But he might well be Marty Reasoner. His hockey IQ is high-end, as are many of his puck skills, such as passing and shooting.

Most impressively, he's got a long history of being counted out but still moving up. He had not very promising debuts both at Yale in college hockey and in the pro ranks with Stockton of the Low Down Going Nowhere Hockey League. He was just OK, too, in his first full season with OKC.

But at every level, he's found a way.
Colin Fitts is a Nashville Predators staff writer and is a credentialed media member of the Chicago Wolves. From Nashville, Tennessee, Colin majors in journalism and public relations at Columbia College Chicago. Follow him on Twitter, @FittsTHW. Email: 22fitts [at] gmail [dot] com.