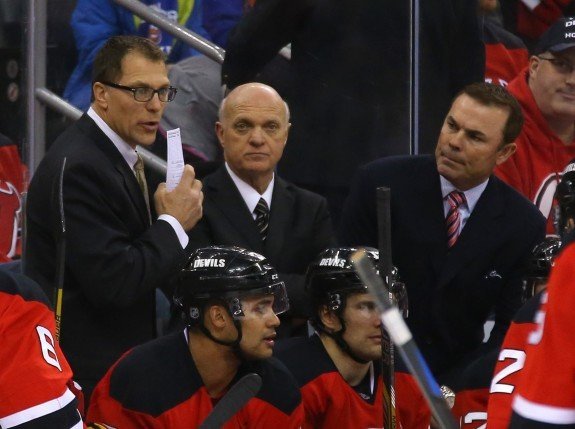 Predicting whom will be the next head coach of the New Jersey Devils, is similar to guessing Ray Shero would be the next general manager. Unless you saw the trio of Lou Lamoriello, Scott Stevens and Adam Oates, replacing Peter DeBoer, you're probably in the dark with everyone else. Even during successful times, New Jersey had some volatility at head coach, ask Larry Robinson, Robbie Ftorek and Claude Julien.
Furthermore, with the Mike Babcock derby ending behind the bench of the Toronto Maple Leafs, the remaining clubs with vacancies all must regroup. The question here is, does Shero go off the map or opt for a familiar face?
Scott Stevens – Stevens is a tone setter and won't tolerate losing or going through the motions. I believe Stevens can foster a winning attitude with this group and cultivate the confidence and skill level of the young defence corps. Ask Adam Larsson. Even if he stayed on as an assistant, Stevens could play the role which Robinson thrived at for years in New Jersey.
Adam Oates – I like Oates, he did a superb job with the offense and power play during the Devils run to the Final in 2012. However, there wasn't much discernible difference in the offense after he came back aboard last season. He needs more horses to work with but do the Devils have patience?
Dan Bylsma – Coached under Shero in Pittsburgh. Played in the Devils organization in 1993 with the AHL Albany River Rats. Led the Penguins to a Stanley Cup in 2009. How does he fare without a ready-made team and is this too obvious of a choice, meaning it won't happen?
John Hynes – Another Pens connection. In five years at the helm for the AHL Wilkes-Barre/Scranton Penguins, the club has reached the postseason all five times, reaching the Conference Finals twice. Hynes was named Louis A. R. Pieri AHL Coach of the Year in 2011. If the Devils goal is to get younger, Hynes may be the perfect fit.
Guy Boucher – A defensive oriented coach. Boucher went 97-78-20 in Tampa and led them to the Conference Finals in 2011. Aggressive defensive style could work well with young players but not so much with vets.
Nate Leaman – This one's a little out there (or is it?) but Leaman did just win the NCAA National Championship with the Providence Friars. Along with Providence, Leaman also helped build a solid program with the Union College Dutchmen.