As of May 2017, it will mark five years of Marc Bergevin as the general manager of the Montreal Canadiens. Montreal has gone 23 years without a Stanley Cup and for a franchise seeped in a deep tradition of winning, it would be hard to blame the fan base for getting a little impatient for a championship. The next six months of Bergevin's tenure represent a critical time for the franchise.
Trade Deadline and Playoffs
When everyone is healthy, Montreal ices a team that is pretty solid but a few pieces away from being championship calibre. They are set in goal with superstar goalie Carey Price and the defence corps is pretty balanced, led by Shea Weber. Up front, the team has more scoring punch this year with bottom-six players chipping in, Alex Galchenyuk taking a step forward and Alexander Radulov being a difference maker.
I really liked Bergevin's summer moves with Montreal but getting Paul Byron the year before off the waiver wire, is a signature move. Unreal

— Paul Hollingsworth (@PaulHReporter1) December 21, 2016
Ideally, going into the playoffs, Montreal needs a second line center who can score but still be defensively responsible. David Desharnais isn't particularly effective in either category, while Tomas Plekanec remains solid defensively but his scoring has dried up. If Phillip Danault could add more offense to his game, he could be considered a maybe.
Bergevin stole Jeff Petry from Edmonton at the 2015 trade deadline for a package of picks and Petry has been a good addition to Montreal. If Bergevin can find a way to acquire that elusive second line center who would be a good fit, it would help the team's chances.
Bergevin made a point of giving his team a bit of a makeover over the summer by adding Weber, Radulov and Andrew Shaw. The team is built to win now, especially with Price in his prime. The pressure to win or at least make a deep run in the playoffs is high. Missing the playoffs or being eliminated in the first round isn't going to cut it for this squad.
Michel Therrien: "At the end of the day, we have to find a way to win the special teams battles. Tonight, we lost it again." #Habs #gohabsgo

— All Habs (Canadiens) (@AllHabs) December 24, 2016
Critical Decision on Free Agents
Going into the summer, Bergevin has some key decisions to make when it comes to free agents. The one unrestricted free agent who should go unsigned is Desharnais. There is no room on the team for him as there are better players than him on the team and in the AHL. The problem isn't Desharnais, it's his usage by Michel Therrien as he gets more opportunities than his play warrants.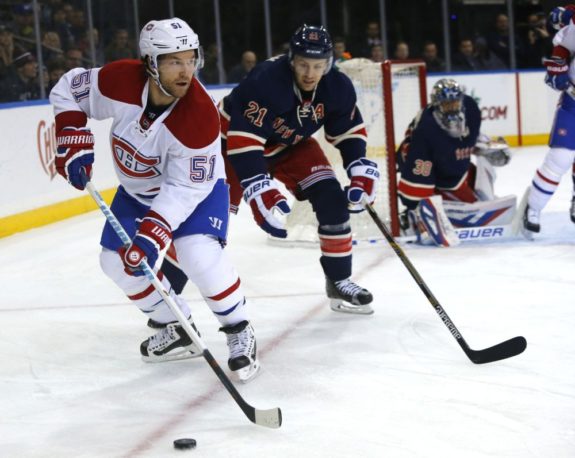 Habs defenceman Andrei Markov continues to play a big role in Montreal, so it shouldn't be an issue to re-sign him. Losing him would leave a gaping hole on the Habs' blue line. Top prospect Mikhail Sergachev could fill that role in the near future but it's too much to ask for right now.
The contract talks get more interesting when it comes to Galchenyuk and Radulov. Bergevin can't afford to play hardball with Galchenyuk, especially after the hard negotiations that went on with PK Subban. Galchenyuk was scoring at nearly a point-per-game pace before his injury. If he continues that pace when he returns, a long-term deal starting at $6 million per year is a realistic target.
For Radulov, his production has dipped slightly since Galchenyuk went down but he continues to be a threat every night for Montreal. Adding him has given Montreal's offence a new dimension as he is an elite talent. He brings an entertainment factor to his play as he goes all out when he plays but has skill like few others. If the Habs don't retain Radulov, they lose an elite top line winger and they have no one in the system to replace him.
Montreal steeped in tradition finds success with non-traditional star Alexander Radulov (by @PatrickKearns) https://t.co/bQgroieiJB pic.twitter.com/edNFUxnVi7

— SI NHL (@SI_NHL) December 27, 2016
Time to Win
Bergevin has had plenty of time to tinker the team to what he wants and now it is time to deliver. He has overhauled much of the team and he remains loyal to Therrien as the coach. There is no reason why they shouldn't contend in the springtime and his decisions regarding free agents in the offseason will determine how serious the Habs are about winning.
I have a Bachelor's Degree in Journalism from Ryerson University. I am a freelance journalist and a Montreal Canadiens writer for The Hockey Writers. I previously wrote for Simcoe.com and Last Word on Sports as well as interned at TSN.