The Ottawa Senators have made some great draft picks, but selecting Erik Karlsson — a two-time Norris Trophy winner to date — 15th overall has been one of the franchise's best moves in their 25-year history.
Erik's Junior Career
Karlsson has always been recognized as an offensive defenceman. Prior to being drafted by the Senators, Karlsson had 83 points in 105 games played from 2005-06 through 2007-08. These are stellar numbers for a blueliner.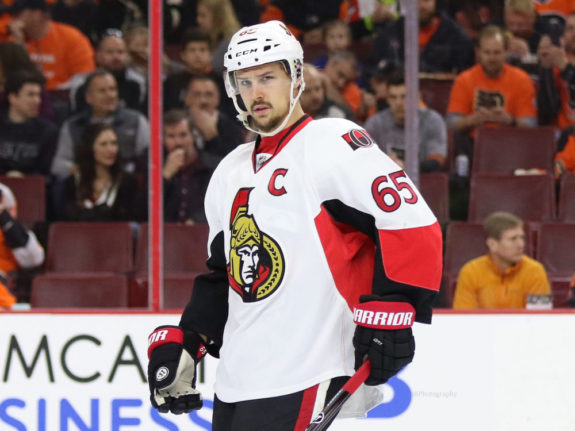 Most North American hockey fans had no idea of the level of talent Karlsson would bring. His first taste of international hockey was when he played for Sweden at the 2008 IIHF U-18 World Championship, where he scored seven points in six games. Just a few months later, Karlsson represented Sweden at the World Juniors in Ottawa, where he continued generating points in the best-on-best tournament. With Sweden advancing to the gold medal game, Karlsson had nine points in six games played.
2008 NHL Draft: Defining a Franchise
There was some great talent selected in the top 10 of the 2008 NHL Draft. Three of the top four picks included Steven Stamkos, Drew Doughty and Alex Pietrangelo.
Part way through the first round selections, former general manager Bryan Murray made a critical decision that few at the time would have guessed would later define a franchise. Murray traded the Senators' 18th overall selection in 2008 and a third round pick in 2009 to the Nashville Predators to move up three positions into the 15th overall selection. It was a move that will go down as one of Murray's best during his tenure as the general manager of the Senators.
NHL Career
It didn't take long for Karlsson to get his chance to play in the NHL. After playing only 16 games with Ottawa's AHL affiliate in Binghamton, he was called up by the NHL club, where he scored 26 points in 60 games. In just his third season in the NHL, Karlsson had 78 points in 81 games. The following year, in a shortened NHL season, Karlsson suffered a major injury to his Achilles and was out for two months.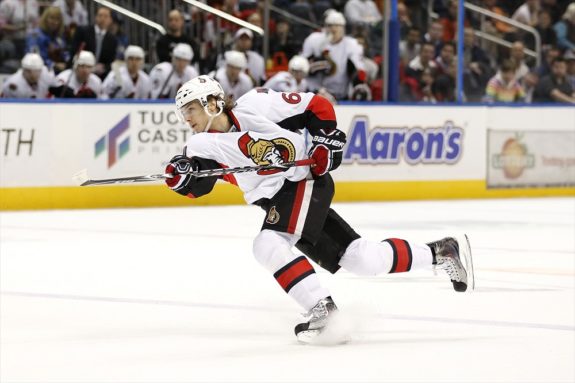 After suffering a major injury, many players will have a setback and take some time to get back to their original form. The next season, Karlsson picked up where he left off, generating 74 points in 82 games.
Not only does Karlsson show his impact on the score sheet, he is also a leader for the team. At just 24 years of age, he was named the captain of the team. Under new head coach Guy Boucher, Karlsson seems to be taking the next step forwards as a leader.
Karlsson Making History
Karlsson is destined for the record books. Currently, the two-time Norris Trophy winner is fourth all-time among Senators in points with 416 in 513 games played. At his current pace, he will be able to surpass Daniel Alfredsson who has 1,108 points in 1178 games played with the Senators. Per Doug Harrison of CBC Sports, Karlsson's 82 points in 82 games last season was the first time in 30 years a defenceman finished in the top five in NHL scoring. Paul Coffey was the last to achieve this in 1985-86 when he finished third overall with 138 points.
The Senators have a generational talent on their roster who is an offensive defenceman that not only excels on the ice but is as much a leader off the ice as well. Having already been recognized twice as the best defenceman in the NHL, the Swedish defenceman is ready to lead his team in hot pursuit of one of sports' most prized trophies, the Stanley Cup.