Winning
Like most superstars in sports, Steven Stamkos has an affinity to win. It doesn't even matter what game is being played. Could be darts or billiards. Hockey or soccer, hell I'd bet that if you somehow got Stamkos into a game of tiddlywinks, he is going to do whatever he must to win. It's in his DNA.
Last summer during a sponsored hockey event near Toronto, Stamkos told the Toronto Star newspaper, "The goal for me is to win a championship. You see the team we have been able to develop over the last couple of years, the ownership, GM Steve Yzerman, the coaching staff, the young nucleus of the team".
This quote was before his Lightning made the playoff run this Spring to come within two wins from the Stanley Cup. If anything, a competitive guy like Stamkos, the loss in the Stanley Cup Final only fuels his desire to carry that Cup even more.
And that sums up the reason he will not sign with the Toronto Maple Leafs or any other team. In rumor land, the Maple Leafs seem to be the front-runners in the perceived Stamkos Sweepstakes. Sure, both organizations are run by former Detroit Red Wing players and Hall of Famers in Brendan Shanahan and Yzerman. But that is as far as any similarity between the two franchises go.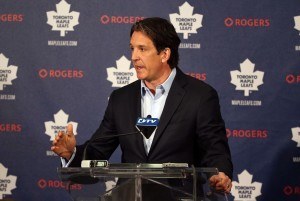 Toronto vs. Tampa
Last season the Maple Leafs missed the last playoff spot by 30 points. The season before they missed the post season by nine points. Three seasons ago is the year all Maple Leafs want to forget, even though they made the playoffs, they proceeded to blow a three goal lead in game 7 against the Boston Bruins for one of the all-time choke jobs in all sports.
As much as Stamkos wants to win and is a Toronto native, this recent dismal showing by his boyhood team should prevent him from accepting any kind of offer from the Maple Leafs. At the same sponsored event last summer, Stamkos added his thoughts about playing in Toronto by telling the Toronto Star, "I'm from around here and grew up cheering for the Leafs, so any time I get a chance to come back here I enjoy it, and any time I get a chance to play against the Leafs it's fun. It's also fun beating them, too, because a lot of my friends are still Leaf fans."
Perhaps Shanahan is the guy to turn things around for the Toronto organization but for a guy like Stamkos who captained his team into the playoffs for the last two years, does he really want to go back to square one? Does he want to be patient while Shanahan moves the pieces to find the right compliment of players to surround him? Does anyone really believe that the Maple Leafs are simply one superstar away from competing in the NHL?
Especially, when it has been witnessed and documented that the Tampa Bay Lightning are one of only a handful of teams that can truly compete for the Holy Grail of the NHL over the next few years. Maple Leaf fans have to ask themselves, why would Stamkos leave Tampa?
Couple of Final Straws
It may be argued that since I am a Lightning contributor to this website that my view is skewed to favor Tampa. No argument here. I want to see Stamkos play his entire career in Tampa. Truth be told, I wanted Vinny Lecavalier to finish his career in Tampa as well as Marty St. Louis. Those stories are for another time.
Being a business, the wishes of NHL fans don't always come true. That said, let's hear from Stamkos on playing in Tampa, as told to the Toronto Star last summer,  "I think that's the great thing about playing in Tampa is hockey isn't the mecca that it is here in Toronto and you can kind of go about your life and kind of get away from the game when you need to. I want to be a part of it, to say I've been there since the beginning, and to see the end result." Read that Toronto: See the end result.
As one of the NHL's youngest captains, the 25 year-old Stamkos is sometimes wise beyond his years. The organization and specifically Yzerman have shown a world of trust and faith in their young superstar. Being the standup guy that he is, Stamkos will show the same level of faith and belief in Yzerman, the organization and the team's owner, Jeff Vinik and re-sign with the team for the maximum length of time in order to be the cornerstone of this franchise into the next decade.
So you see, Toronto, it isn't just that I want to see Stamkos stay in Tampa. It isn't the fact that all of the Lightning fans in the greater Tampa Bay area want him to stay. It is above all else, Stamkos wants to stay in Tampa, to see the end result and achieve the ultimate team goal.
To see it through to the end. Only Stamkos and Victor Hedman remain from the team that four short years ago that played in the Eastern Conference Finals, losing to eventual Stanley Cup winners, the Boston Bruins in seven games.
That was Yzerman's first year at the helm of this franchise. Tampa fans were told then that despite the success that season that a lot of work was ahead for the team. Yzerman in effect gutted the entire team except for Stamkos and Hedman.
That playoff run was followed by two seasons as bottom dwellers and Stamkos played through that. He has given his heart and soul to this team and this city and now as it appears this organization is on the precipice of something special, he is not about to jump ship to go through another rebuilding process.
Stamkos will sign a deal much like the deal Chicago signed Patrick Kane and Jonathan Toews this past season. Maximum eight years for about $10.5 to $11 million dollars. The Lightning will make the cap room to get this done and Stamkos will do his best to lead his franchise to their ultimate goal. The Stanley Cup.
Born in Chicago, Illinois. Grew up playing and loving sports. Spent most of my formative years playing, debating, arguing and talking sports. for the last couple of years I have written about hockey. I am currently a Tampa Bay Lightning contributor for The Hockey Writers. I know that I may not always be right, but I am passionate about hockey and it is damn hard to hide that passion in my writing.