Per Michael Russo and other sources, the Minnesota Wild have handed defender Jonas Brodin a seven-year contract extension worth $42 million.
Brodin's year-by-year (all salary, no SB) breakdown:

Year 1: $4M (Full NMC)
Year 2: $5M (Full NMC)
Year 3: $8M (Full NMC)
Year 4: $8M (Full NMC)
Year 5: $7.5M
Year 6: $5.5M
Year 7: $4M

There is no NTC protection in the final 3-years of his deal. https://t.co/VqB9c6gOhV

— David Pagnotta (@TheFourthPeriod) September 15, 2020
The 27-year-old Karlstad, Sweden native has been a mainstay on the Wild defense since he first cracked their roster in 2012-13. Over the past eight seasons, he has averaged 21:50 of ice time per game and participated in 555 regular-season games. In the 2020 Playoffs, he averaged 23:48 of ice time behind only Mathew Dumba for the team lead. He's coming off a season in which he produced his best offensive numbers, posting 28 points through a shortened 69-game season. In the postseason he also contributed two assists.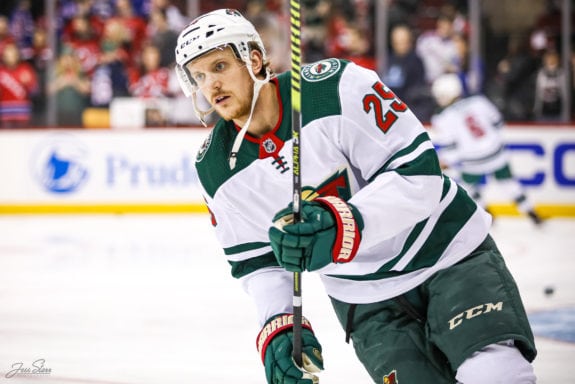 However, offensive production is not why the Wild handed him this contract. Known for his skating ability, Brodin is also widely considered one of the better shutdown defenders in the NHL.
He had been subject of trade rumors approaching the 2020 trade deadline. Signing this contract will put any such rumors safely to bed ahead of the NHL Draft in October. It also means that the Wild have their top-4 defenders all under contract until the through the 2022-23 season.
RELATED: Wild's Game 1 Was What Every Coach Wants to See
It will likely increase speculation regarding the potential trading of Matt Dumba. The contract term also ensures that as 35-year-old Ryan Suter's career winds down, Brodin will be available to take more minutes and fill a bigger role if the team calls upon him. This was seen during the postseason when Suter missed a game with an injury. It also means that Brodin is locked in, on the off chance that the Wild find a trade partner for Suter. One thing is certain: if the Wild trade none of their defenders prior to next season, they will, once again, have one of the best top-four defensive units in the NHL.
---
---
Jack Dawkins is a freelance scout, analyst and avid watcher of "way too much hockey." He has joined The Hockey Writers team to cover all things Washington Capitals, New Jersey Devils, Minnesota Wild, Los Angeles Kings, Arizona Coyotes and Florida Panthers. He's an absolute data hound and loves using stats and analytics to calculate and extrapolate data for analysis.