Some of the best players in NHL history have gone undrafted or unsigned, only to find a chance later in their careers that they took advantage of and never looked back. The Minnesota Wild's very own Mats Zuccarello is a prime example of someone who probably assumed his hockey career was over very early in life, but has turned into an elite first-line winger on a playoff-caliber team. With NHL prospect camps and tournaments starting up this weekend there are a bunch of young, undrafted invitees that are looking to impress. Here are the six hopefuls that can be found on the Wild's squad at the Tom Kurvers Prospect Showcase.
Forwards Comprise the Majority
It is no shock to see that the Wild focused mainly on bringing prospective forwards to this event as their list of potential defensemen is rather large. The affiliated Iowa Wild of the American Hockey League (AHL) is set to be flush with youngsters on the back end trying to stand out from the crowd, and as such there isn't much need to add any more names to a list that already includes Carson Lambos, David Spacek, Simon Johansson, Daemon Hunt, Ryan O'Rourke and more.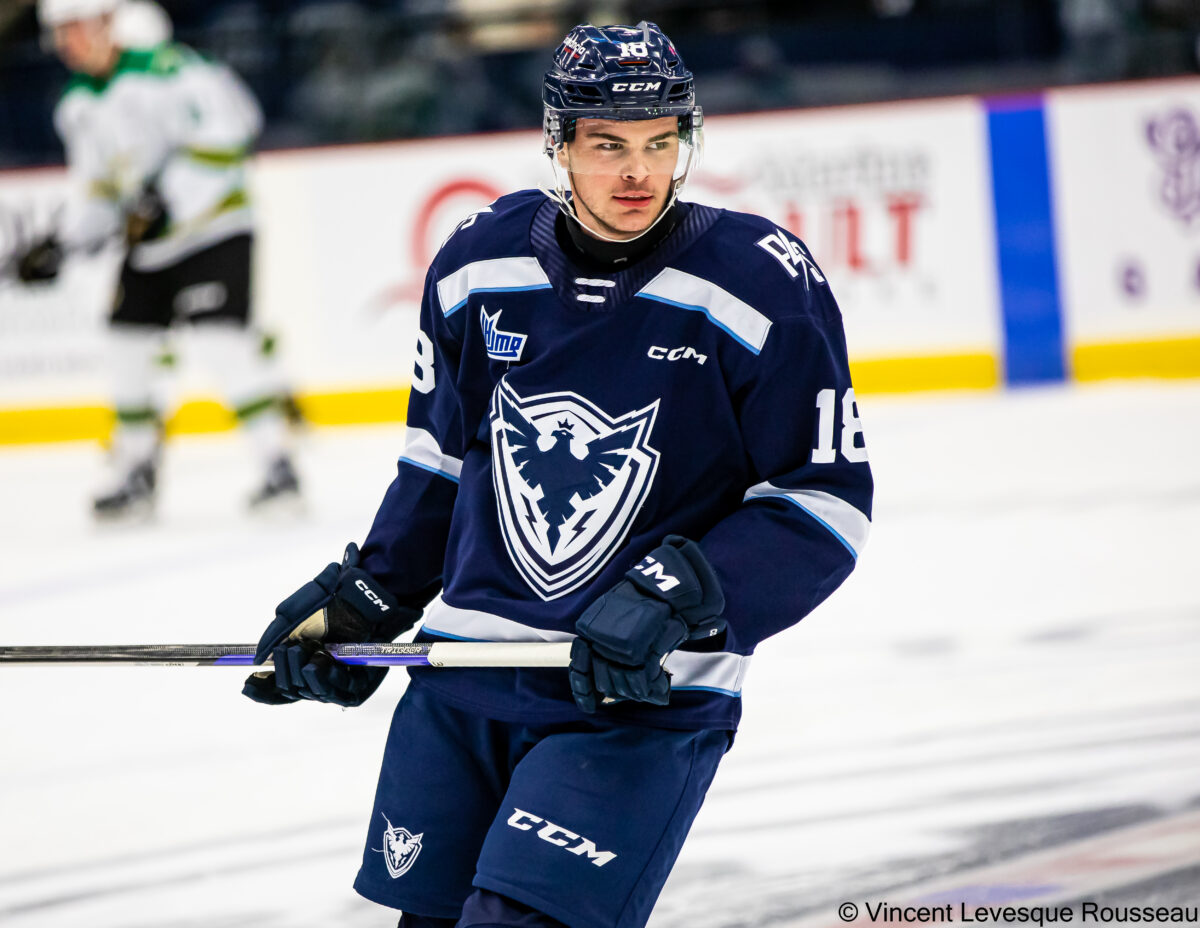 Instead here are four offensive young talents that will undoubtedly be bringing their absolute best to catch the eyes of one of the many NHL executives that will be at the tournament. If they can pry them away from Connor Bedard that is.
#56 Gavin Hain – Center
The Wild have become intimately aware of the fact that the state of Minnesota is flush with skilled young hockey players and recently they have been taking full advantage; therefore, it is no surprise to find out Gavin Hain is from Grand Rapids. The 23-year-old was a sixth-round draft pick of the Philadelphia Flyers way back in 2018 but after five years with the University of North Dakota, they did not offer him a contract. He has had some trouble with injuries but his 11 goals in 36 games last season show he could have some offensive potential.
#67 Carson Latimer – Right Wing
Another case of a later-round draft pick that went unsigned, Carson Latimer was a fourth-round selection in 2021 by the Ottawa Senators. The now 20-year-old has some size at 6-foot-1 and 192 pounds as he enters his last season in the Western Hockey League (WHL) as an overager with the Red Deer Rebels. This will be his fourth WHL squad as he has previously played for the Edmonton Oil Kings, Prince Albert Raiders, and Winnipeg ICE. He had 40 points in 53 regular season games in 2022-23 and had six points in the ICE's playoff run. Despite those numbers, he has been more commonly categorized as a defense-first forward.
#81 Roman Kukumberg – Left Wing
The youngest invitee the Wild are bringing to the tournament will not be the smallest. The 18-year-old Slovak winger is 6-foot-1 and 185 pounds and was perhaps a bit surprised he didn't get drafted last June, as he seemed like a strong candidate for a late-round gamble with his strong skating abilities and high-paced game. 
Related: Revisiting the Wild's Disappointing 2018-19 Prospect Pool
---
Latest News & Highlights
---
It is likely because of his undrafted status that he signed on with the Sarnia Sting of the Ontario Hockey League (OHL) after being their first-round pick in the Canadian Hockey League (CHL) Import Draft (from 'Sting pick Slovakian forward Kukumberg in CHL import draft,' The Sarnia Observer, July 5, 2023). He was having some success in Slovakia, but making his way over to North America and becoming a bit more visible, while also acclimatizing himself to the smaller ice surface may help his odds as an overager going into the 2024 NHL Entry Draft, assuming the Wild don't snag him first.
#86 Ryan McGuire – Left Wing
Another winger from the OHL, Ryan McGuire is a year older than Kukumberg and a little bit smaller at 5-foot-10 and 185 pounds. He had 17 points in his 56 games with the Guelph Storm last season on a team that was headlined by the Boston Bruins second-rounder Matthew Poitras and a trio of third-rounders in Michael Buchinger (St. Louis Blues), Danny Zhilkin (Winnipeg Jets), and Sasha Pastujov (Anaheim Ducks). McGuire will have even tougher competition as he tries to stand out from the crowd in the upcoming tournament.
A Pair of Goalies Completes the Group
When looking at the Wild's three-headed monster in the net of Marc-Andre Fleury, Filip Gustavsson, and Jesper Wallstedt, their starting goaltending position is likely locked up for the long term. That can make it difficult to see why they have invited two goaltending prospects to the event, but the reality is past the three previously mentioned the Wild have only a single other goaltending prospect in Hunter Jones, who is just a few days away from being 23-years-old and not quite developing as they hoped. Perhaps one of these two new faces could be added to fill out a sparse cupboard.
#35 Harrison Meneghin – Goaltender
Happy Birthday to Harrison Meneghin who will be turning 19 years old just a couple of days before sharing the net with Wallstedt as a Wild invitee. The young goaltender was passed over in his first year of draft eligibility, but not for lack of skill. The 6-foot-3 British Columbia native had a ridiculous start to his 2022-23 season with the Lethbridge Hurricanes of the WHL when he posted seven wins in eight games with a .936 save percentage (SV%). His performance was so good he was named one of the league's top three players of the month alongside Bedard and Samuel Honzek.
Meneghin's season dipped a little bit after that and he ended up with 19 wins in 36 games played with a .908 SV% and a 2.83 goals-against average (GAA). Those numbers were still good enough to garner him a place on the WHL's Central Division second All-Star team. If he can show off some of those talents he put on display early last season, he could find himself with a new contract.
#92 Chase Coward – Goaltender
There may be no NHL team that is more sympathetic to players overcoming serious injuries to come back and be serviceable NHL talents than the Wild. Their very own Mason Shaw has been through some extremely tough injuries and they have given every indication that they are fully prepared to help him recover as long as he is willing to put the work in. It is no surprise then that Chase Coward is invited to camp after the 20-year-old from Saskatchewan missed almost the entire 2022-23 season due to requiring double-hip surgery. 
Coward was invited to the Buffalo training camp last year after a strong performance in the WHL with the Prince Albert Raiders that included a .925 SV%, a 2.24 GAA, and a shutout in eight playoff games. His plans were derailed during camp when they discovered that he had minor hip dysplasia. Two surgeries and a year later he is ready to see if he can show off his new hips with another shot at a training camp, only this time with the Wild.
Invitees Face Uphill Climb
Without a doubt, the players invited to the tournament are a group of highly skilled young men and everyone wants to root for an underdog, but the chances of the Wild offering them a contract are low. They possess a very strong and deep prospect pool and for them to acquire the rights to one of the invitees they have to actually offer them an entry-level contract, meaning they would have to be certain that the player they are signing has enough potential to be worth spending some money on and allowing them to develop. 
While they currently only have 43 contracts used out of the maximum 50 an NHL team is allowed to have, they have yet to sign players like Danila Yurov, Marat Khusnutdinov, Charlie Stramel, or Jack Peart, and it is always useful to have open spaces in the event of trades. The six invitees only have a very limited window to show the team that they are worth one of those illustrious remaining contracts. It is not impossible, but it is going to be tough.
---

---