The Minnesota Wild got off to a rough start in the second half of their back-to-back when they took on the Arizona Coyotes at Mullett Arena on Sunday, March 12. The Coyotes capitalized early when the Wild's defense was out of position and they got the early 1-0 lead. The Wild fought back and recorded one of their own to tie things at one but it was far from over.
The Coyotes tallied another goal this time on the power play to take the 2-1 lead and try to put the Wild on their heels. It worked for just a few minutes as the Wild answered again to tie things up at two and that's how the first period ended. The second period flipped sides as the Wild took their first lead of the game on a breakaway goal scored by Matt Boldy. That gave the Wild a bit of a jumpstart and they scored again to take a two-goal lead.
Shortly before the end of the second period, the Coyotes forced their way back into it with a goal of their own to end the period down 4-3. The Wild tried to keep the Coyotes at bay through the third but were unable to as they tied it up at four apiece. That's the way it would remain through the rest of regulation and they were forced to go to overtime. Unfortunately for the Wild, they did everything they could but the Coyotes barely snuck one by Filip Gustavsson for the 5-4 win. The Wild may have lost but there were a lot of good things that happened.
Wild's Fourth Line Steps Up
With the absence of Kirill Kaprizov, it was obvious other players would have to step up to fill in that missing piece. The players that stepped up the most against the Coyotes and also the night before against the San Jose Sharks were the fourth line of Ryan Reaves, Connor Dewar, and Mason Shaw. While they were a physical presence that their team needed against the hard-hitting Coyotes, they also provided a bit of offense that normally doesn't come from their line.
The first to snag a goal was none other than one of the biggest personalities on the team, Ryan Reaves. He's certainly picked up his offensive game in the last couple of weeks with two goals and two assists for four points in his last seven games. It's not a huge number of points but for Reaves who's known more for his physical play than his scoring, it's a big deal.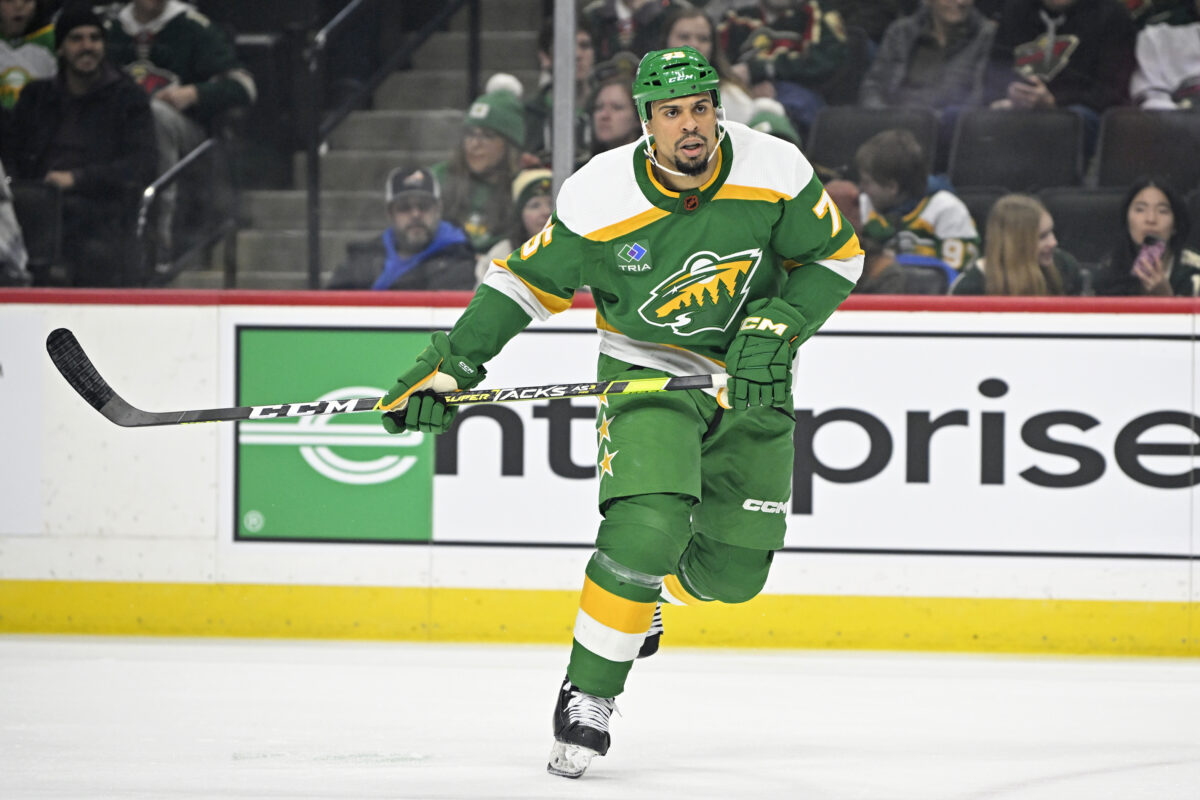 The next goal was scored by Dewar who's played really strong hockey all season. He received a great pass from Shaw and took a shot that sailed past Coyotes' goaltender Karel Vejmelka. He was aggressive all night and had a number of other chances that unfortunately didn't go in.
Shaw didn't score any goals but he did have a strong game that included some gritty fast skating and a couple of scoring chances plus the great assist on Dewar's goal. The Wild could use this effort from their fourth line every night and hopefully it can continue as they press on in this road trip.
Wild's Offense Steps Up Without Kaprizov
While the fourth line was a big contributor to the scoring there were others who stepped up as well. The first is Kaprizov's linemate, Mats Zuccarello who found his scoring spark these last two games. For the first time since December Zuccarello scored goals in back-to-back games and the second goal got his team back into the game early and gave them a boost of hope. He also upped his physical game with a season-high five hits when he normally records only one to two hits a game.
---
Latest News & Highlights
---
The other player who deserves a mention and has been grinding away for a while now is Boldy. He, like Zuccarello, also had goals in both games of this back-to-back plus he has five points in the past five games. His points have been quite sporadic throughout this season so hopefully, these goals can give him a boost of confidence and he can get on a scoring streak again.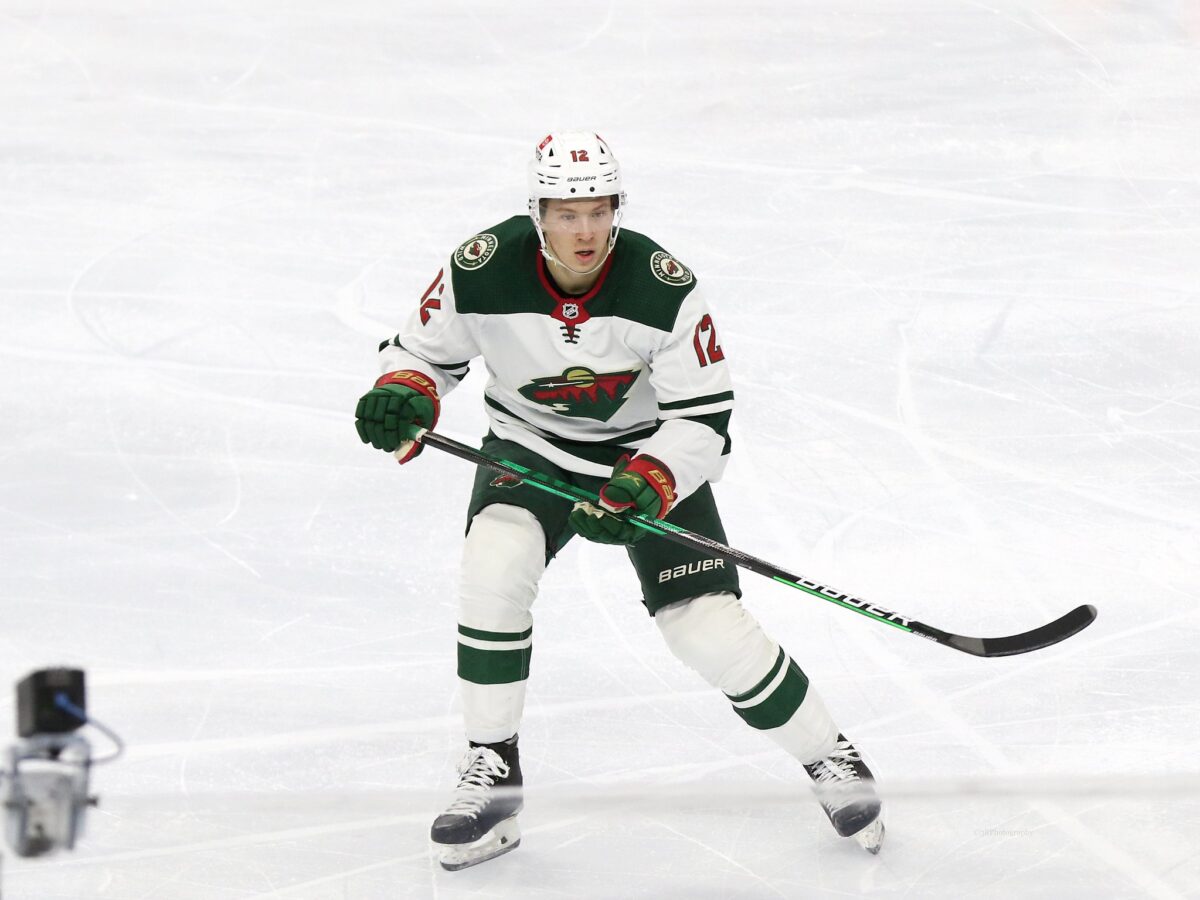 With Kaprizov out of the lineup until at least the end of the month, the Wild need these guys to continue to step up and also provide a spark for the rest of their linemates to get on the scoring train. There's not a lot of time left to make up for lost points so the Wild need to get them every chance they get.
Wild's Defense Still Adjusting
At first, the Wild's defense didn't struggle too much when Jonas Brodin went down with this most recent injury but they've hit a rough patch again. This game really showed what happens when the defense breaks down as that caused most of the Coyotes' goals. The defense was out of position several times both on the penalty kill and at even strength, which means the Wild have to work harder at covering all the open spots and pushing their opponents away from their goaltenders.
Related: Wild's Fleury Steps Up Again to Help Secure Win Over Sharks
Speaking of goaltenders, for the first time in a long time Gustavsson had an off night. He let in some goals that he'd normally have but his defense also failed him several times when they should've been stepping up to help him. Hopefully, this is just a one-game issue that resolves itself before they play again later this coming week.
Wild's Next Opponent
The Wild have a couple of days off before they take on their division rival the St. Louis Blues. They won't have quite the warm welcome they had at Mullett Arena when they took on the Coyotes but it should be a fun game as the Blues always play the Wild tough. Something they will have to consider is the possibility of playing without Marcus Foligno who left the Coyotes game with a lower-body injury.
Evason said he didn't have update on Foligno, other than it was lower body injury. And "serious" enough to where he couldn't return tonight. But nothing more than that. #mnwild

— Joe Smith (@JoeSmithNHL) March 13, 2023
The Wild are already without Kaprizov, Duhaime, Brodin, and now possibly Foligno. They'll need their fourth line to continue to contribute and also help the defense shut down Jordan Kyrou, Pavel Buchnevich, Robert Thomas, and Brayden Schenn. The offense will also have to find a way past the Blues' goaltenders of Jordan Binnington or Thomas Greiss.
This most recent overtime loss was a rough one to take but luckily for the Wild they still got a point in a tight playoff race where every point matters. They'll need their offense to continue its strong play and score goals whenever they can but they also need their defense and goaltending to tighten back up or they'll struggle to get back into the win column once again.