The Anaheim Ducks returned home after a three-game road trip with an opportunity to win their second straight when they faced the playoff-hopeful Nashville Predators on Sunday night. While the Ducks captured a point and created greater separation between themselves and the now-last place in the Pacific Division San Jose Sharks in the process, they fell to Nashville 5-4 in overtime. Let's look at some takeaways from the game.
Positive: Max Jones Shows Why Ducks Drafted Him with Gritty Effort
Max Jones was a first-round draft pick of the Ducks over six seasons ago. Injuries and inconsistent play have seen him in and out of the lineup during his tenure, but lately he has made some plays that demonstrate why the Ducks drafted him back in 2016. His effort alone was the reason they began to climb out of the 2-0 hole they found themselves in last night.
Give credit to Mason McTavish for the finish, but this play was all Jones. He chased Ryan McDonagh up the wall, forced the turnover, and battled not one but two additional Predators before getting the puck to McTavish in a good scoring area. His effort was relentless, and his hard-nosed play resulted in the puck in the hands of a playmaker. That's exactly what the Ducks organization, and fans, should want to see from Jones. It also halted some momentum that Nashville built up over a dominant opening 15 minutes. Major kudos to him on the play.
Positive: Usual Suspects Producing on Offense
It was the rare four-goal game for Anaheim. The goal scorers on the night, however, were not unusual. Cam Fowler and Troy Terry continue to dazzle with their marvelous play since the All-Star Break, Frank Vatrano scored on an absolute missile that went back bar and out, and McTavish brought his goal total to 16 as he continues to chase Matty Beniers in the rookie scoring race. In what is by all accounts a lost season, we get the occasional reminder that there is reason for optimism about the future of this team.
---
Latest News & Highlights
---
A 20-goal season is well within reach for McTavish, which is a great accomplishment for a rookie. Terry, Vatrano, and Adam Henrique, if he plays again this season, can all eclipse the 20-goal mark as well. They would all join Trevor Zegras, who has 21.
Positive: Late Game Heroics Give Ducks a Chance
It was satisfying to see that there was no quit in the Ducks last night. The Predators have a lot to play for down the stretch and the Ducks pushed them to the brink, almost sending them home with one point in a game they shouldn't have needed overtime to win.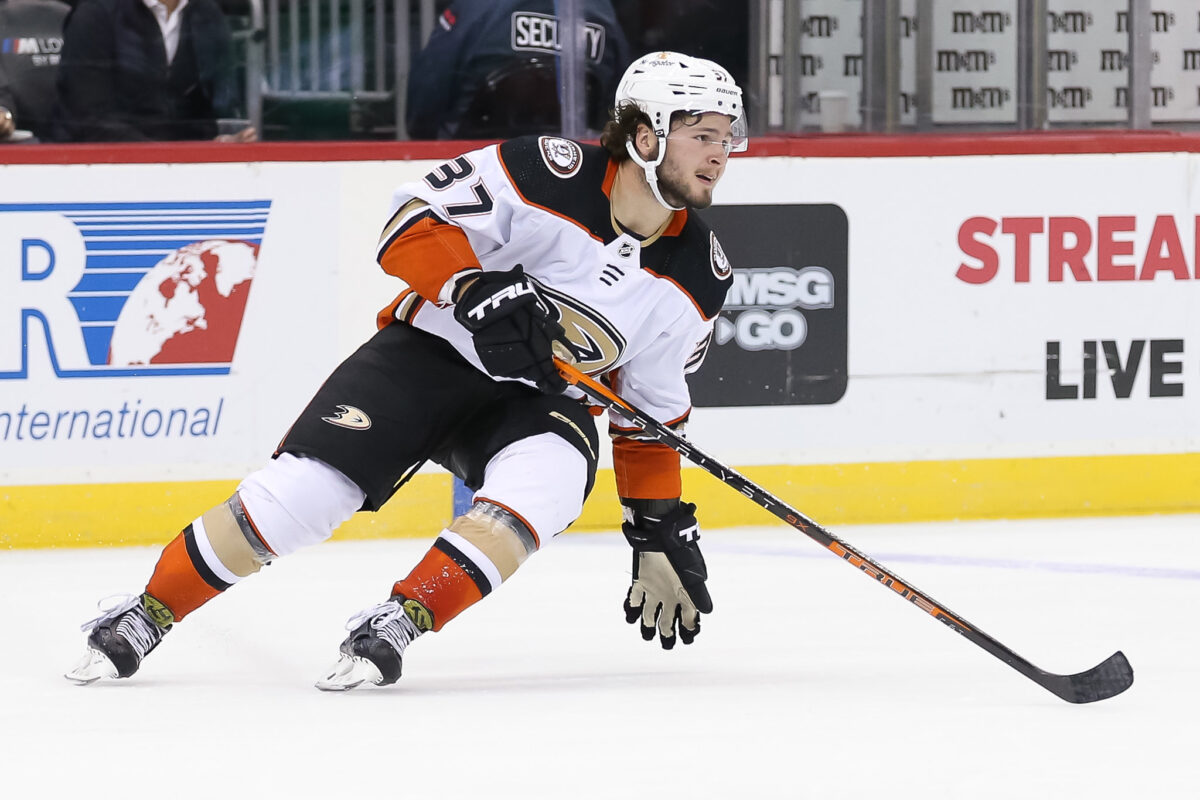 While it won't go down as a special teams conversion, the Ducks moved the puck really well to create their scoring chances in the final few minutes. They were patient, made smart plays, and got the puck into the hands of their dangerous playmakers in high-percentage areas. You find ways to do that, then good things happen. Luckily for the Ducks, there was enough time on the clock for it to turn out that way.
Negative: But the Ducks Too Frequently Dig Themselves a Hole
The Ducks have the unfortunate habit of not starting games well. Bad starts lead to too much defense too early, forcing John Gibson to be on his A-game immediately. It can also lead to fatigue, mistakes, and turnovers. They can't develop an offensive rhythm. The list of ramifications of a poor start goes on and on. It's not a secret, it's happened all season. A big factor in this team's development will be their ability going forward to put pressure on the opposition early in the game, rather than being put on their heels from the start.
Focus on Playing the Right Way in Final Stretch
It would have been nice to see the Ducks pull victory from the jaws of defeat last night. Overtime is a thrilling game of counter-attack, the Predators just happened to score on one of their opportunities to attack. That's how it goes sometimes.
Related: Ducks 2023 Trade Deadline Grades
That said, the Ducks have collected points in eight of their last 10 games. They've climbed out of last place in the Pacific Division. Gibson has been setting records. Fowler is enjoying a nice season offensively. Young players are getting chances to perform and earn their playing time. The positives of a lottery-bound team are hard to find sometimes, but with 15 games left, there are spots to earn, games to win, and organizational pride to play for. They draw the New York Islanders, another playoff hopeful, in game 68 of the campaign on Wednesday (March 15).