The Minnesota Wild's goaltending issues are incredibly persistent. It seemed that part of the solution would come in the form of a buyout of Niklas Backstrom's contract, which has one year remaining.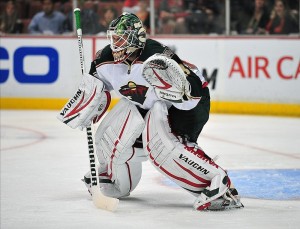 However, that's been complicated by elbow surgery making Backstrom ineligible for a buyout, since you can't buyout an injured player. Even if he gets cleared by team doctors before the deadline and can be bought out, it's a partial solution. Backstrom was signed when he was 35, so a buyout only saves the Wild actual cash and a roster spot. His full cap hit stats on the books.
It's a bad situation for everyone, including Backstrhom, a former All-Star, who hopes to play next year.
So it's not surprising that Michael Russo is reporting that Wild GM Chuck Fletcher has given Backstrom's agent Jay Grossman — also the agent for pending RFA Erik Haula — permission to talk with other teams in Florida to try and find a solution to their current situation.
Via Russo's article:
"We'd like to find a solution that makes sense for everybody," Fletcher said. "[Grossman's] welcome to talk to other teams directly because he can represent things better than I come in terms of where [Backstrom's] at."
The most likely scenario, should there be movement, would be that Grossman finds interest on a low contract with another team, triggering Backstrom to approve a Wild buyout, after which Backstrom could sign a much cheaper deal with the interested team.
Backstrom finished the season with the worst 5-on-5 Sv% of any goaltender in the NHL (min. 9 games).
RELATED: What Dubnyk's Masteron Win Means For the Wild
[catlist categorypage="yes" numberposts=3 excludeposts=this]
Dustin Nelson writes about news and the Minnesota Wild for The Hockey Writers.