Hockey is a cruel, cruel game.
When Jason Demers went down with an injury over two and a half weeks ago, he was considered one of the most important defensive pieces on the Dallas Stars. News broke later that night that Demers would be out a significant amount of time and that the team would re-evaluate his status in six weeks. He likely won't be ready for the first round of the postseason and it is questionable at best that he will return at all this season, depending entirely on how far the Stars make it in the playoffs.
When Demers went down, the only other right-shot defenseman on the team (John Klingberg) was already out with an injury as well. The Dallas Stars were forced to call up Stephen Johns, a right-handed defenseman who was acquired in the Patrick Sharp trade with the Chicago Blackhawks in the offseason.
Immediately thrust into a top-four role, Johns has not disappointed. He's big and plays both ends of the ice incredibly well. Will the combination of Demers' injury and the emergence of Johns force Demers out of Dallas in the summer?
Has Jason Demers Priced Himself Out?
Since coming over from San Jose in November of 2014, Demers has had a tremendous influence on the Dallas defense. Before he entered the picture, Klingberg was the only right-handed defensemen and he hadn't been in the line-up for more than a few games himself. The Stars blueline was massively imbalanced and had been for several seasons, which likely contributed to their poor defensive play.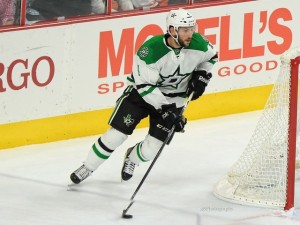 Having that balance doesn't seem like much, but it can make a big difference on the blueline. It's harder for left-shot defensemen playing on the right side to hold pucks in the offensive zone. Having that right-shot on the right-side allows for smoother zone-exits and keep-ins. Demers helped give them that balance.
While he had been struggling for about a month or two leading up to his injury, Demers had been one of the steadier defenseman on the team in the past two seasons. He has consistently been one of the top possession-defensemen on the Stars.
In 61 games this season, Demers has posted a 54.13 CorsiFor% while playing 5-on-5. That number is good for sixth on the Stars and second among defensemen. He posted similar numbers last season as well.
Primarily playing with newcomer Johnny Oduya, Demers has been one of the key defenseman being relied on in defensive situations by head coach Lindy Ruff. Demers and Oduya have started in the defensive zone more often than the rest of the defensive pairs on the team. Demers has become quite reliable in his own zone and in the offensive zone as well.
Although he wasn't brought in to produce offense, Demers has chipped in with quite a few points this season. He has seven goals and 23 points in 61 games and has seen some power play time on the second unit. Outside of taking penalties, Demers, an unrestricted free agent come July 1st, has played his way to needing a raise in the offseason. That raise may be a reason that the Stars are unable to retain Demers heading into next year.
Demers currently comes with a cap hit of just $2.21 million thanks to San Jose retaining some salary in the trade. Being a young, right-handed defenseman who has proven to be incredibly reliable in his own end is going to make him an attractive option in free agency this summer. While the Stars aren't exactly in the salary-cap-danger-zone, they do have many options to consider when thinking about the blueline. Alex Goligoski, Kris Russell and Jordie Benn are all unrestricted free agents at the end of the season as well, and that's not mentioning the stockpile of young defensemen in the minors that are waiting for their shot in the NHL.
Demers has played so well that he may have priced himself out of Dallas, but there are other factors at play as well.
The Up-and-Coming Stephen Johns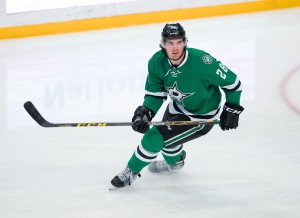 Although he has only been in the NHL for eight games, the Stars wasted no time locking up Johns for the immediate future. He has already been extended for two seasons at the reasonable cap hit of $725,000 per season. Having a cheap replacement for Demers may allow the Stars to spend in other areas.
If you just took a quick glance at the numbers, you might think Johns hasn't played all that well. His CorsiFor% is just 45.78, the lowest on the Stars. With that being said, the Stars have not been a good possession team as a whole in the eight games that Johns has played in. Without Johns on the ice, the Stars have a CorsiFor% of 46.29. It hasn't been so much him as it has been the entire team in the past couple of weeks.
Johns is already logging good minutes, playing over 18 minutes a night since his call-up. He's chipped in three points in eight games, including a game-tying goal in the third period against the Tampa Bay Lightning. He's being counted on in the defensive zone, as no defenseman on the team has a lower offensive-zone-start-% than Johns so far in his short career. The Stars really like what they have in Johns, and with or without Demers, he will likely be in the NHL to stay.
The Stars will have a big decision coming with Demers, and unfortunately for him, his injury may have cost him a spot in Dallas.
Jordan has been covering the Stars for The Hockey Writers since February 2015. He is originally from Iowa City, Iowa. You can follow Jordan on twitter @jordan_dix