With the Toronto Maple Leafs' record this year, the playoffs have never truly been on the minds of fans, or management either, for that matter.
All year long, it has been about gathering assets for the 2016 NHL Draft and increasing their odds at scoring the first overall pick, via the Draft Lottery.
So, as most hockey fans get pumped up for the beginning of the 2016 NHL Playoffs, Leafs fans are also getting excited, for an entirely different reason.
The 2016 NHL Draft Lottery will take place on April 30th, and the Leafs will be among those paying particular attention to the outcome. Depending on the result, Toronto could move up or down three crucial spots at the beginning of the draft.
Regardless of whether or not the Leafs draft first overall or fifth overall, Toronto needs to have an idea of who they want to select come June 24th. Will they look to draft a franchise center, or a defenceman who can guard their blue line for the foreseeable future?
What Role Do the Leafs Need to Fill?
After the first official season of rebuilding, the Leafs need to assess their dire needs heading into the 2016 NHL Draft. Sitting near the bottom of the standings, Toronto is destined for a top five pick, with a solid possibility of winning the first overall selection.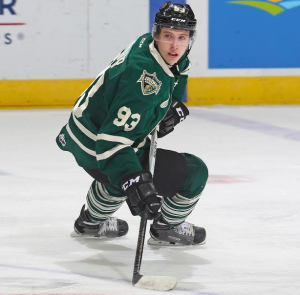 Currently, the Leafs hold two potential first-line centers in their prospect pool, in William Nylander and Mitch Marner. They also have some promising wingers, many of which are near NHL-ready. But, one position where the Leafs are lacking a true franchise player is on the blue line.
Their best defensive prospects as of today would likely be Connor Carrick and Rinat Valiev. While both look like they could certainly turn out to be long-time NHL defenders, neither of them would be classified as difference makers.
That is a hole that Shanahan and the Leafs need to fill at this year's draft. A franchise defenceman is essential to coming away from the 2016 Draft feeling confident to find success.
Toronto also holds the Penguins' first round pick, as a result of the Phil Kessel trade, so they would still have a great opportunity to draft a top-notch forward prospect early in the draft.
Who Are The Possibilites?
There are a few defenceman that stand a head above the rest at the top of this year's draft class. While neither of them are expected to go in the top three, there is a possibility that one could squeak into the top five, for a team in need. As for the Leafs' decision however, it is very dependent on where they end up picking.
Should they win the first overall pick, it is unlikely that they would pass on Auston Matthews. After that, it is a toss-up. But, because we have established their need for a franchise defenceman, we will assume that they will draft a d-man.
Click here to read Who is the Top Defenceman in the 2016 NHL Draft?
Jakob Chychrun – Sarnia Sting
62 GP – 11 G – 38 A – 49 Pts- 0.470 Primary Pts/Game
Scouting Report:
Chychrun was once considered to be a possible first overall selection at this year's draft, but has seen his stock fall after being snubbed from Team Canada at the World Juniors, as well as his offensive numbers failing to take off. However, he remains a possible franchise defenceman, with great size and strength. He is a smart defender who uses his stick and body positioning to hold off opponents. On the offensive side, Chychrun has tremendous poise with the puck and makes a responsible first pass for breakouts. He can effectively set up a power play and has a potent shot from the point.
Fit With Toronto:
Chychrun would very likely begin the 2016-17 season with the Leafs, with the opportunity to earn top minutes. The 6'2, 194 pound native of Florida is built like a tank and would have an immediate impact on the Leafs' ability to defend their crease. A top pairing of Morgan Rielly and Jakob Chychrun would be an enticing thought, and one that would bring some optimism for the future in Toronto.
Olli Juolevi – London Knights
57 GP – 9 G – 33 A – 42 PTS – 0.474 Primary Pts/Game
Scouting Report:
As opposed to Chychrun, Olli Juolevi's draft stock took off as a result of his performance with Finland at the World Juniors. He led his host Finns to a gold medal, while tallying nine assists over seven games. Over the course of the season, Juolevi has become more defensively responsible with the Knights, earning more minutes in important situations.
At 6'2, 183 pounds, Juolevi is able to use his strength to force opponents to the outside. He is able to break out the puck with simplicity, or even rush the play through the neutral zone with confidence. Juolevi doesn't have the hardest shot, but uses screens to effectively create rebounds and scoring chances.
https://www.youtube.com/watch?v=t8M1tBG7m5I
Fit With Toronto:
Juolevi would have to compete for a spot on the Leafs for 2016-17, and would likely benefit from one more year in the OHL. He would join a list of puck-moving defenceman, but would stand out with his size and ability to play physically as well. Juolevi doesn't look like a franchise defenceman, but should be a fringe top-pairing guy for a long time.
Who Do the Leafs Need to Draft?
The answer seems fairly obvious. So long as the Leafs don't hold the number one selection at the 2016 NHL Draft, they must draft Jakob Chychrun. He looks like the only potential franchise defenceman from this year's draft class, and the Leafs would not be wrong to select him ahead of either of the Finns, Patrik Laine or Jesse Puljujarvi.
The Leafs currently hold zero true top-four defensive prospects, and they need to stock the cupboards this year. By drafting several high-end forwards year after year, without a franchise defenceman to man the blue line, the Leafs face the consequences of possibly becoming the next version of the Edmonton Oilers.
Chychrun was slotted alongside Matthews at the beginning of the season, and only dropped because of unrealistic expectations and a poor decision by Hockey Canada to cut him from their World Junior roster. Those who have multiple viewings of Chychrun throughout the season have not changed their mind; he is undoubtedly the top defenceman in this year's draft, and deserves to be a top-three selection.
The Toronto Maple Leafs cannot afford to pass him up.
Who do you to see the Leafs select at the 2016 NHL Draft? Let us know in the comments below!
Contributor for the Toronto Maple Leafs and Prospects. Scout with the Oakville Blades of the OJHL. For questions, concerns, or comments, contact me at devinslawson123@hotmail.com or on twitter @SlawsonTHW.