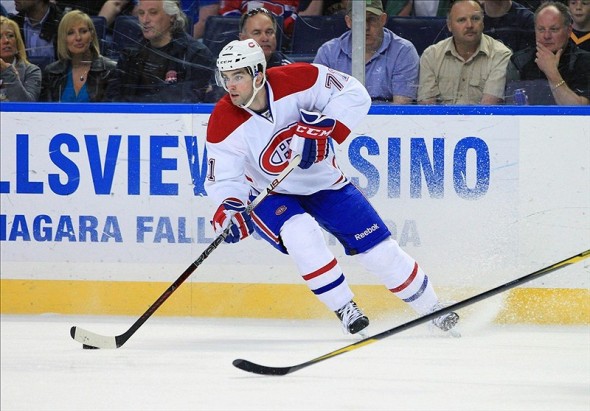 It definitely has not been an easy ride for Louis Leblanc, the Montreal Canadiens' 18th overall pick in the 2009 entry-level draft.  But if the twenty-two year old Harvard-educated forward has learned anything so far, it's that the good things in life don't come easy.
Now that Travis Moen has added his name to Montreal's growing list of injured players after suffering a deep cut in Saturday's loss to the San Jose Sharks, Leblanc has received a "hail mary" chance to show Therrien and Bergevin that he is a bonafide NHLer and ready to stake a claim to a regular spot in the Canadiens' lineup.
Forward Michael Bournival, acquired in the Ryan O'Byrne trade with the Colorado Avalanche a few years back, has done just that.
Opportunities like this don't come around that often. For Leblanc, his time is now. The Canadiens' door has opened a smidge and now is the time for him to barge right on through.
After putting up 10 points in 42 games back in 2011-2012, Leblanc last season suffered a setback with a high ankle sprain that saw him drop down on the Canadiens' depth chart.
His hopes were high coming into this year's training camp and although he had more jump, his effort didn't produce results. So back to Hamilton he went, informed by Bergevin that he wanted the young winger to show that he can be the best player on the ice, night after night.
Bergevin laid down the challenge and Leblanc didn't seem to take the news well (documented by his girlfriend's whining about it on twitter). His slow start in Hamilton this year had us all wondering if his days were numbered with the Canadiens.
But recently, Leblanc responded in the only way that matters:
0 points in first 4 games, but @CanadiensMTL prospect Louis Leblanc has 5 points (3 goals, incl. 2 OT GWGs, 2 assists) in last 2 games!

— Derek Wills (@dogsplaybyplay) October 26, 2013
It's hard not to compare Leblanc with Bournival because both aren't necessarily top-six forward material. Bournival though has used his strong skating abilities to his advantage and has been able to finish off plays when he gets the chance. Now he's playing with Tomas Plekanec and looks right at home.
Leblanc's high ankle sprain definitely affected his speed and power on the ice, but maybe watching Bournival's compete level first-hand might help show him the way.
The Canadiens can really use the help until they at least get Max Pacioretty back. If Leblanc can compete hard, put some points up on the board and ultimately be a tough player to play against like Therrien expects from all of his players, he'll step up in the eyes of the Canadiens' brass.
If not, I would say the time is drawing to a close for Leblanc with the Montreal Canadiens.
Ari Grief's time is now too, just not with the Canadiens. Find out why on Facebook or on twitter: @HabsFanLeafLand
I'm a goalie — apparently that says a lot. Writer, producer and bon vivant I'm from Montreal but live in Toronto and write from that perspective on HabsFanInLeafLand.com. Young enough to be hip; old enough to remember where I was when Guy Lafleur scored against the Bruins in the infamous "too many men" game in the '79 playoffs. Can you say that?
You can contact Ari Grief on Facebook or on twitter @habsfanleafland