As the anthems are being sung and medals handed out, the hockey world celebrates the accomplishments of all nations involved at this years WJHC. Among these nations, five Florida Panthers' prospects participated and played hard in this year's tournament. Here is how your future Florida Panthers fared in the international spotlight as all eyes turned to Ufa, Russia for the World Junior Hockey Championship: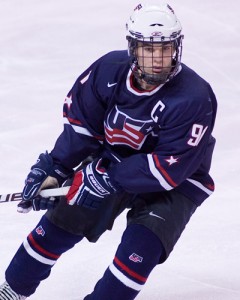 Rocco Grimaldi (United States): Selected in the second-round (33rd overall) in the 2011 NHL Entry Draft, the 5'6" Rocco Grimaldi showed hockey fans and scouts that little could come up big when it mattered.
Although Grimaldi started off the tournament shaky and never even saw the ice during USA's game vs. Slovakia, he was able to progress and get better every game as the tournament went on. Grimaldi's speed was on full display in the later rounds of the tournament as he was able to break into the offensive zone with powerful bursts. However, once in the offensive zone, Grimaldi was prone to making poor decisions with the puck, mostly by trying to make too many things happen instead of making the simple play.
Throughout the tournament Grimaldi totaled 4 points (2G 2A) and had key assist on Jake McCabe's game winning goal over Canada. Grimaldi's shining moment came in the gold medal game when he took home MVP honors after scoring two goals in USA's 3-1 win over Sweden.
Grimaldi's Grade: B+
Yaroslav Kosov (Russia): Selected in the fifth-round (124th overall) in the 2011 NHL Entry Draft, Yaroslav Kosov surprised many critics by performing quite well during this year's tournament.
Kosov, who currently plays for Metallurg Magnitogorsk of the KHL, ended up totaling 4 points (3G 1A) this tournament and made his biggest impact by scoring a hat-trick during a 7-0 rout of Germany. While his stats were respectable, with his large frame (6'3 – 220lbs) Kosov should have been able to assert himself more on the ice against smaller less developed skaters.
Kosov has struggled in the KHL thus far with only 3 points (2G 1A) in 29 games for his Magnitogorsk. Most of his exceptional play during the tournament can be contributed to playing against competition his own age and experience level. However, during this tournament Kosov did have flashes of greatness that could be nurtured in the future to produce an everyday NHL power forward.
Kosov's Grade: B-
Rasmus Bengtsson (Sweden): Selected in the second-round (59th overall) in the 2011 NHL Entry Draft, Rasmus Bengtsson stood out as the Panthers lone defensive prospect participating in this year's tournament. During the tournament, Bengtsson accumulated one point (0G, 1A) while playing solid defensively for Team Sweden.
Bengtsson only dressed in four games for Sweden, but did play in the championship game vs. the United States. Although his numbers do not jump off the stat sheet like American defenders Jacob Trouba or Seth Jones, Bengtsson did all the little things defensively that helped his team take home the silver medal.
Bengtsson's Grade: C
Vincent Trocheck (United States): Selected in the third-round (64thoverall) in the 2011 NHL Entry Draft, Vincent Trocheck played solidly on both ends of the ice throughout the tournament to help USA win the gold medal. Throughout the tournament, Trocheck was one of the most versatile players on the USA roster. He contributed consistently on both the power play and penalty kill and was able to accumulate 6 points (3G 3A), including the empty net goal that sealed team USA's victory over Sweden in the final.
Trocheck's hustle and hard play made him one of the hardest workers on the USA roster and helped everyone around him play better. Trocheck's shining moment was his assist on Jake McCabe's game winning goal in USA's semi-final match against Canada.
Trocheck's Grade: B+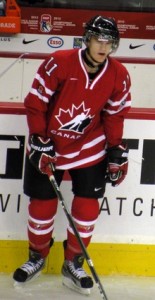 Jonathan Huberdeau (Canada): Selected in the first-round(3rd overall) in the 2011 NHL Entry Draft, Jonathan Huberdeau came into this year's tournament with lofty expectations and did not disappoint.
Throughout the tournament, Huberdeau accumulated 9 points (3G 6A) which led all Panthers prospects and made him a Top-Five scorer among all competing skaters. For the most part, Huberdeau took on a secondary role behind Canada's biggest star, Ryan Nugent-Hopkins, who led the tournament in scoring with 15 points (4G 11A).
In most games Huberdeau looked confident on the ice and proved himself to be a good facilitator as well as a talented scorer when called upon. Huberdeau's two points in the bronze medal game were enough to help the Canadians force overtime in an eventual loss to Russia.
The one glaring negative about Huberdeau's performance this tournament was his disappearance during Canada's semi-final loss to the United States, where he was a non-factor for most of the contest.
Huberdeau's Grade: A-
Follow Jameson on Twitter @coopdaloop123