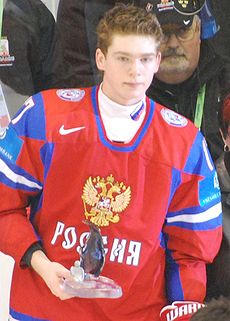 Date of birth: May 19, 1992
Place of birth: Chelyabinsk, Russia
Ht: 6-0 Wt: 172
Shoots: L
Position: Forward (C/W)
Drafted by Washington Capitals in 2010 (26th overall)
The Hockey Surgeon
Team Latvia's goaltender Elvis Merzlikins, after making some superb saves in the first period, must have felt like he was on Russian forward Evgeny (Yevgeni) Kuznetsov's operating table last night. There were points in the game where he must have prayed for some sort of anaesthetic cocktail to help relieve the suffering.
His defensemen were continuously under siege and were unable to offer much resistance against the Russian nuclear arsenal of weapons amongst the forward ranks.
To say Kuznetsov has a great set of hands, in the hockey sense, is somewhat of an understatement. With a little help from his friends (i.e. team-mates), he absolutely dissected Team Latvia notching three goals and six assists en route to a 14-nil victory over Latvia on Thursday night.
His nine point performance was the second highest total in the history of the world junior hockey championship.
Sweden's Peter Forsberg had an astounding three goals and seven assists for 10 points  in a 20-1 win over Japan on December 30th, 1992, which was the 1993 World Juniors.
Kuznetsov said in the post-game media conference in Calgary's Saddledome:
"I didn't know (about Forsberg's record), but I was told about it during the game. I thought the coach was joking – I wasn't expecting to be a point shy. At the end, I was kidding with the coach and asking him to put me in."
What might go unnoticed is the fact that Kuznetsov was not even the best Russian player in the first period. Destined to go very high in the 2012 NHL draft, 17 year-old Mikhail Grigorenko was dominant in the opening frame. He was dangerous each and every shift until succumbing to an ankle injury early in the second. There have been mixed signals thus far on Grigorenko's status for the rest of the tournament.
As Yahoo Sports reported: "Russian centre Mikhail Grigorenko injured ankle ligaments during his team's 14-0 formality vs. Latvia. Bad news for Russia, but the good news for him is it's not broken."
When Kuznetsov fires up the afterburners, however, one can only sit back and enjoy the show.
Kuznetsov is the only returning player from Russia's gold medal winning squad from last year. The Russian forward represented Russia in the 2011 World Junior Championships in Buffalo, New York, where he was the only 18 year-old on the team (the rest were 19 year-olds). He was second in the tournament in scoring with 11 points (4 goals and 7 assists) in 7 games. Along with Vladimir Tarasenko, he was instrumental in the gold medal game comeback win over Canada in which Russia overcame a 3-0 deficit in the third period to win 5-3. He had 3 assists in that game.
In 32 games for Chelyabinsk Traktor in the KHL this season, Kuznetsov has 12 goals and 24 points thus far. He will likely be ready for prime-time in the NHL as soon as next season. Washington Capital fans must be salivating to get him in the line-up.
To sum up his game in a nutshell, Kuznetsov simply has ridiculous offensive upside.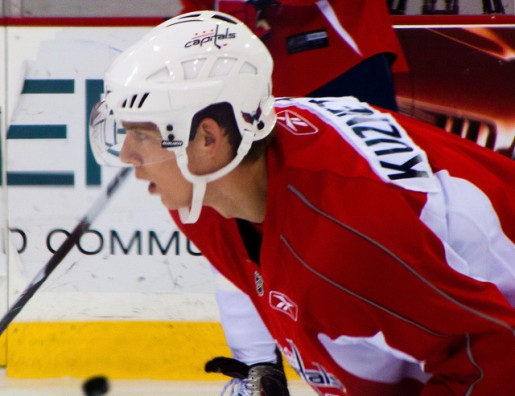 Scout's Honour:
"Very dynamic skill level. Extremely quick, soft hands. Controls the puck like he's got it on a string and holds onto it for an extra split second, giving linemates time to cut to open ice for his decisive feeds. Superb patience around the net – outwaits goalies and always forces them to make the first move. Tremendous natural sniper who buries his chances."
– Red Line Report Draft Guide 2010
***
"A talented forward with an elite skillset and penchant for highlight reel goals, Kuznetsov has three main question marks – consistency, maturity and the above mentioned Russian Roulette Factor. He is an explosive skater with great hands who might just be the most talented Russian in this year's draft."
– The Hockey Writers 2010 Draft Preview
Post-game Interview:
Video
One-Timer(s):
"…as an 18-year-old (Kuznetsov) collected 32 points (17 goals, 15 assists) in the 'K', better than a certain Alex Ovechkin could at the same age (27 pts/13 goals) in the Russian Super League. His coach at Traktor, Valery Belousson, goes so far as to compare him to Pittsburgh's Evgeni Malkin." (Calgary Herald)
***