It took a little longer than expected, but tonight marks the first installment of Jack Eichel vs. Connor McDavid. Or as those two players would say, the Buffalo Sabres vs. the Edmonton Oilers. The two rookies are linked together by virtue of being in the same draft year, and their differences being the stuff hockey media dreams of. A Canadian vs. and an American. College hockey vs. Junior hockey. First overall vs. second overall. Comparison is the nature of sports. We always want to debate which players are better, who is the greatest of all time, who is going to be the "next one". Whether or not its fair to link these two together, it's reality nonetheless.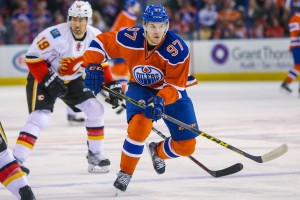 Both Teams are Bad. Both Players are Good
Going into tonight's game, both the Sabres and Oilers aren't playoff contenders. Buffalo is slightly better, sitting 26th overall, while Edmonton is at 29th. The Oilers haven't made the playoffs since 2006 while the Sabres have played postseason hockey just four times in the past 11 years. It hasn't exactly been fun to cheer for either of these teams lately, but securing the top two players in the draft has certainly inspired hope. Jack Eichel sits third in scoring among rookies with 17 goals and 41 points in 63 games while McDavid is ninth with 10 goals and 29 points in just 27 games. Despite the lack of success for their clubs, both rookies have put their skills on display this season.
Hype in this day and age is magnified thanks to social media, and the focus will undoubtedly be on the two remarkable rookies. Considering the fact that neither team is competitive this season, what else really is there to talk about? As for the players themselves, well they certainly aren't feeding into the so-called rivalry between them.
"We're playing the Edmonton Oilers, not Connor McDavid." – Jack Eichel on Tonights matchup. https://t.co/SZY3g583PA

— Source For Sports (@SourceNation) March 1, 2016
McDavid: the media always had us pegged as not liking each other or being rivals but we just really don't know each other. @WGRZ

— Heather Prusak (@haprusak) March 1, 2016
Watching them face-off against each other won't be as entertaining as seeing them playing on the same team, as they likely will in the upcoming World Cup. If they're already annoyed over hearing about the other, just wait until they're teammates. But, handling this narrative is something they should be prepared for, because it isn't going away anytime soon. To me, however, comparing the state of the two franchises seems much more relevant. Which one is closer to contending? Which one is better equipped for success? In terms of history though, it's no contest.
The Oilers Rich History Beats that of the Sabres
In sports, we tend to focus on "what have you done for me lately?" That said, it's important to celebrate the success of years gone by, and appreciate what teams in years past have accomplished. When it comes to the Sabres vs. the Oilers, well, Edmonton is ahead by a country mile. The franchise has won five Stanley Cups, and have a plethora of great numbers hanging in the rafters, not the least of which is Wayne Gretzky, who was a part of the organization for nine years. In the early 80's the Oilers were seen as the team to beat. They dominated hockey and had other teams longing to be like them.
The Sabres franchise have never won a Stanley Cup, but they did make the Finals twice. The biggest memory for Buffalo fans is debating whether or not Brett Hull's Cup-clinching goal should have counted. Not exactly the stuff of legends. The Sabres did enjoy the services of Hall of Famers such as Gilbert Perreault, Pat LaFontaine and Dominik Hasek, but none were able to deliver a championship. Despite the disparity in team success, the playing field has evened out as of late. The glory of the Oilers past is a distant memory with each passing non-playoff season. And now, with the Sabres slightly ahead in the standings, we can't help but wonder which franchise is better set-up for success. Will either of these teams make the playoffs in the next couple of years? And if so, which one will get there first?
The Sabres have a Strong Leadership Core
One thing that the Oilers have failed miserably at is surrounding their core of young players with veterans. And not veterans who are healthy scratches, but veteran's who are still making an impact in the lineup and command respect in the room. Captain Brian Gionta's experience and calm demeanor has been a positive influence. Josh Gorges is the character player that every team wants. Even guys like David Legwand and Matt Moulson have provided leadership and guidance. Bringing in Ryan O'Reilly was a key acquisition. He's the teams' leading scorer with 49 points in 59 games.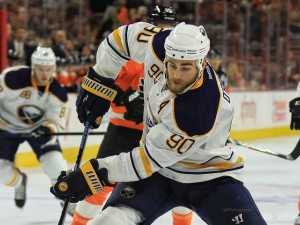 Granted, the Sabres haven't exactly leaped up the standings this season, but the building blocks are in place. The older guys will eventually give way to the youngsters, who are going to be better equipped the lead the team. By contrast, the Oilers young players haven't had many veterans to lean on and show them the ropes and have known nothing but losing in their short NHL careers. Guys like Taylor Hall, Jordan Eberle and Ryan Nugent-Hopkins have been handed the leadership mantle by default. It's clear that the new management in Edmonton is taking steps to alter the toxic culture of this franchise. And it's not necessarily by shipping out young stars. Changing the leadership structure and dynamic may be even more crucial than making big trades.
Comparing the Rosters
The rebuild for both teams is very much still ongoing, but in terms of how these teams are set up for the future, the pieces are falling into place. Here's a quick look at both teams' key young players (in terms of present and future).
Sabres: 
Center ice – Ryan O'Reilly, Jack Eichel, Sam Reinhart, Zemgus Girgensons
Defence- Rasmus Ristolainen, Zach Bogosian, Jake McCabe, Cody Franson
Wingers- Evander Kane, Marcus Foligno, Johan Larsson
Goaltending- Robin Lehner
Oilers:
Center ice- Connor McDavid, Ryan Nugent-Hopkins, Leon Draisaitl
Defence- Oscar Klefbom, Brandon Davidson, Darnell Nurse, Griffin Reinhart
Wingers- Taylor Hall, Jordan Eberle, Nail Yakupov, Zack Kassian, Patrick Maroon
Goaltending- Cam Talbot
In terms of overall stats by individual players, there isn't a big discrepancy between the two rosters. The Oilers have two 20 goal scorers, and five players with 10 or more goals. The Sabres have just four guys with 10 or more goals and none have hit 20 (at the time that this was written). Plus/minus isn't a widely respected stat, but almost all of the key players on both teams have minus ratings (Draisaitl is even, while Davidson is a +6). The Oilers have a very slight edge in goaltending statistics.
At the end of the day, the formula for success in the NHL seems to be a little varied. The best teams generally have star power in at least two of the three most important positions (center, defence, goalie). You can argue that both the Sabres and Oilers are pretty set at center, but each have some question marks in terms of goaltending and on the blueline. But these teams have a long way to go. We don't even know if big changes are coming, or if these cores will still be together in the coming years. Results are going to have to start coming, especially in Edmonton. I would imagine each teams' fans are happy with their players, but if you're neutral, which roster would you rather build on?
Marcy, a former hockey player, is a hockey correspondent on CTV News and TSN radio. She began her career as a Sports Journalist in 2009 and has been part of The Hockey Writers since 2010, where she is currently a senior writer and editor.