Yegor Rimashevskiy
2022-23 Team: MHK Dynamo Moskva
Date of Birth: Feb. 1, 2005
Place of Birth: Zhlobin, Belarus
Ht: 6-foot-3 Wt: 198 pounds
Shoots: Left
Position: F
NHL Draft Eligibility: 2023 first-year eligible
Rankings
One of the more tantalizing prospects out of Russia's Junior Hockey League (MHL), Yegor Rimashevskiy, is a name heard often talked about in Dynamo. The Belarussian forward had plenty to be content about in his sophomore season with MHK Dynamo Moskva, where his combination of size, speed, and soft hands was on full display. Rimashevskiy was also one of the bigger players in his club, but don't let that lead to assumptions that he lacks in the skill department.
Of the forward crop on the Dynamo Moskva team, Rimashevskiy was one of the more noticeable players on the ice concerning his skating. He has a crisp first step and an excellent sidestep, allowing him to switch from a north/south style to going side-to-side in the blink of an eye. While his top speed appears average compared to his linemates and opposition, his crossover is one of his best strengths for eluding defenders upon zone entry.
Related: THW's 2023 NHL Draft Guide
---
Latest News & Highlights
---
When the puck is on Rimashevskiy's stick, the 18-year-old forward is at his best. His confidence shines through when rushing the puck up the ice, evident from his ability to go coast-to-coast. What makes Rimashevskiy so exciting is his style of handling the puck, going from a head down, skating the puck up the ice type of player, to a skilled stick handler, capable of dangling around most defenders. He reads the play so well when crossing the opposition's zone, he knows where to take the puck and how to manage the cycle efficiently and effectively.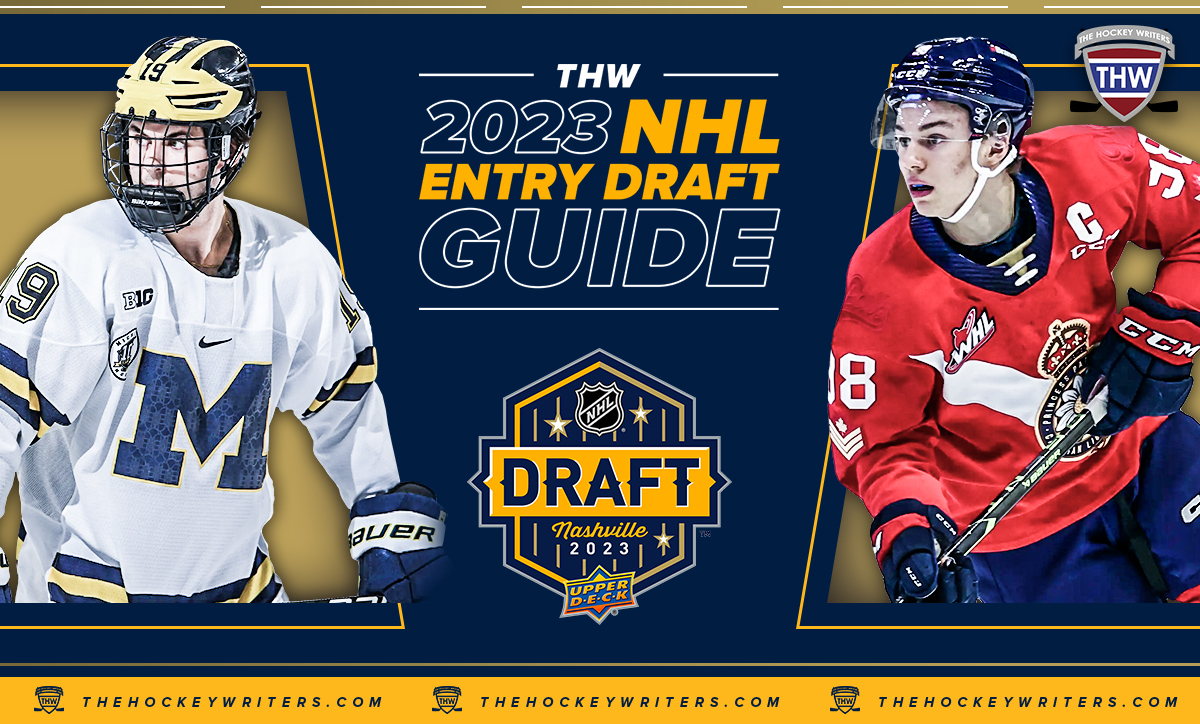 While Rimashevskiy is quite tall, standing at 6-foot-3, he could stand to add some muscle in the next few years. His skill alone allows him to avoid pressure, but his play in the corners was average at best. Rimashevskiy needs to pick up his competitive levels when engaging in contested areas and avoid relying too much on his skillset. Adding some weight to his frame would do wonders and add an extra dynamic to his play, turning him into a good power forward.
Although his shot is accurate, and his timing and placing are his greatest attribute, Rimshevskiy lacks the power to call it NHL-ready. His bread and butter without the puck is his positioning, as he swarms the crease like a drone bee ready to pounce, but he'll need to add more strength behind his shot to consider it deadly. On the other side of the ice, Rimashevskiy doesn't possess much defensive presence and could benefit from learning a 200-game approach to expand his horizons.
Other THW Profiles
Yegor Rimashevskiy – NHL Draft Projection
Rimashevskiy has a lot of upside on the offensive end, with some unique raw talents to work on and develop. His defensive game will need a massive upgrade, which may determine how far he progresses to the pro level. Rimashevskiy is also recovering from an injury during the 2022-23 season, which may stunt his ability to make his Kontinental Hockey League (KHL) debut next year.
Quotables
"The 18-year-old forward has become one of the leaders of Moscow Dynamo in the space of 2 years in the JHL. The duo of Yegor Rimashevsky and Igor Chernyshov became one of the team's most-productive duos, and Rimashevsky's between-the-legs goal was ranked among the top 20 goals of the 2022/23 season." – MHL, KHL Junior Hockey League (from 'Yegor Rimashevsky highlights', MHL YouTube Channel, 05/26/23)
Strengths
Crossover skating/edgework
Positioning
Stickhandling
Elusiveness
Under Construction (Improvements to Make)
More power on his shot
Add more weight
Consistency in the defensive zone
NHL Potential
It may be a few years before we see Rimashevskiy in North America, but that may come to fruition if he can add muscle and a 200-foot game to his arsenal. He has the raw talent to become a top-nine player, but his lack of defensive awareness may turn many teams away from his style.
Awards/ Achievements
Rimashevskiy was a part of the 2022 Russian U-18 National Team that won a bronze medal at the European Youth Olympic Festival. He recorded one assist in four games.
Interviews/ Links
Yegor Rimashevskiy Statistics
Videos
---
---