Buffalo Sabres defenseman Zach Bogosian posted a letter to Twitter on Thursday that he wrote at age eight. The letter was penned about a game he attended with his dad, at which a Willie Mitchell shot shattered the glass near their seats. It clearly left an impression on him.
Young Bogosian was no worse for the wear when the glass broke, because when his dad looked for him "he didn't see me, because I did a back flip." Unfortunately, according to eight-year-old Bogosian, others near the glass were not so lucky. One man was cut near his neck. "I think he was headed to the hospital," wrote Bogosian.
Here's the letter with a full transcription below that.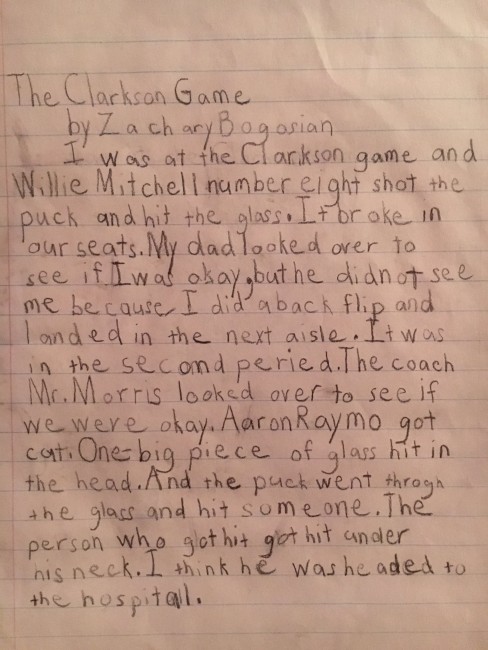 The Clarkson Game
by Zachary Bogosian
I was at the Clarkson game and Willie Mitchell number eight shot the puck and hit the glass. It broke in our seats. My dad looked over to see if I was okay, but he did not see me because I did a back flip and landed in the next aisle. It was in the second peried. The coach Mr. morris looked over to see if we were okay. Aaron Raymo got cut. One big piece of glass hit in the head. And the puck went through the glass and hit someone. The person got hit got hit under his neck. I think he was headed to the hospital.
Dustin Nelson is the News Editor for The Hockey Writers. He's a contributor to Hockey Prospectus, Hockey Wilderness, and writes a column for Rotowire. He's also written for Gone Puck Wild, Wild Xtra, InDigest, Electric Literature, The Rumpus, Tiny Mix Tapes, Prefix Magazine & other publications. Have a tip? Email him at dlukenelson[at]gmail[dot]com.