It's not uncommon to see goaltenders get chosen in the first round of the draft, but because the position typically takes the longest to develop, choosing a netminder is often an investment rather than an immediate impact pick. Since 2000, 25 goalies have been selected in the first round. Some of them have gone on to successful NHL careers, some are still working their way into the league, and some you've never heard of in your life.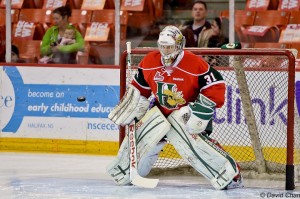 2000: Rick DiPierto (1) New York Islanders, Brent Krahn (9) Calgary Flames.
2001: Pascal Leclaire (8) Columbus Blue Jackets, Dan Blackburn (10) New York Rangers, Adam Munro (29) Chicago Blackhawks.
2002: Kari Lehtonen (2) Atlanta Thrashers, Cam Ward (25) Carolina Hurricanes, Hannu Toivonen (29) Boston Bruins.
2003: Marc-Andre Fleury (1) Pittsburgh Penguins.
2004: Al Montoya (6) New York Rangers, Devan Dubnyk (14) Edmonton Oilers, Marek Schwarz (17) St. Louis Blues, Cory Schneider (26) Vancouver Canucks.
2005: Carey Price (5) Montreal Canadiens, Tuukka Rask (21) Toronto Maple Leafs.
2006: Jonathan Bernier (11) Los Angeles Kings, Riku Helenius (15) Tampa Bay Lightning, Semyon Varlamov (23) Washington Capitals, Leland Irving (26) Calgary Flames.
2008: Chet Pickard (18) Nashville Predators, Thomas McCollum (30) Detroit Red Wings.
2010: Jack Campbell (11) Dallas Stars, Mark Visentin (27) Phoenix Coyotes.
2012: Andrei Vasilevski (19) Tampa Bay Lightning, Malcolm Subban (24) Boston Bruins.
The Edmonton Oilers aren't strangers to selecting a goalie in the first round, and interestingly their current quote unquote starter was a high pick. Devan Dubnyk was picked 14th overall in 2004. It wasn't until 2009 however that Dubnyk saw NHL action. Sometimes, like in the case of Marc-Andre Fleury for example, goalies get thrust into the NHL spotlight right away, but it certainly isn't the norm. Goalies, more so than any other position player, need time in the minors to refine their game, learn the ropes of being a pro player and build their confidence.
That's why choosing a goalie in the first round is a little risky. Some people feel it can be a waste of a first rounder because you won't see the fruits until years later. However sometimes, there are special talents in the draft, and if you have the chance to take him, you have to go for it.
The Oilers, at the moment at least, can't be considered a contender. They currently hold the 7th overall pick in the draft. There's no indication they will keep the pick or trade it. The possibilities for the Oilers at number seven include defensemen Darnell Nurse and Nikita Zadorov, centers Elias Lindholm, Sean Monahan and Bo Horvat. All solid players. All likely to have some kind of impact in the NHL.
The Oilers needs are no secret. They need some grit and toughness in their line-up. They need a power forward and some stronger defensemen. They also need to shore up the Goaltending position. They have some good prospects in their system including Tyler Bunz and Olivier Roy, but they're both probably still a ways away.
So why take another goalie you ask? The number one ranked goalie in the 2013 draft is Zach Fucale of the Halifax Mooseheads. He's just coming off a Memorial Cup Championship and is thought to be Canada's next great goalie in waiting. Fucale just turned 18 years old, and it's likely he will play in junior again next season. His draft profile has him compared to goalies like Henrik Lundqvist and Cam Ward, both great goalies in their own right.
Scouts believe Fucale may go somewhere in the first round, most likely later on. The Oilers would be wise to keep Fucale in the back of their mind, because he has all the makings of an NHL starter and they could possibly even trade down to get him. Ideally, the Oilers would love a big defensemen like Seth Jones, but unless they trade up, he won't be an option. Choosing a goalie could be risky, but with a talent like Zach Fucale, it may be a risk they're willing to take.
Find out who the Oilers select on June 30th in New Jersey
Marcy, a former hockey player, is a hockey correspondent on CTV News and TSN radio. She began her career as a Sports Journalist in 2009 and has been part of The Hockey Writers since 2010, where she is currently a senior writer and editor.