Imagine 15,000 people watching you at your job.  You make a mistake, and 15,000 boos rain down.  Imagine this every night of work. In your ears, when does a shower become a flood?  Months?  Years?  And when do you drown, unable to perform?
It's rare to rise above such a deluge, even if you're a well-paid professional athlete.  Millions of dollars don't always compensate for the mental toll.  Usually, reviled players have to blow town to breathe again.  Famously, highly-touted Darryl Sydor escaped the Los Angeles Kings to fashion a nineteen-year, Stanley Cups-winning career.
So it's even rarer to go from zero to hero in the same place.  It takes a special sort of perseverance to overcome the utter contempt of a fanbase and become a franchise hero.  Let's take a look at the good and lucky tales of royal redemption in Kings history.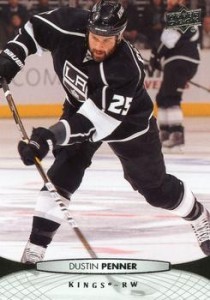 Pancakes to Playoffs
Prepping for the playoffs, Dean Lombardi cooked up the biggest deal of the 2011 Trade Deadline, essentially giving up two first-rounders, a future one and former top pick Colten Teubert, for Dustin Penner.  Penner was expected to feast off passes from Anze Kopitar on the top line.
From Zero…
There's no skimping on these.  After heating up with six points in his first seven games in Hollywood, Penner went cold with zero points in the season's last dozen games.  He sprinkled in a single goal and assist during the team's subsequent first-round basting by the San Jose Sharks.
That summer, fans and management alike questioned his conditioning and commitment.  Lombardi suggested that Penner might be better suited for the rigors of beer league softball.
Coming into the 2011-12 season, everybody hoped a dedicated summer workout program would light a fire under Penner.  He responded by starting the season without a goal in 14 games.  In January, he hurt his back eating pancakes, earning his "Pancakes" moniker.  By the end of the season, after many healthy scratches, he had been relegated to the third line, and management looked ready to cut him out of their future plans.
…to Hero
Then came the playoffs.  In front of the same Vancouver fans who had given him the syrup a few months earlier, Penner broke a late Game One tie with the West's top-seeded team.  Teammates would credit that goal with giving them the belief that the Kings could play with anybody.
Continuing his inspired play on the second line with Mike Richards and Jeff Carter, Penner delivered the franchise to the Finals with a series-clinching overtime putback against the Phoenix Coyotes.  It's a moment that still gives me chills.
After midnight, approximately 4,000 fans greeted the conquering heroes at the airport.  And "Pancakes Penner" became "Playoff Penner": "You couldn't see anything except people screaming and Kings jerseys.  It was a feeling that not anyone will forget ever, I think on the Kings team.  It's one of those things you only get to experience when you make it to the Cup Final."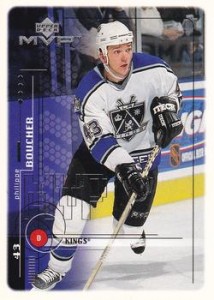 Bouch Gets Off the Bench
In 1991, Philippe Boucher was voted the second-best NHL Draft prospect in the CHL after none other than wunderkind Eric Lindros.  A hulking defender with a cannon shot, he was snapped up in the first round by the Buffalo Sabres.  After a couple auditions at The Aud, he was packaged, along with Grant Fuhr and Denis Tsygurov, to the Kings for Alexei Zhitnik, Charlie Huddy, Robb Stauber, and a fifth-round pick.  LA GM Sam McMaster gushed, "We know why people are going to be upset.  They just have to trust our judgment.  We're getting a potential All-Star in Boucher."
From Zero…
Coach Larry Robinson wasn't as enthused about "Bouch": "His game is that he has to shoot, but he has to also pick up his game on the physical side."  An early holdout didn't help; significant wrist, thyroditis, concussion, and shoulder injuries further hampered development in his first few seasons in Los Angeles.
In January 1999, after being scratched for 10 consecutive games, Boucher complained publicly, "[M]aybe Larry doesn't have confidence in me."  A month later, he requested a trade.  Then in April, he had foot surgery, which caused him to miss almost the entirety of the next season.
Starting 2000-01 in icy Manitoba, a resigned Boucher was about to give up on the league that seemed to have long forgotten him.  "After Christmas, it didn't look like I was going to get the call.  It was tough.  You start thinking about going to Europe and stuff like that."
In just as icy Buffalo, Alexei Zhitnik had flowered into the Sabres' top defender.  Kings fans could only laugh at the long-departed "The Disaster" McMaster's suggestion that Boucher could become an All-Star.
…to Hero
On February 22, 2001, the Kings debuted two defensemen to replace their once-franchise star, Rob Blake, who had just been dealt to the Colorado Avalanche: Aaron Miller and Philippe Boucher.  At the time, Los Angeles was six points out of the playoffs.  The new additions quickly impressed, and Boucher showed a new edge to his game.  Coach Andy Murray raved: "[He] realizes how he needs to play.  He's playing with some bite, which he has to do—he has to use that size."
The Kings roared back to make the playoffs, upsetting the second-seeded Detroit Red Wings in the first round; it was their only postseason victory of the decade.  It was also one of Boucher's favorite moments in LA: "[B]attling back and beating Detroit after being down two-nothing then three-nothing at home.  We came back in three and went on to beat them after that, so that was pretty special for anyone who was part of the team at that time."
Boucher had made it to the bigs for good, logging the third-highest ATOI (Average Time on Ice) among team defensemen the next year.  During the offseason, he left Los Angeles for his personal heroic moment, inking a lucrative four-year agreement with the Dallas Stars.  He finally made an All-Star team in 2007.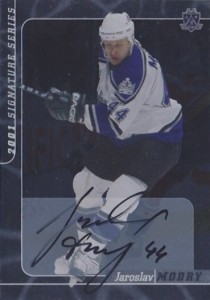 Slowdry's Moment in the Sun
From the same 1990 Draft that yielded Martin Brodeur, the New Jersey Devils found Czech defenseman Jaroslav Modry with the 179th pick.  Blocked by the defensive depth on the Garden State's first Stanley Cup winner, they sent Modry to the cellar-dwelling Ottawa Senators.  Unable to hack it with 1995-96's worst team, he was rerouted to Los Angeles for unremarkable prospect Kevin Brown (not the pitcher).
From Zero…
How much did Kings fans hate Modry?  There's his nickname "Slowdry."  Or 172 minor league games over his first four seasons in the organization, then 55 healthy scratches with the big club in 1999-00.  When with puck, he instilled a Randy Jonesque fear in us all. Battle of California's Rudy Kelly summarized our collective trauma years later:
"There are three things about me that I don't like people to know: I cried during Homeward Bound, I own the DiCaprio version of Romeo & Juliet, and I don't mind Jaroslav Modry.  That's the Kings fan equivalent of saying I like to play with my own crap."
…to Hero
Like Boucher, he finally began to make noise within the organization in 2000-01.  A fairly regular role in the lineup was highlighted by his first and only career playoff goal against Colorado and recent teammate Blake.  In overtime of Game One, Modry one timed a Jozef Stumpel fake shot pass past Patrick Roy, inspiring a leaping fist pump worthy of any '80s movie montage:
The next season, Modry represented the Kings at the All-Star Game in Staples Center.  Hometown fans were just as befuddled as "Mo" himself, who didn't even bother to have a standard bonus clause in his contract for an All-Star appearance.  His wife Jodi admitted, "It never occurred to us.  Everyone is like, 'Everyone just has [a bonus clause].  It's standard.'  But it just never crossed our mind, never, ever, that we'd ever be here."
Of course, Andy Murray would make it a teaching moment.  "To me, Mo is the best story at the All-Star Game.   He is the reason they celebrate athletes.   To anybody who ever felt like quitting and didn't, he is their hero."
Modry also shared the moment with his father, who flew in from the Czech Republic.   "He was the one who took me to the rink and always told me I was a good hockey player."
"I'm just thrilled," Modry's father said, his eyes growing red and misty as he clutched his son and buried his head in his chest.   "It's incredible.  I'm very happy for him."
Modry would leave LA in 2004, making stops in Atlanta and Dallas before coming back to Hollywood to guide a rebuilding defensive corps in 2007.   His father died the next year after a seven-month battle with colon cancer, and "Mo" left the NHL for the Czech Extraliga after the season.