Thanksgiving is only days away, and that means everyone is starting to think about all the things they're thankful for. Family, friends and health are the answers you typically hear when families gather together during the holidays. But if you're a Minnesota Wild fan, here are ten more reasons you should be thankful this Thanksgiving.
1. It's Hockey Season
It's simple, but it's true. Hockey season is the best time of the year, and we're all glad it's here.
Now that it's hockey season, it doesn't matter what day of the week it is; you can always turn on the television and catch a hockey game. Hockey withdrawal is a thing of the past, and that's definitely something to be thankful for.
2. The Zucker-Koivu-Niederreiter Line
Is this the best line in hockey? Quite possibly. Is this a line combination you should be thankful for? For sure.
The Minnesota Wild had previously struggled to find a top line that clicks and produces consistently, but Mike Yeo seems to have finally found the answer with these three. The top line combination of Jason Zucker, Mikko Koivu and Nino Niederreiter have proved to be a lethal combination so far this season. Together, they have controlled approximately 61 percent of play and around 70 percent of the team's scoring chances. They've also worked their way to becoming the line with the best 5-on-5 Corsi percentage in the entire National Hockey League.
That's not too bad.
Additionally, Koivu is second on the team with 18 points, while Zucker and Niederreiter have combined for 12 goals so far through 19 games.
3. Devan Dubnyk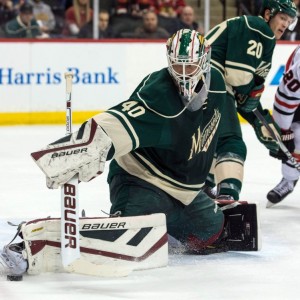 While Devan Dubnyk might not be the brick wall this season that he was last year, he has still been a solid netminder for the Minnesota Wild. Dubnyk has been in net for 16 of the Wild's 17 games, and he's a big reason Minnesota sits at 11-5-3 right now.
The Wild have to deal with a difficult Central Division, and Dubnyk's play has certainly been a factor in helping this team stay competitive. Plus, Dubnyk's presence means no more goalie drama, and that's always good.
4. Zach Parise's Return
On Nov. 5, Zach Parise suffered a knee-to-knee hit from Nashville's James Neal that resulted in a sprained MCL. Parise was unable to finish the rest of the game against the Predators and has missed seven games since then. Nonetheless, Minnesota fans should be thankful that Parise's injury wasn't the worst-case scenario.
Despite the fact that Parise has missed multiple games in November, his injury didn't require surgery, and it will not keep him out of the lineup for too much longer. It's not an ideal situation, but Parise is expected to return in the near future, and that's nothing to complain about.
5. Thomas Vanek's Hot Start
Last season, Thomas Vanek was a bit of a disappointment, to say the least. This season Vanek has been the complete opposite.
The former Golden Gopher has been on fire through 19 games this season, scoring eight goals (the most on the team) and tallying eight assists. This is a huge positive for the Minnesota Wild, who sometimes struggle to find enough offense.
If you're not thankful for Vanek's resurgence, you can at least be thankful for this incredible goal he scored a few weeks ago against the Winnipeg Jets: 
6. Jason Zucker's Health
Last Thursday night, the Minnesota Wild not only lost to the Boston Bruins, but they also appeared to lose Jason Zucker. In the last seconds of the game, Zucker suffered a slash to the back of the legs from Bruins forward Matt Beleskey. The 23-year-old Zucker had to be helped off the ice, and it appeared the Wild's injury situation had just gone from bad to worse.
Thankfully for Minnesota, Zucker was just fine and ended up not missing any games.
7. A Solid Captain
Last season, many Wild fans were not too pleased with Minnesota's captain, Mikko Koivu. Some fans wanted Yeo to 'strip the C' from Koivu, while others wanted him traded. Although those suggestions may have been a bit rash, the Wild's captain really wasn't living up to expectations.
This season things have changed, and Koivu has shown just how valuable he is to this team. While he might not be a captain that leads his team by scoring goals every night like Sidney Crosby or Alex Ovechkin, Koivu has been an indispensable part of the Wild. His line has dominated the National Hockey League and provided much of the Wild's offense throughout the first two months. It's easy to like that.
8. The Stadium Series
Minnesotans have wished for an outdoor game for many years. This year, the NHL finally granted that wish. In just a few months, the Minnesota Wild will face off against the Chicago Blackhawks inside TCF Bank Stadium in what will become the Wild's first-ever outdoor game.
9. Better than the Blackhawks
That's right, ladies and gentlemen. Your Minnesota Wild have a better record than the Chicago Blackhawks so far this year. While that stat might not hold up for the rest of the season (and it probably won't mean anything by the time the playoffs roll around), it's always nice to be better than the Blackhawks.
Currently, the Wild sit in third place in the Central Division with 25 points. The Blackhawks are not far behind with 24.
10. The State of Hockey
This one is really quite self-explanatory. There's no better place to be a hockey fan than the State of Hockey. Being part of Minnesota's hockey community, watching games at the Xcel Energy Center and cheering on a team with 18,000 other fans is a pretty good reason to be thankful.
Alli covers the Minnesota Wild and has been a contributing writer with THW since August 2014. She is currently a journalism and sports management student at the University of Minnesota. For all of your Minnesota Wild news and updates, follow her on twitter: @allibaker23