Today is the first in our series of team previews for the 1964-65 season. Taking the teams in alphabetical order, our first look is at the NHL's perennial (or so it seems) bottom feeders, the Boston Bruins. The Bruins once again occupied the bottom rung on the NHL ladder, for the fourth consecutive season in 1963-64.  Despite some hopeful talk from coach Milt Schmidt, the best ever to lace 'em up for the Beantowners, it doesn't look promising for them to move out of the basement just yet.
Last season
In 1963-64 the Bruins' problems were fairly obvious.  The club compiled an 18-40-12 record under coach Milt Schmidt, six points behind the fifth place New York Rangers.   The Bruins suffered from an acute lack of firepower, with only two 20-goal scorers on the roster.  Twenty-five year old Murray Oliver, a Detroit Red Wing refugee, led the team with 68 points in 70 games and showed great promise, if only he can find wingers able to convert his pin-point passes.  Left wingers Dean Prentice (23 goals) and Johnny Bucyk (18 goals) were the next best forwards, but after the top three, there is very little firepower.
On the blue line, free wheeling Doug Mohns provided an element of offence from the back side, scoring nine times, although he did spend some time up front. However, Doug's work in his own end left a little to be desired.  Veteran Tom Johnson, a former Norris Trophy winner, is definitely on the down side of a fine NHL career, and his lack of speed is starting to prove to be a detriment.  Hard-rock Leo Boivin also spent some time on the forward line and contributed ten goals.  He's definitely the best defender of the bunch right now.  Young Ted Green, in his third NHL campaign, showed signs of maturing into a competent NHL defender, but his wild streak, which led to 145 penalty minutes, continues to cost the Bruins at inopportune times.  The fifth defenceman, veteran Bob McCord, didn't provide much of a back-up for the top four and he could be on the bubble this year.
The Bruins goaltending was handled exclusively by Eddie Johnston, who was solid, if not spectacular.  Originally a Montreal chattel, the guy known as "EJ" to his mates improved his goals-against average by nearly a full goal over his rookie season.  Given the number of shots he faced on a nightly basis, his performance was not the main factor in the Bruins' disappointing season.  At the end of the 63-64 season, it became apparent to Bruins' general manager Lynn Patrick that some re-tooling was in order.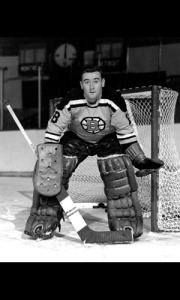 Off-season acquisitions
In order to beef up the Bruins, the club engaged the Chicago Black Hawks in a couple of trades.  The first order of business was to deal Mohns to the Black Hawks in exchange for two NHL veterans in Ab McDonald and Reggie Fleming.  McDonald, a big left winger who made his mark in the league on the Hawks' vaunted Scooter Line, is expected to give the Bruins some offence and size on that side.  Fleming is known mainly as a tough guy, and is just the combative sort the Bruins require to keep opposing defenders honest around their smallish forwards.  The Bruins feel that Fleming was under utilized in Chicago and plan on giving him work on one of the top two lines, as well as time on the penalty kill and power play.  If he can keep his wild temper under control, Rambunctious Reg can be a real asset.
The second transaction between the Hawks and the Bruins saw Murray Balfour, who gained fame as the right wing on Chicago's "Million-Dollar-Line" with Bobby Hull and Red Hay, come to the Bruins. He was accompanied by minor league forward Mike Draper, who is not expected to contribute immediately. Going to Chicago in exchange were defenseman Matt Ravlich and veteran forward Jerry Toppazzini.  The Topper had already been waived through the league and had indicated he was considering retirement, so he won't be terribly missed, other than his great influence in the dressing room.
Another acquisition is 23-year-old defenseman Bob Woytowich, who was snapped up from the Rangers unprotected list when he was dropped after New York drafted Jim Mikol from the Bruins. While Woytowich was thought to be more of a revenge pick for the Rangers taking Mikol, he is considered to have some potential and could see time with the big club this season.
Rookies to watch
The Bruins' farm system, while not producing the superstar types of players seen performing in Toronto and Montreal, has several young players who are on the cusp of regular employment in the big-time.  Best of the bunch looks to be Wayne Rivers, 22, who scored 9 points on 2 goals and 7 assists in a 12-game trial last season.Rivers had 20 goals in only 36 American Hockey League games with Hershey last year.
Another 22-year-old, Billy Knibbs, should make the team this time around as a 3rd line centre.  Knibbs, who is a former high scoring Niagara Falls Flyer, had 65 points for Minneapolis of the CPHL last season.  He's a solid 6-ft, 175 pounder.
Wayne Maxner is yet another former Niagara Falls Flyer for whom big things are predicted.  After scoring 94 points in 50 OHA games in 62-63, he graduated to Minneapolis last season and put up fine numbers there as well – 27 goals and 56 points.  Maxner is considered a lock to make the Bruins and although he's a left-wing, he might get a long look on the right side.
The youngest forward prospect with an outside chance to make the club is Ron Schock, who is 20.  He's yet another Niagara Falls grad, plays centre and scored 38 goals in the OHA last year.  It's more likely he'll end up with Minneapolis, but with his offensive skill, he could get a look-see at some point this season.
The Bruins have a few D prospects in the pipeline as well.  Don Awrey is 21 and had a pretty fair year with Minneapolis.  He played well enough to gain a 16-game trial with the parent club and, while raw, he didn't look terribly out of place.  He is going to push McCord for that 5th spot on defence.  Joe Watson is another Minneapolis defender who the scouts say has a bright future.  He will most certainly get a call this season if injuries knock any of the regular blue-liners out of the lineup.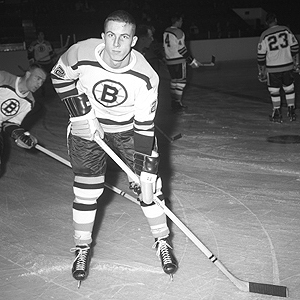 In goal, there are no eye-catching prospects on the horizon for the Bruins, but they do  think pretty highly of young Jack Norris.  Norris is 23 and comes out of the Saskatchewan Junior League by way of the Los Angeles Blades of the WHL.  He also had a brief stint with Minneapolis.  The Bruins like his style and will be grooming him to be Johnston's eventual successor.
How they'll do this year
While the Bruins made some key acquisitions, they haven't added enough assets to push the team into a playoff spot.  The farm system is starting to produce some nice prospects but there doesn't seem to be a superstar among them.  That is, unless you believe the hype surrounding 16-year-old Bobby Orr, playing for Oshawa in the OHA.  While he is supposed to be the real thing, the kid is only 16 and hasn't yet had to face the kind of rough and tumble competition the NHL has to offer.  It seems the teams are hailing youngsters who are of increasingly tender years each season. How long can it be before we start hearing about some 3-year-old from an outpost such as Brantford or Chilliwack?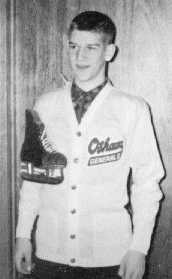 All that aside, the Bruins could, in a perfect world, rise above their cellar-dwelling status this year.  However, that perfect world would have to include these things:
Balfour will have to produce as he did when lined up with Hull and Hay in Chicago
Fleming must prove he can play hockey, as well as fight
Ab McDonald must contribute at least 25 goals
Teddy Green has to grow up and keep his temper under control
At least two of the kids mentioned above have to greatly exceed expectations
Eddie Johnston has to be able to play close to 70 games once again, and build upon the improvement he enjoyed last season.
If these things don't all come to pass, it will be a rather cool winter in the NHL's basement for the Bruins.
Retired police detective, involved in hockey at all levels for over 50 years. Member of Society for International Hockey Research and presently a video analyst for the leader in advanced hockey analytics (we work exclusively for 2 NHL clubs, and provide advice on an ad hoc basis to many other clients). Currently the Assistant General Manager for the Pelham Pirates of the Greater Ontario Junior Hockey League. Previously owned the Faceoff computer hockey simulation and also provided all player ratings for the EA Sports series of NHL computer games from the late 90's into the mid 2000's.