The 2015 NHL Draft was considered one of the deepest in recent memory, headlined by a pair of potential superstars in Connor McDavid and Jack Eichel. The talent pool ran much deeper than the first round, however, as many fantastic young players were picked up after the first day of the draft. While some players may have been disappointed to see their name called a little later than expected, many players have proven that draft position does not always dictate your NHL future.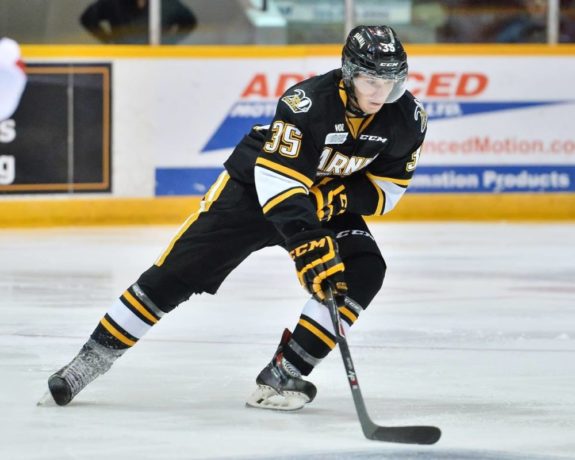 If the league were to do a re-draft of the 1998 or 2000 Entry Drafts, do you think Pavel Datsyuk and Henrik Lundqvist might be drafted higher than the 6th and 7th rounds? While these players are unlikely to reach the levels of superstardom achieved by the aforementioned Datsyuk and Lundqvist, here are some late-round draft picks who could end up far outperforming their low draft positions.
D Oliver Kylington, 60th overall (Calgary Flames)
Mentioned before the season as a potential top five pick in the 2015 Draft, perhaps no prospect saw his stock drop more than talented Swede Oliver Kylington. While some speculated he could fall out of the first round entirely, not many expected Kylington, the youngest player to ever score a goal in the Swedish Hockey League, to drop to the second-last pick of the second round. The Flames, who traded their first three picks of the draft to acquire Dougie Hamilton, were all too happy to scoop up Kylington at 60th overall.
Possessing fantastic skating ability and great vision, Kylington has been compared by some scouts to fellow Swede Erik Karlsson. While there are some concerns and risk associated with Kylington after a rocky season that saw him get sent down to a lower-tier Swedish league and miss the World Junior Championships, Kylington's elite skill could make him a premier offensive defenseman in the NHL if all goes well. If he comes close to realizing his sky-high potential, Kylington will be looked back at as a steal in the 2015 NHL Draft.
C Aleksi Saarela, 89th overall (New York Rangers)
After dominating the Finnish junior leagues and making his debut in Liiga (Finnish Elite League) at the tender age of 16 in 2013, Aleksi Saarela was thought to be a future superstar and compared to Connor McDavid as the top prospect in the 2015 Draft. However, Saarela's game stalled over the two subsequent seasons, and he entered the draft ranked just 31st among European skaters. His struggles were covered in detail in a previous article by our very own Ross Bonander.
Saarela has the high-end skating ability, slick hands, and goal scoring instincts that every team looks for in a star winger. While he only stands 5'10", he is solidly built at nearly 200 pounds and has shown that he can withstand playing against much older players while competing in Liiga for the past two seasons. While there is some concern with his slowed development, Saarela has all the tools to be an NHL star and could end up a tremendous value for the Rangers at the cost of just a late third round pick.
D Ryan Pilon, 147th overall (New York Islanders)
For a team that wasn't supposed to pick until the late third round, Garth Snow had himself an impressive draft weekend. On top of adding Matt Barzal and Anthony Beauvillier to the fold, he also picked up Brandon Wheat Kings defender Ryan Pilon. Considered by many to be a strong prospect all but guaranteed to go within the first two rounds, Pilon mysteriously fell into the 5th round, where the Islanders were quick to select him. Pilon had a rocky first experience in the WHL, landing in a poor situation that eventually got him traded from the team that drafted him. His perceived poor attitude in handling the situation could have contributed to his draft-day fall.
Pilon is a big (6'2″, 210 pounds) defender who uses his size and two-way ability to his full advantage, as he put up 52 points this season on a powerhouse defensive pairing with top-10 pick Ivan Provorov. He also added a +36 plus/minus rating, proving his worth as a shutdown defender. His physical game, hockey IQ, and offensive ability make him a strong bet to be an NHL contributor at some point in the near future. The reason he fell to the 5th round is unknown, but the Islanders could have found themselves quite a good player with a late pick in the 2015 Draft.
C David Cotton, 169th overall (Carolina Hurricanes)
One of the more surprising draft day falls on Saturday was that of Waterloo Black Hawks centre David Cotton. Ranked as the 62nd-best North American skater by Central Scouting, Cotton was expected to go sometime in the 3rd or 4th rounds. Due to his strong 6'2″, 200 pound frame and strong offensive ability, it wouldn't have been too surprising if a team had taken a chance on Cotton in the 2nd round. Despite dominating his competition in high school to the tune of 69 points in 33 games and a commitment to a powerhouse hockey program at Boston College, Cotton inexplicably fell into the Hurricanes' laps in the 6th round.
Cotton needs some work to crack the NHL, but with his offensive ability and physical presence, as well as the excellent future awaiting him in Boston College, expect to hear his name a lot more in the coming years. While Carolina has built some nice defensive depth with 2015 draftee Noah Hanifin in addition to young studs like Justin Faulk, Haydn Fleury, and Roland McKeown, Cotton gives them another high-potential forward whose physical game and scoring ability could eventually make him the heir to current Hurricanes captain Eric Staal.
RW Nikita Korostelev, 185th overall (Toronto Maple Leafs)
Perhaps the most puzzling draft day fall of all, Nikita Korostelev was almost unanimously a well-regarded prospect, ranking inside the top 60 prospects on three occasions leading up to draft weekend. Finishing as high as 46th on The Hockey News' annual draft rankings, Korostelev was expected, if not guaranteed to hear his name called by the end of the 2nd round. However, he did not get to pull on an NHL sweater until the 4th pick of the 7th round, where Toronto was quick to call his name.
Korostelev has long been a heralded prospect, getting selected in the first round of the 2013 OHL draft ahead of fellow Maple Leaf Mitch Marner. While he did not post the staggering numbers that Marner did, Korostelev used his incredible shot and passing ability to average nearly a point per game for an offensively weak Sarnia Sting team. Korostelev's shot is especially dangerous; ESPN analyst Corey Pronman ranked his shot second in the entire draft only to Pittsburgh draft pick Daniel Sprong (it's interesting to note Toronto picks Mitch Marner and Jeremy Bracco also ranked highly in Pronman's eyes). While his skating has been criticized, Korostelev's deadly shot and high-end offensive ability should make him a very valuable prospect for the rebuilding Maple Leafs. To pick him in the 7th round was a coup for Mark Hunter and the Toronto Maple Leafs.